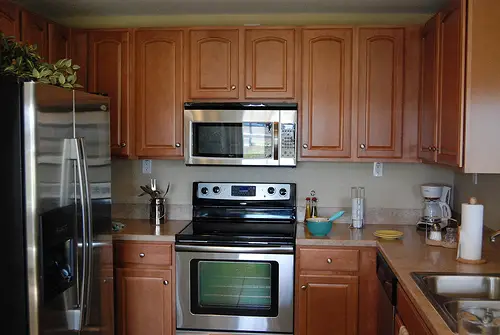 We recently replaced our old refrigerator. It's not that the appliance was on the verge of breaking down; it's just that I am very risk adverse and I figured that, with the recent spate of supply chain issues, I figured we'd get a jump on any potential shortages and buy one now, while our old friend was still working.
Then again, a "working" refrigerator is in the eye of the beholder. The ice maker started working intermittently; and the door stops were broken long ago by my kids who, in their younger years, used to open the refrigerator doors as if they were getting inside a 1972 Cadillac Fleetwood Brougham.
Anyway, after doing our research the Honeybee and I ended up getting a terrific deal because we took our time and did our homework.
With that in mind, here are 19 ways to help ensure you get the best deal too when buying your home appliances.
1. Become Star-struck. Buy Energy Star labeled appliances, which are certified as meeting government requirements for energy efficiency. Products with the Energy Star label not only result in lower utility bills, but also often entitle the buyer to utility company rebates.
2. Sign up for store email updates. Many stores will often provide exclusive information via email of special promotions like midnight sales or other limited online-only deals.
3. Take advantage of price match guarantees. Don't be fooled by store tags that proclaim it's the "Lowest Price – Guaranteed!" Most large retailers have price match guarantees that will also give you an additional 10% off the difference or – better yet – the price itself, so spend a few hours and shop around!
4. Think outside the box. Big box retailer, that is. You can often find great deals on appliances at Habitat for Humanity resale outlets and Craigslist.
5. Use a military discount. When my water heater needed replacement last year I discovered that Lowes offers a 10% discount to members of the military. Always ask if the store you are shopping at offers one.
6. Get moving. If you're in the process of moving, both Home Depot and Lowe's sometimes offer 10% "movers" discount coupons that can be used on appliances.
7. Embrace imperfections. Most retailers offer surprisingly steep discounts for appliances with minor scratches and dents.
8. Think package deals. Offering to purchase multiple appliances from the same location usually gives you plenty of leverage to negotiate additional discounts.
9. Buy a floor model. It's no secret that floor models are sold at a discount compared to the pristine versions sitting in the backroom. What isn't as widely known is that you can often extract another 10% or more off the price the manager initially quotes you.
10. Be flexible with your delivery schedule. If you can wait until the delivery truck can go out fully loaded – as opposed to nearly empty – you may be able to get those delivery charges waived. If they won't waive the charges, see if they'll give you a discount or offer a rebate.
11. Go postal. The post office will sometimes include discount coupons in their change of address packets.
12. Wax nostalgic (for last year's model). Big discounts are available for people who are willing to take the previous year's models off a retailer's hands. And let's face it, how many of us would notice the difference anyway? The best time to employ this strategy is during September and October, when the new appliance models generally come out.
13. Haggle. Don't be afraid to haggle! After all, the worst that any salesman can say is "no." I even haggled at Lowe's when buying my last barbecue – although it was with a floor manager, not the sales associate. To be sure you get the lowest prices, when comparison shopping, hit those establishments that pay commissions to their sales staff last.
14. Keep it white. Stainless steel finishes can often cost an extra $200 or more.
15. Remember, (same as) cash is king. As long as you pay off the loan in full before the end of the promotional period, 0% financing allows you to keep your money in the bank and earn a little interest – which ends up being a de facto discount on your purchase.
16. Use a cash dividend rewards credit card. Speaking of de facto discounts, you can also take advantage of a cash-dividend rewards credit card to get a percent or two off the purchase price – as long as you pay off your credit cards in full at the end of the month, of course.
17. Leverage gift card discounts. By using gift cards to pay for your appliances you can usually take advantage of special deals offered at locations like supermarkets and other stores. For example, you can often buy $100 gift cards to stores like Best Buy for $90.
18. Avoid the extended warranty. Generally, if something is going to go wrong with your new appliances, it's going to happen under the original manufacturer's warranty period – not during the extended warranty period. But if you are still unsure, try applying this extended warranty litmus test.
19. Turn that old appliance in to your utility company. You can often help defray the cost of your new refrigerator by taking advantage of utility company rebates for old refrigerators in good working order.
So that's it; the more of these tips you use, the bigger your appliance savings will be. In fact, you can get a significant multiplier effect if you use enough of these tips.
Hopefully, you don't have to worry about the kids treating your new refrigerator like it was an old Cadillac.
Photo Credit:highlandhomesfl