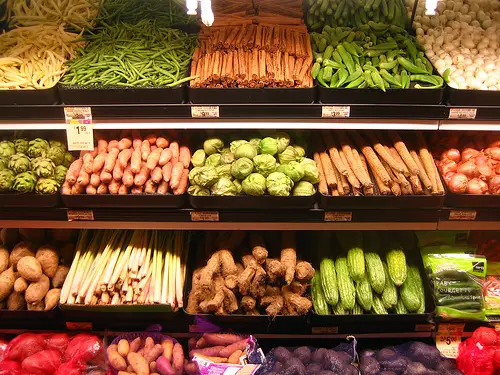 I love tomatoes. I don't think many people will argue with me when I say there is nothing better than a fresh-picked home-grown 'mater.
I love them so much I usually grow tomatoes in my backyard every summer. Unfortunately for me, the pesky squirrels typically end up enjoying more of my homegrown tomatoes than I do.
Anyway, the other day I was picking up a bunch of fruits and vegetables at my local grocery store and, of course, tomatoes were on my list.
Grocery store tomatoes can be such a tease. I find the grocery store varieties to always be visually appealing, perfectly round with a nice red color; but every time I bite into one I am terribly disappointed by the lack of flavor. In fact, they're practically tasteless — especially when compared to the home-grown ones.
For that reason — and with no home-grown tomatoes waiting for me at home — I briefly considered picking up some organic tomatoes. That is, until I noticed that the price premium being commanded by the organics was almost double the cost of the non-organic varieties.
Outrageous? I thought so; tomatoes are expensive enough without the added organic premium.
According to Mint, organic produce costs so much more because today's large conventional farms enjoy economies of scale and subsidies that smaller organic farms can't exploit.
So what's driving the market? Well, when it comes to fruits and veggies most people buy organics to avoid pesticides that farmers use on their crops to increase yields. In the United States, any produce certified as "organic" must be grown without most synthetic pesticides and fertilizers.
The thing is, when it comes to tainted fruits and vegetables, not all conventionally-farmed produce is created equally. It turns out that many non-organic fruits and vegetables are grown with significantly lower pesticide loads than others, which suggests some organic fruits and vegetables may not be worth those steep price premiums.
So, which non-organic fruits and veggies are typically grown with the lowest pesticide loads?
Well, every year a non-profit consumer organization known as the Environmental Working Group (EWG) analyzes pesticide test data gleaned from nearly 100,000 reports conducted by the US Department of Agriculture and the US Food and Drug Administration. From that data they identify the 15 cleanest fruits and vegetables, which they call the "Clean 15." Here are the cleanest fruits and veggies in 2020:
Avocados
Sweet Corn
Pineapples
Onions
Papaya
Sweet Peas – Frozen
Eggplant
Asparagus
Cauliflower
Cantaloupe
Broccoli
Mushrooms
Cabbage
Honeydew
Kiwi
You can download their latest report here.
The take-away here is that for those who worry about pesticides on their fruits and veggies, but are trying to stay within the bounds of a tight grocery budget, it makes little sense to pay the extra money for the array of organically grown fruits and veggies listed above.
Instead, buy the conventionally grown varieties and make sure you wash them well. That will free up your money to buy organic produce with the highest pesticide loads that EWG has identified from their "Dirty Dozen" list. Those 12 items in 2020 are, in order:
Strawberries
Spinach
Kale
Nectarines
Apples
Grapes
Peaches
Cherries
Pears
Tomatoes
Celery
Potatoes
Yes, tomatoes made this year's list, but I'm going to continue buying those beautiful-but-bland non-organic ones anyway to supplement my produce needs. Well … at least until those pesky squirrels pack up and move to another neighborhood.
Photo Credit: rick