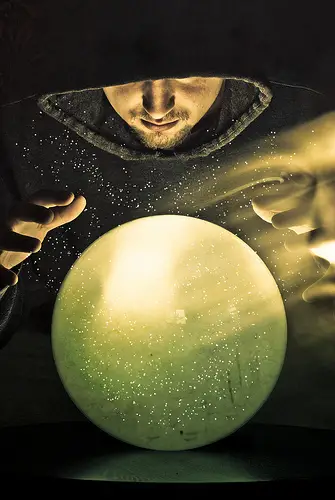 There are millions of posts and thousands of books explaining how to improve your finances. In fact, much of this information seems to get recycled back and forth. I have found only a couple of good books and posts that deal with the visualization of your financial future. My favorite is a book called The Type-Z Guide to Success with Ease. Reading it changed my life in a very positive way.
Some of you may consider visualization as impractical, but it's not. It's a critical first step in reaching any goal. I plugged along for years with my financial plan and some well-written goals. And, I was getting ahead financially and reaching those goals. But I never found any real passion for my goals, until I started to visualize the kind of life I could have when I reached them. The more time I spent visualizing my perfect life, the more real and attainable it became. And, my goals started growing bolder and more ambitious.
Action Item: Write down your financial goals in twenty words or less.
Dream a Little Dream
I want you to close your eyes for at least five minutes and dream about all of the wonderful things you would do if you had millions of dollars.
Where would you go and what would you do? What is the first thing you would buy? Would you help others or keep all of the money for yourself? Would you continue to work or would you quit your job? What kind of car would you drive and what style of house would you live in?
Don't allow any negative thoughts or practical considerations to creep in. This is your chance to dream big, without having to worry how or why this will happen. Just pretend for now that it has happened and enjoy the vision.
Action Item: Start dreaming right now for at least five minutes.
Interpreting Your Dream
How did all of this dreaming make you feel? Was it fun and comfortable? Or, did you have thoughts about the problems this money would bring? Did you feel like you deserved to be this wealthy? Did your dream conflict with your financial goals? Did your dream conflict with your morals or principles?
Your reaction to your dream will tell you a lot about yourself and your relationship to money. If you enjoyed the dream and would like to pursue it, you may have just taken the first step. If the dream wasn't enjoyable, you need to find out why. Ask yourself honestly why you don't deserve it. Do you believe it is greedy or wrong to be wealthy? Are you uncomfortable with the responsibility? Or, do you feel more comfortable around working class people? This is fairly normal and there are a lot of misconceptions about wealth. It's important to realize that you don't have to change your lifestyle once you have money and most American millionaires never do.
I discovered that I had limited all of my financial goals, because I didn't feel deserving of wealth. Not only was I uncomfortable with the thought of having millions of dollars, I didn't see any practical way to earn that kind of money. This is something I realized after many years of planning and saving. I still have relatively modest goals and dreams. I'm not interested in owning any mansions or yachts. But, I have removed the limits I placed upon myself, based on my upbringing. And, if I exceed my goals for wealth and abundance, I'm sure I can find some interesting ways to share and enjoy the excess.
Action Item: Write a paragraph or two that describe what your perfect life would be like in five years if all of your dreams come true.
Making a Commitment
The final step in the process is in making a commitment to your dream. There is no sense in dreaming your life away, without taking any action. That's a common criticism of some manifestation type books, like The Secret. They suggest that all good things will come to those who dream. But, my experience has been that it takes a lot of hard work and planning to make dreams come true. Once you have made a commitment to your dream by writing down the steps to get there, it's a lot more likely to come true.
Remember why this dream is important to you. Do you want to grind out a living for fifty years and then retire on a tight budget, praying you don't go broke? Or, do you want to enjoy your life, with less stress and worry? Take the time to write out some goals and take the steps to achieve them. You will feel so much better once you are in control of your future.
Action Item: Write a list of goals that will help you achieve your dream life.
The Bottom Line
The bottom line is that where dreams and planning lead, success will often follow. There is nothing wrong with living a dream and becoming a success. Give yourself permission to enjoy your life and you may soon find yourself enhancing the lives of others.
There is nothing like a dream to create the future.
– Victor Hugo
Recommended Reading
---
About the Author: This is a guest post from Bret @ HopeToProsper.com. He's been posting since 2007 and the purpose of his blog is to describe the Simple Practices that Lead to Wealth.
---
Photo Credit: Sean McGrath