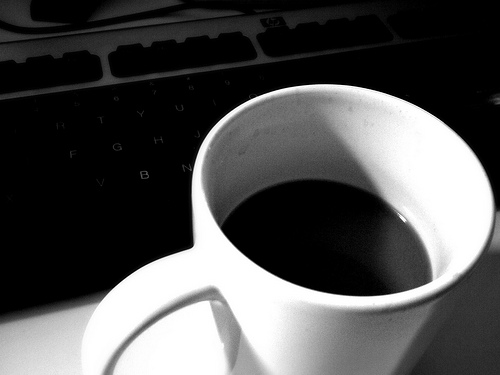 It's time to sit back, relax and enjoy a little joe …
Welcome to another rousing edition of Black Coffee, your off-beat weekly round-up of what's been going on in the world of money and personal finance.
Let's get right to it this week …
Credits and Debits
Debit: On Wednesday the US announced its final revision to the first quarter GDP and the data wasn't pretty: the economy contracted 2.9%. Aside from the 2008 crash, that's the worst quarterly GDP figure since 1991.
Credit: Incredibly, the stock markets shrugged off the terrible economic news that day to finish up at the closing bell. And not just barely up — stocks ended the day with relatively robust gains. Huh?
Debit: In normal times, news of a severe economic contraction would have sent stocks plunging. Instead, stocks surged on the worst economic data in five years. Yeah, that makes a lot of sense. Nothing to see here, folks. Move along.
Debit: Of course, for those with open eyes, it's simply more proof that our financial system is now so thoroughly distorted by the Fed's reckless monetary policies that the markets are mispricing risk. Badly. This is not going to end well, people. For any of us.
Debit: Then again, not every stock in the market has been a high-flyer lately. Radio Shack is struggling to stay above a buck. Four short years ago it was pushing $25 per share. On Friday, the stock closed at 97 cents.
Credit: Maybe Radio Shack's ignominious decline is the reason why some multibillionaires now see a coming economic maelstrom on the horizon, even if they don't understand what caused the problem in the first place — or more importantly, how to fix it.
Debit: Billionaire Nick Hanauer is warning that it won't be long before the economy implodes and pitchfork mobs take to the streets. He may be right. Unfortunately, he also naively believes that everything will be fine if we simply raise the minimum wage to $15 per hour.
Credit: Psst. Hey, Nick. Artificially higher wages will not fix anything. The real problem is caused by the cost of our behemoth free-market-meddling federal government, the debt-based money system, and the Fed that enables both.
Debit: For example, government low-interest student loans cause university tuitions to skyrocket far beyond what they would in the absence of such loans. It's also what allows "anti-poverty" professors to earn $205,400 annually — teaching one class per semester. I know.
Credit: Apparently, Swedish furniture giant Ikea didn't use Mr. Hanauer as a consultant before they decided to raise the company's minimum wage this week. The lowest-level Ikea employees will soon be earning $10.76, on average — equivalent to a 17% raise. When is the last time you got that kind of pay increase?
Debit: Did you see this? Detroit is cutting off the water to city residents who haven't been paying their water bills. How many people is that, you ask? Um, would you believe nearly half of all Detroit Water Department customers? It's true.
Debit: Finally … Two New York men are suing the New Jersey Lottery after they supposedly threw away a $1 million Powerball ticket. That's happened to me before too. Lots of times.
Credit: Ironically, those disgruntled New Yorkers still have two other lottery tickets they purchased at the same time — even though those were losing stubs. Of course, that makes sense. So you just know these guys are credible.
Credit: No, I don't know if they also discard the lobster and eat the shell when they dine out — but it's a good question.
By the Numbers
The first US federal minimum wage law was established way back in 1938. Here are a few more facts on US minimum wage laws:
$0.25 Original hourly federal minimum wage in 1938 (for employees engaged in interstate commerce or in the production of goods for interstate commerce).
$7.25 The current federal hourly minimum wage.
$1.15 The federal hourly minimum wage for most non-farm workers in 1968.
25 Number of years that Wyoming's minimum wage was $1.60 (1976-2001). In 2002, Wyoming raised it to $5.15.
14 States with no minimum wage law in 1968.
5 States with no minimum wage law today. (Alabama, Louisiana, Mississippi, South Carolina, Tennessee)
$9.19 Currently, the highest minimum wage offered by any state. (Washington)
Source: US Dept. of Labor
Other Useless News
Here are the top 5 articles viewed by my 5734 RSS feed and weekly email subscribers over the past 30 days (excluding Black Coffee posts):
Hey, no matter how you got here, please be sure to:
1. Click that Like button in the sidebar to your right and become a fan of Len Penzo dot Com on Facebook!
2. Make sure you follow me on Twitter!
And last, but not least…
3. Don't forget to subscribe via email too. Thank you!
And Here's Some Articles You Might Enjoy…
Art of Manliness – 9 Ways to Invest Without Putting Money in the Stock Market
Stacking Benjamins – Lessons from the Fight Over Casey Kasem's Care
Afford Anything – The Ultimate Beginner's Guide to Financial Awesomeness
Control Your Cash – Women, Take Your $0.72 and Be Happy with It
Hull Financial Planning – You Should Know What You're Going to Do In Retirement BEFORE You Retire
The Question of the Week
Loading ...
Last Week's Poll Results
Have you ever been audited by the tax man?
More than 200 people responded to last week's question. Historically, only 1% of all tax filers get audited. Even so, nearly 1 in 5 Len Penzo dot Com readers have received a visit from the tax man at least once. Go figure.
Letters, I Get Letters
Every week I feature the most interesting question or comment — assuming I get one, that is. And folks who are lucky enough to have the only question in the mailbag get their letter highlighted here whether it's interesting or not! You can reach out to me at: Len@LenPenzo.com
From Jared:
I've never had (enough) money to be audited!
Do you think that argument still applies for conservatives and Tea Partiers?
I'm Len Penzo and I approved this message.
Photo Credit: brendan-c