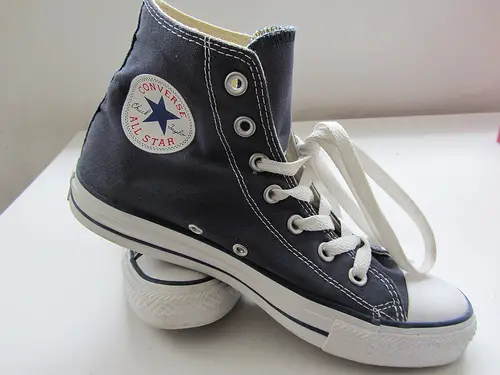 Last summer my 12-year-old daughter, Nina, was extolling the fashion virtues of her hot pink Converse Chuck Taylor All-Star high-top sneakers, better known to many as simply, "Chucks."
What I found amusing was while Nina really thought she was on the cutting edge of sartorial style, she was really just riding the latest fashion wave that has seen the popularity of those venerable basketball shoes rise and fall multiple times since they were first produced way back in 1917.
When I told her that dear old Dad used to wear Chucks when he was a kid growing up in the 1970s, she was completely amazed. And when I told her none of my friends would be caught dead wearing them by the time the 80s rolled around, she couldn't believe it.
"It's that way with a lot of things in life, Sweetie," I reminded her. "What goes around eventually comes around, no matter how unlikely it may seem. Just wait, they'll eventually fall out of favor again."
Despite what I told her, Nina refused to believe me. She just couldn't envision how the colorful canvas high-tops she was wearing would ever go out of style again.
Interest Rates: These Are the Good Old Days

I get the same reaction from younger people when I remind them that interest rates weren't always ridiculously low. In fact, last week a friend of mine was complaining that he couldn't refinance his 30-year mortgage to a lower rate because he was upside down. He was "stuck" and it really had him depressed.
"What kind of interest rate do you have?" I asked.
"Five-and-a-half percent," he said.
"What's wrong with that?"
"The interest rate is way too high!"
Really?
When it comes to interest rates, everything is relative.
True; if my buddy had an acceptable loan-to-value ratio he could secure a 30-year loan right now for four percent or so. But let's face it, looking back over time, his current 5.5 percent interest rate is nothing to scoff at.
Here is a chart I put together with data from Freddie Mac that shows how interest rates for 30-year home loans have varied over the years:
As you can see, in 1981, average interest rates reached 16.63 percent. And although Freddie Mac's data only goes back to 1972, during the early 1960s average interest rates were closer to what we currently have today; in the neighborhood of 5 percent.
I remember when I bought my first house back in 1990. With the interest rate on my 30-year $104,000 loan a whopping 10.75 percent, my monthly principal and interest payment was $970. If you had told me that I could have had a 30-year loan for 5.5 percent way back then, I would have felt like I had just won the lottery. After all, at that interest rate my house payment would have only been $590.
Interest Rates: Those Were the Good Old Days
If I had a nickel for every person who has complained about the pitiful interest rates that savers are currently earning, I'd be a thousandaire by now.
Savers have a right to be upset. I have a savings account with about $2000 in it that I keep as a special quick-access emergency fund; it earned a whopping $16 in interest last year.
Returns on certificates of deposit, savings accounts, and money market accounts are influenced by the US fed funds rate, which is generally influenced by the inflation rate. Today the rate sits between 0 and 0.25 percent, so it's no wonder most people nowadays consider themselves lucky when they can find a bank that pays more than one percent for a high-interest savings account.
For a lot of you this may seem hard to believe, but it wasn't always that way. Here is a historical look at the fed funds rate between 1954 and 2011:
As a teenager, I remember the money in my savings account earning double-digit interest rates in the early 1980s when the fed funds rate peaked at 19.1 percent in response to high inflation.
For a kid with no real financial obligations at the time, those high interest rates were a rich reward that helped reinforce the benefits of saving.
If I had earned, say, 17 percent interest on my $2000 emergency fund last year, I'd have an additional $400.42 in my account this year, as opposed to the $16 it actually earned.
The Bottom Line
What goes around eventually comes around — whether it's stainless steel appliances, bell bottom jeans, or those venerable "Chucks" that have repeatedly fallen in and out of fashion for almost 100 years.
Interest rates are no different. Although they've been at historic lows for so long now that many folks have forgotten that it wasn't always this way, history tells us that inflation and the higher interest rates that come with it will eventually return.
While that may be considered good news for folks with savings accounts, for those looking to get a loan … not so much.
Photo Credit: Tiffany Terry