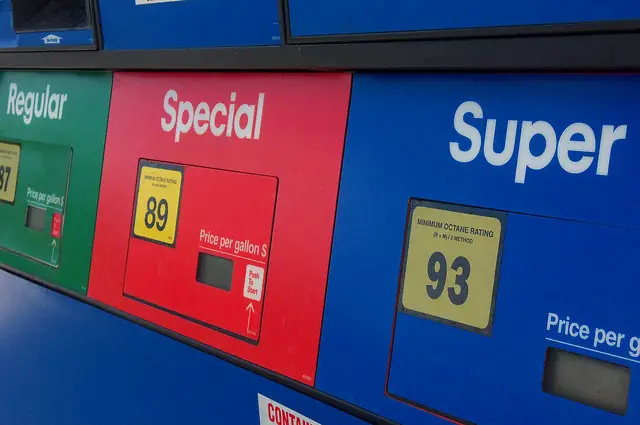 The things I do for this blog in the name of personal finance.
One day last month I got into a lunchtime conversation at work with a contractor who tried to convince me he had good reasons for putting premium gasoline in his Toyota Corolla, the biggest of which was that he got better gas mileage. I found that a bit hard to believe – but more on that in a second.
For the record, Consumer Reports notes that using premium gas in an engine that is designed to run on regular does not improve performance.
Unlike my contractor friend, I think most people understand that premium gasoline is generally meant for use by high performance cars and the occasional Sherman tank. Even so, premium gasoline sales are not insignificant, with market share consistently higher than 10%.
I don't know about you but, regardless of how you calculate fuel economy, 10% of the cars I see on the road aren't high performance vehicles — or Sherman tanks for that matter — so anecdotal evidence suggests a lot of people still believe in the magical powers of premium gasoline.
In fact, the magical power that allows premium gasoline to turn a Toyota Corolla into a 540-hp Shelby GT500 is eerily similar to the claims of those male enhancement drugs that promise to turn us average Joes into superhuman love machines that would make even the late great Barry White envious. I mean, just look at the evidence:

But I digress. Let's go back to the contractor who swears he gets better gas mileage. In addition to prolonging the life of his engine, this guy insists that premium gasoline gives him an extra three miles per gallon too. Assuming he gets 40 miles per gallon, that would result in an improvement of only 7.5%, which is very close to the mark-up for premium gas anyway. Fine.
So just for grins I performed my own month-long experiment using only premium gasoline in my trusty 1997 Honda Civic. I already had plenty of gas mileage data using regular gas from an earlier commuter analysis I conducted; it found that I was averaging 40 mpg with regular gasoline.
As for my results using premium fuel? Well, over a 30-day period I averaged one mpg less using the premium gasoline — and I paid an additional $6.44 for the privilege.
Talk about feeling like a chump. I'll bet a lot of suckers people who bought those magic pills felt the same way after they finally, er, measured their results too.
The lesson, of course, is that you shouldn't buy into the hype of thinking that just because something costs more it has to be better. Premium gasoline is intended for use on a relatively narrow niche of cars — so if you aren't sure what type of fuel your car should be using, check your owner's manual.
The odds are the manufacturer probably recommends good ol' regular 87 octane gasoline.
Photo Credit: dno1967b