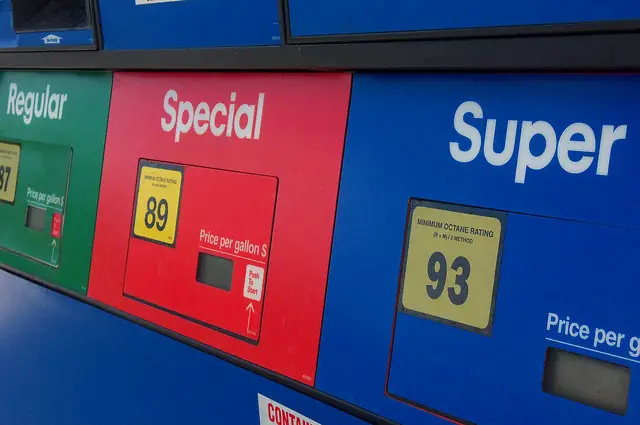 Until now, rising oil prices have managed to push the market higher, and that has managed keep people who are investing in the surging stock market very happy as they watch their 401(k) and other investment vehicles rise in value. However, that may be about to change — at least it will if a recent warning from GasBuddy's 2017 Fuel Price Outlook becomes reality:
Motorists are about to get some sticker shock in 2017 and will shell out $52 billion more over the course of the year compared to 2016 as the national yearly average rises to $2.49 per gallon.

Aside from higher gasoline prices:

$355 billion will be spent on gasoline in the US over the course of the year, $52 billion more than last year. That's a considerable jump given that motorists saved $39 billion on gasoline in 2016 versus 2015.
The seasonal switch from 'winter-blend' to 'summer-blend' as mandated by EPA and the Clean Air Act will bring a spike at the pump later this winter and spring, with the national average gas price rising 35 to 60 cents between mid-February and May.
$3 a gallon gasoline will be seen in at least the nation's largest cities: Los Angeles, New York, Chicago, Washington, DC, and Seattle, with a strong possibility of such prices also appearing in a majority of the nation's 20 largest metropolitan areas.

'In recent years the pump price continues to garner more media attention serving as an economic barometer on Main Street that stirs opinions from a broad swath of consumers from coast to coast,' said Gregg Laskoski, senior petroleum analyst. 'Forecasting the direction of that barometer, the potential trouble-spots, and how the trends are likely to translate into dollars and cents affords us the opportunity to share insights that help everyone save money, even when prices are climbing.'
Of course, there are more than a few ways to defray the impacts of rising fuel costs; the most obvious way is to cut back on unnecessary driving. Then again, for you high-octane gasoline addicts, a less-painful option would be to move from premium to regular gasoline.
After all, it's a mistake to think that just because something costs more it has to be better.
And since premium gasoline is intended for use on only a very narrow niche of cars, if you aren't sure what type of fuel your car should be using, then check your owner's manual. For most people, regular 87 octane gasoline is good enough.
Photo Credit: dno1967b