A couple weeks ago I told you about my adventures in getting a set of four new tires for my 1997 Honda Civic and why buying extended warranties for tires is a waste of money.
Of course, the conventional wisdom out there is that it is virtually never advantageous to get an extended warranty for anything, which I believe is a bit extreme. Experts like Dave Ramsey, for example, tell their followers to just say no to extended warranties.
Dave's not alone. Here's an article from a respected British publication that implores us to avoid extended warranties at all costs.
Really? Avoid them all costs? Isn't that a bit extreme?
I avoid the measles at all costs. I'll also avoid Taylor Swift concerts at all costs.
Yes, I realize extended warranties are usually, well, unwarranted – but to avoid them at all costs?
Isn't that just a bit hysterical?
Extended Warranties Get Little Respect – And for Good Reasons

In a more level-headed article, Consumer Affairs notes that there are five really good reasons you shouldn't buy an extended warranty:
1. They usually cost more than they are worth.
2. The warranty work may be unreliable.
3. The warranty may not cover what you think it does.
4. The warranty underwriter may go out of business.
5. The extended warranty may overlap the manufacturer's warranty.
And while that's all well and good, those criteria are still not sufficient for us to blindly assume that all extended warranties are automatically a bad deal.
Sometimes Extended Warranties Do Make Sense
Despite what guys like Dave Ramsey say, things aren't always quite so black and white.
For example, the Honeybee and I have found that we were wise to purchase the extended warranties for some of my young son's electronic games. Because my son tends to be rough, he has broken more than a few of them, and as a result those extended warranties we bought have more than paid for themselves. If I had listened to good ol' Dave and his one-size-fits-all advice, I'd be a few hundred dollars poorer today.
Yes, extended warranties are more often than not a bad idea — unlike a surety bond — but on rare occasions they do make sense. Miss it and you could be costing yourself money.
The trick, of course, is figuring out exactly when it's advantageous to pull the trigger.
My Extended Warranty Litmus Test
Because a one-size-fits-all approach is a bit simplistic, I tried to devise a definitive litmus test that could be used to determine those rare occasions when an extended warranty actually makes sense.
So with that aim in mind I developed this flow chart (below) that I put into a matrix format.
Simply start at step 1 and answer the questions as best you can, continuing on until you are told whether or not an extended warranty is worth it.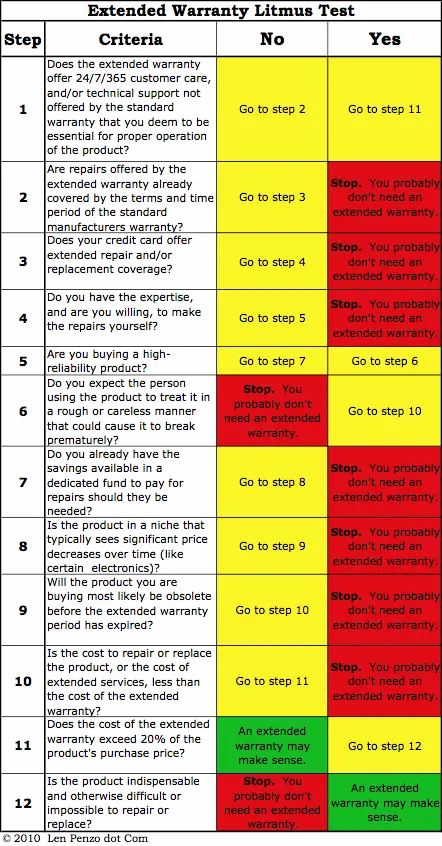 Let's look at some of the extended warranty litmus test questions in a bit more detail.
Question 1. Does your extended warranty offer 24/7/365 customer care?
For a lot of people, this little service perk makes the cost of an extended warranty well worth it. This is often especially the case for those people who lack the expertise required to make the best use of the product being purchased. A great example of this is a computer. Many computer neophytes may not feel comfortable unless they have the security blanket that such a policy offers, and it's very tough to put a price on peace of mind.
Question 2. Are the repairs already covered by the terms and period of the standard manufacturer's warranty?
Well, are they? If you're not sure, ask! While you're at it make sure the extended warranty doesn't overlap with the manufacturer's standard warranty, otherwise you will be paying for a portion of the extended warranty that you don't need. For example, although you might pay for a three-year policy, in reality you could be getting only two years of additional coverage.
Question 3. Does your credit card already offer extended repair and/or replacement coverage?
Credit cards unjustly continue to get a bad rap among many personal finance experts. However, many of them offer extended repair and/or replacement coverage for certain items that completely nullify the need for an extended warranty – just one of many good reasons why I will never cut up my credit card.
Question 4. Do you have the expertise and are you willing to fix the product yourself if it breaks?
If you have the knowledge, money, and gumption to fix the product yourself – assuming you can readily find the parts – it probably makes sense to take your chances and forgo the extended warranty.
Question 5. Are you buying a high-reliability product?
There's a big difference in product reliability rates. A laptop computer, for example, has a better than 2 in 5 chance of requiring repairs within the first four years. Then again, an LCD or plasma television has only a 3% chance of breaking during the same period. The question is, how much risk are you willing to live with? For a list of repair rates for various products, check out this post by Consumer Reports.
Question 6. Do you expect the person using the product to treat it in a rough or careless manner?
As I explained earlier, some products simply don't stand a good chance of survival when they're in the hands of a klutz or otherwise careless individual – regardless of how highly reliable they are.
Question 7. Do you already have the savings available in a dedicated repair fund?
If the expected repair costs are relatively low, and you have the savings already in the bank to cover them, why bother giving the dealer more of your hard-earned money when the odds are that your product will last beyond the warranty period anyway?
Question 8. Is the product in a niche that usually sees price declines over time?
Most electronic devices tend to drop in price over time. In those cases, it often makes sense to take your chances and pass on the warranty – especially when the drop is significant.
Question 9. Will the product be obsolete before the extended warranty period has expired?
Some products like video game systems become obsolete within a couple years. For those items, you're better off taking your chances. If the product does break and the cost to repair it is small , then there's no harm in paying for the repairs out of your own pocket. If the cost to repair is high though, you may as well replace your dinosaur with upgraded technology.
Question 10. Is the cost to replace or repair the product, or the cost of extended services, less than the cost of the extended warranty?

Be careful. The odds are firmly against you when it comes to you having to exercise your extended warranty for even one repair. If the cost to repair or replace the product is less than the cost of the extended warranty, then you are betting that the product you're buying will actually require at least two repairs over the life of your extended warranty – and possible more than that. Talk about long odds.
Question 11. Does the cost of the extended warranty exceed 20 percent of the product's purchase price?
Consumer Reports recommends you pass on any extended warranty that is higher than 20 percent of the product's price.
Question 12. Is the product indispensable and otherwise difficult or impossible to replace?
How do you replace the irreplaceable? Sometimes things are tough, or even worse, impossible to replace. Perhaps you are buying a product that is being discontinued but you know you are going to need it for the next several years. If so, then maybe this is another one of those rare instances where an extended warranty just might be money well-spent.
In Conclusion
As you can see, most of the litmus test exit points lead toward NOT getting the extended warranty. Then again, when all the stars and planets do come into perfect alignment, the test will show you those rare times when purchasing an extended warranty might not be such a bad idea after all.