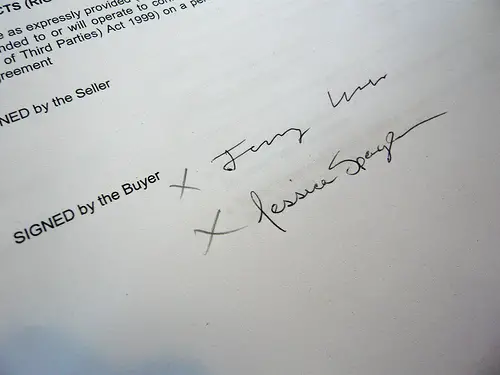 It's not uncommon to see offers like these on a daily basis: "Get a new iPhone for only $99; requires two-year contract," or "Get DIRECTV for only $59.99 a month for six months; requires a one-year commitment."
These teasers may sound great, but the companies offering them always require that customers sign a contract — and that contract usually includes a variety of stipulations.
Before you sign a contract with a cell phone provider, Internet provider, or a cable or satellite TV provider, carefully consider the terms. Insisting on service without a contract may save you money in the long run. With that in mind, here are five things to consider before you enter into any contract:
It's easy to sign up, not so easy to cancel
You can easily sign up for service with these providers just by signing a contract. The process may involve a credit check, and usually involves a verbal or online agreement. Once you agree to purchase the service, you also agree to the contractual obligations. The ease with which you enter into the contract stands in harsh contrast to the amount of effort it takes to cancel a contract for a service agreement.
When you first call the company to explain that you wish to cancel the service, the service representative will unfailingly attempt to talk you out of your decision. Frequently, the phone call precipitates a large amount of paperwork that you must complete before you are free of the contract.
Contracts limit freedom
Once you sign a contract, you lose the freedom to continue shopping around. You are locked in, and cannot respond to competing companies that may offer better deals. Additionally, if you plan to relocate, you may still have to fulfill the contractual obligations. Many service providers' contracts include verbiage that states that moving away from the service area does not nullify the service contract.
No option for price negotiation
Service providers want you to sign a contract so they can lock you into a payment agreement. Regardless of the service, prices fluctuate – yet companies lock customers into a payment agreement, and then exclude them from future price reductions. No matter how good the initial offer seems, you almost always pay more in the long run for the cost of the contract, mitigating any initial savings from the introductory promotional offer.
Fine print can include undesirable stipulations
Service contracts usually include extensive terms and conditions. Of course, the businesses pushing these contracts have an advantage because they use contract management services. So familiarize yourself with the fine print before signing a contract. For example, when you sign up for a cell phone plan, you may have to purchase a pricy data plan. You may also have to pay full price for your "free" movie channels when the introductory promotion ends, or pay more for a faster Internet connection after an introductory promotional period ends.
To get the best deals, discuss the length of any promotional periods – as well as cancellation fees – with a representative before signing a contract. If you have to cancel your service early, you may have to pay termination fees. Cell phone cancellation fees typically range from $95 to $450. You can also find information about cancellation fees and promotional offers online. Most service providers offer some version of the contract's terms and conditions on their websites.
No contract options exist!
Currently, I am not under contract with any of my providers. This includes my cell phone, Internet, and satellite TV services. I can price shop, compare service offerings, and switch companies whenever I choose. And I will never sign a contract for a service agreement; plenty of no-contract options exist amongst service providers. I may not get the benefits of special promotional deals, but I am saving money in the long run by using this strategy.
Final Thoughts
If possible, do not sign contracts with service providers. Instead, shop around and find a company that offers a similar service without requiring a service contract. If you absolutely must sign a contract, sign a short-term contract. Don't get locked into any contracts that last for years. And always negotiate with service representatives to ensure you get the best introductory offers and to make your contract more valuable.
Remember, once you sign a contract, you won't be able to utilize negotiation strategies and tactics later on. Make sure you're really happy with the deals you receive before you sign on the dotted line.
Photo Credit: Jessica Spengler