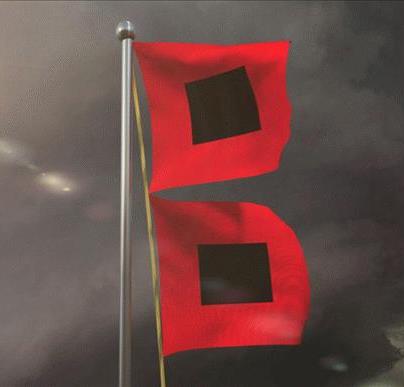 It's time to sit back, relax and enjoy a little joe …
Welcome to another rousing edition of Black Coffee, your off-beat weekly round-up of what's been going on in the world of money and personal finance.
I hope everybody had a wonderful week. And with that, let's get right to this week's commentary, shall we?
Tricks and treachery are the practice of fools who don't have brains enough to be honest.
— Benjamin Franklin
Credits and Debits
Debit: Did you see this? After raising the fed funds rate a measly 25 basis points, Fed Chair Jerome Powell admitted this week that "we're not expecting near-term progress on inflation." Interestingly, the Fed's feigned cluelessness with regard to the non-transitory nature of inflation was highlighted by the Wall Street Journal's chief economist, Nick Timiraos, who notes that J-Pow rejects the Fed's printing press as the reason for the high inflation afflicting the general public: "I don't think it's an important part of the story at this time." Of course, you don't, Jerome. Yes, folks; we're living in a clown world.
Credit: Speaking of inflation, I'm going to paraphrase the inimitable MN Gordon, who astutely noted this week that "US financial markets have been rigged for at least three decades, with the unintended consequences of massive asset and consumer price inflation having infected every sector of the economy." They certainly have. In fact, prices for housing, groceries and fuel are so far off the hook now that I'm sure it makes most people pine for the "good ol' days" …
Debit: It's bad enough that the Fed's paltry 0.25% increase will do nothing to arrest inflation that is running at more than 15%. But while the Fed was doing that it was also quietly expanding its balance sheet by another $44 billion – this time to a new record high of $9 trillion– thereby adding even more fuel to the inflationary fire. Yes, it's absurd monetary policy; equivalent to driving with one foot on the gas pedal while the other one is on the brake. On a related note …
Credit: It's no secret the US economy is addicted to low interest rates, which is a problem because the Fed is now in a hiking cycle. Macroeconomist Peter Schiff warns that the Fed will only be able to raise rates so far before the economy, led by the stock and housing markets, "goes into withdrawal. We're going to see the impact on consumers – who are already struggling with rising prices – begin struggling with rising interest rates too. That's when the real problems will start for the Fed." Heh. As if they don't have enough problems already.
Credit: In other news, for those who have been wondering when the monetary reset was going to happen, macro analyst Bill Holter revealed the answer this week. He says, "you've been watching the answer in real time; last week marked many milestones as the world prepares to settle trade in something other than dollars. The reset is happening right now, and we're not going back" to old US dollar-centric system. Then again, I guess that was to be expected as an increasing number of US dollar holders are finally waking up to the fact that the so-called "Almighty Dollar" isn't quite as mighty as it appears to be …
Credit: Of course, Mr. Holter definitely seems to be on to something; a monetary reset is underway. And evidence is mounting that the dollar's rapidly diminishing reserve status has been – ironically – self-inflicted. How so? Well … macro analyst James Rickards points out that, "In the past, even nations at war with each other continued paying the debts they owed to each other. But that was then and this is now." Rickards points out one notable example: "the 1854 Crimean War between Russia and Britain, when Russia kept paying interest to British debt holders, and vice versa." Imagine that. Oh … and speaking of self-inflicted behavior:
Debit: Needless to say, Rickards says, "The US is destroying the value of the dollar by abusing sanctions. Freezing the reserves of the Central Bank of Russia is the last straw for Russia and the world. After all, if dollar reserves are no longer a safe haven, then who needs them? The world will demand something more dependable that can't be frozen on a whim. In the future, the dollar won't be that important. It won't happen overnight, but the sanctions accelerated the process." Yes; a process that will decimate nest eggs and lower living standards for most middle class Americans. Well … at least until America's industrial base returns.
Debit: It may be hard to watch the United States and the rest of the West undermine confidence in its own monetary system but, frankly, the US dollar was given a finite shelf life when its anchor to gold was officially broken in 1971. After all, the purchasing power of any currency is fully dependent on the public's faith in the currency – regardless of whether it's fiat, or directly convertible to gold. In short: When confidence in any currency is lost, it rapidly loses value as a medium of exchange – an event that's happened at least 152 times before. Let's just hope the next system doesn't result in us jumping from the frying pan into the fire:
Credit: By the way, macroeconomist Alasdair Macleod reminded us this week that "fiat currencies come and go, but only gold goes on forever. Understanding the relationship between money – which is only gold coins – and currency (which is bank notes and credit) is vital to understanding what's required to replace today's fiat-currency system." And for those wondering if there's enough yellow metal out there to support a new system with circulating specie, Macleod assures us that "a relatively small base of gold coins in relation to the overall credit in any economy is sufficient to guarantee price stability." Indeed. Just don't tell that to the Fed. Or Congress.
Credit: For his part, Credit Suisse's Chief Strategist, Zoltan Pozsar, says the current monetary "crisis is unlike anything since Nixon took the US dollar off gold in 1971, which marked the end of the commodity-based money era." He also says that "when this crisis is over, the dollar should be much weaker and – on the flip side – the Chinese renminbi much stronger, backed by a basket of commodities." Yep. Anybody care to guess what the most important commodity will be? For those who of you who forgot what you just read, think of a yellow metal that rhymes with "old." Still unsure? Well … then I'll bet you're related to one of these guys:
Credit: Since the Bretton Woods monetary system was introduced in 1943, the US has benefitted more than any other nation – but Nixon's 1971 incarnation is mathematically unsustainable and its time is almost up. For Pozsar, the roadmap is obvious: "From the Bretton Woods era backed by gold bullion, to Bretton Woods II backed by US Treasuries with non-hedgeable confiscation risks, to Bretton Woods III backed by gold and other commodities. After this war is over, 'money' will never be the same again." Well … not quite. For the global monetary system, it's simply a case of 'back to the future.' Whether we're ready for it, or not.
The Question of the Week
 Loading ...
Last Week's Poll Results
What is your current net worth (excluding home equity)?
$1 million or higher (33%)
$500,000 to $999,999 (24%)
$100,000 to $249,999 (15%)
$250,000 to $499,999 (13%)
$0 to $99,999 (12%)
Less than zero (3%)
More than 2000 Len Penzo dot Com readers responded to last week's question and it turns out that, even without counting home equity, 4 in 7 say they have a net worth of at least $500,000. That's great news. On the other hand, roughly 1 in 33 say their net worth excluding home equity is currently in the red.
If you have a question you'd like me to ask the readers here, send it to me at Len@LenPenzo.com — and be sure to put "Question of the Week" in the subject line.
By the Numbers
Despite rising interest rates, homes are still selling like hot cakes in most areas of the US. To make yours stand out from a crowded field, many experts recommend staging it. Here's why:
96% Percentage of homebuyers who report that they were at least partially affected by home staging.
81% Percentage of homebuyers who say staged properties are easier to visualize compared to those that are not staged.
34% Percentage of realtors who say they stage all of their homes.
3 Number of times faster that staged homes sell over a non-staged homes.
5% Maximum increase in price the typical homebuyer is willing to pay for a staged home.
$1600 The average cost to stage a home.
Sources: Tallahassee Democrat; HomeAdvisor
Useless News: Good Advice
When Joseph Stalin was on his deathbed, he called Nikita Khrushchev to his bedside for a private meeting.
When Khrushchev entered the room, Stalin was holding three envelopes in his hand and said: "Listen carefully; I have chosen you to be my successor. Take these three envelopes; they will guide you. Open the first when I have died, the second when things get a little shaky, and the third only when all hope is lost."
The rapidly deteriorating Stalin then handed Khrushchev the three envelopes and sent him back to the Politburo.
Two days later, Stalin died, and Khrushchev opened the first envelope. It read: "Seize power." So he did.
A year later, inflation reared its ugly head and the economy faltered, which resulted in terrible civic unrest – so Khrushchev opened the second envelope. It read: "Blame everything on me." So he did.
Amazingly, despite the ongoing economic problems, the civil strife stabilized somewhat for several years.
Unfortunately, the inflation eventually grew even worse than it already was, so a desperate Khrushchev implemented price controls, which led to widespread shortages in everything from bread and meat to shoes and heating oil.
Shortly thereafter, huge throngs of angry citizens began gathering daily in the streets to protest the terrible living conditions.
Eventually, things got so unbearable that the people began openly calling for Khrushchev's head.
Then one particular morning, Khrushchev looked out his bedroom window and noticed that a rebellious crowd armed with pitchforks and torches had overcome his security detail and was now gathered on the expansive grounds of his palatial estate. Even worse, the horde was growing larger with each passing minute!
So, with all hope seemingly lost, Khrushchev decided to finally open the third envelope. It read: "Prepare three envelopes."
(h/t: Joseph Meltzer)
More Useless News
Here are the top five articles viewed by my 41,999 RSS feed, weekly email subscribers, and other followers over the past 30 days (excluding Black Coffee posts):
Hey, while you're here, please don't forget to:
1. Click on that Like button in the sidebar to your right and become a fan of Len Penzo dot Com on Facebook!
2. Make sure you follow me on my new favorite quick-chat site, Gab — oh yeah, and Parler too! Of course, you can always follow me on Twitter too. Just be careful what you say there.
3. Subscribe via email too!
And last, but not least …
4. Please support this website by patronizing my sponsors!
Thank you!!!! 😊
(The Best of) Letters, I Get Letters
Every week I feature the most interesting question or comment assuming I get one, that is. And folks who are lucky enough to have the only question in the mailbag get their letter highlighted here whether it's interesting or not! You can reach out to me at: Len@LenPenzo.com
For some reason, Louie felt an overwhelming need to deposit this question in the Len Penzo dot Com mailbox:
Hey, Len! How many calories are there in a booger?
Heh. You don't really expect me to bite on that one, do you?
If you enjoyed this, please forward it to your friends and family. I'm Len Penzo and I approved this message.
Photo Credit: public domain