When the Honeybee and I bought our last computer, there was quite a debate over whether or not we should pay the extra money for the added convenience of a wireless keyboard and/or mouse.   The fear, of course, was in the uncertainty of whether or not we would end up spending a small fortune over the life of the computer buying replacement batteries.
We ultimately decided to Heck with it (wherever that is) and went the wireless route, not only for the convenience, but also because of the neatness that comes with having two less wires attached to our iMac.
Of course, being the financial nut that I am, I decided to track how often I changed the batteries so I knew how much I was paying on top of the premium I originally paid for the wireless devices.
For the record, our keyboard and mouse get heavy use; I would conservatively estimate that our computer is in use, on average, ten hours per day.
So with that information in mind, here is a summary of all the battery changes for our wireless keyboard and mouse since we got our new computer approximately 18 months ago: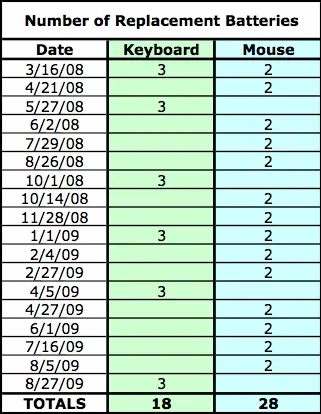 So how much money has that set us back?
If you buy in bulk like we do, you can get quality AA alkaline batteries for 40 cents each in reasonable quantities for the average household.   That means we have spent only $18.40 plus tax for our wireless keyboard and mouse batteries in a year and a half.   Excluding the original premium, of course, that comes out to only a dollar per month – well worth the convenience over their traditional wired counterparts, if you ask me!   🙂
In fact, that cost is so low it certainly doesn't come close to justifying the initial charger and battery costs we would have to pay to switch over to rechargeable batteries.
In my next post I'll not only explore why that is so, but I'll also address why rechargeable batteries actually make less financial sense than many people think.    :-)
Hey! If you liked this article, please be sure to subscribe to my RSS feed!