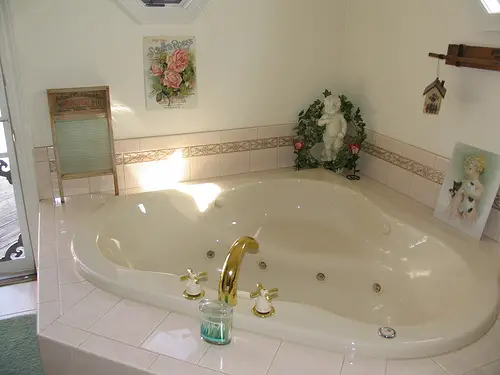 Once again, I thought I'd pass on a little advice and save a serious case of buyer's remorse for the six people left in America who are still looking to buy a home.
No, no. I'm not going to tell you why corner lots are for suckers again.
This time, I've got some advice for those of you who may be thinking about putting a jacuzzi-style jetted whirlpool tub in their master bathroom: Don't do it.
Trust me, I'm the "proud" owner of one, and the cons far outweigh the pros.
In fact, here are a whole gaggle reasons why jetted whirlpool tubs just aren't worth it:
1. They're expensive. Good luck trying to find a decent one for less than $1500. And that's before adding in the costs required to have someone install it, assuming you aren't the do-it-yourself type. Then again, even if you are:
2. The manufacturers recommend you don't install them yourself. For obvious reasons. Most people are simply better off getting a licensed general contractor, electrician or 24 hour plumber who knows what they're doing.
3. They're not romantic. Yeah, yeah; on first blush the seductive thought of relaxing in a deep tub of warm water with your significant other, surrounded by lots of candles and rose petals, seems extremely romantic. It's not. One big reason why is because:
4. They're noisy. The sound of the running motor and pump is not only a mood killer for those looking for a little romance, it also works against those simply looking for a little relaxation after a long hectic day too.
5. Bubble baths and whirlpool tubs don't mix. If you aren't very careful, the water jets tend to cause a foaming issue, which can result in a bubble bath on overdrive. Besides:
6. They take too long to fill. That's because they're extremely deep, which also means whirlpool tubs require a lot of water. So much so that:
7. They tend to completely drain traditional hot water tanks. Larger whirlpool tubs can use between 50 and 80 gallons of hot water, which is bad news for the other people living in the house who may need hot water for other reasons while you're busy getting squeaky clean.
8. Before you know it, you're sitting in a tub full of cold water. Well, unless your tub has a built-in heater. Then again, if it does, that heater, coupled with the whirlpool tub's pump motor, ends up leading to:
9. Higher energy costs. Yep. Depending on the tub model, how often you use it, and the price of electricity, you could spend up to $40 per month or more over a traditional soaker tub.
10. Ventilation concerns. The larger amount of heat and moisture that is generated by whirlpool tubs can become a problem if the bathroom has inadequate ventilation.
11. Higher maintenance costs. It's true. You'll be paying for those motors, pumps and other electronic and mechanical parts that fail beyond the manufacturer's warranty period.
12. They're prone to algae growth. Algae is a common problem with a whirlpool tub because, even after you've drained it, water tends to sit in its internal network of pipes, nozzles and jets, thereby allowing it to grow. As a result:
13. They require frequent cleaning. At least twice per month — unless you're the type that likes seeing bits of black and green algae floating in your bath water.
14. Washing your hair or shaving in them isn't wise. At least it isn't if you plan on using the jets; that will only make cleaning even tougher than it normally is.
15. You'll hardly ever use it anyway. And if you have to ask why, go back to the top of this list and try reading a little slower.
16. They don't add anything to your home's resale value. I don't care what your real estate agent tells you. For most people looking to buy a home, a whirlpool tub is not very high on their list of "must haves." And for good reason.
Actually, make that 16 reasons.
Photo Credit: Suppa