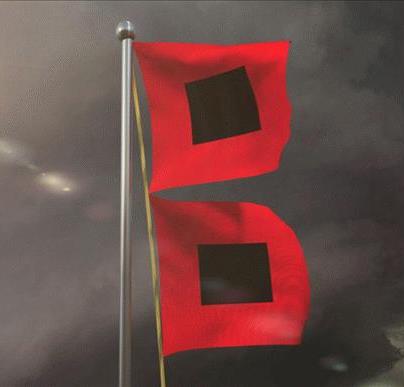 It's time to sit back, relax and enjoy a little joe …
Welcome to another rousing edition of Black Coffee, your off-beat weekly round-up of what's been going on in the world of money and personal finance.
I hope everybody had an enjoyable week. Without further ado, let's get right to this week's commentary …
The world is full of obvious things which nobody by any chance ever observes.
— Sir Arthur Conan Doyle
Inflation is a thief in the night, and if we don't act promptly and decisively we will always be behind.
— William McChesney Martin, Fed Chairman (c. 1958)
O, what a tangled web we weave when first we practice to deceive.
— Walter Scott
Credits and Debits
Debit: Did you see this? Treasury Secretary Janet Yellen admitted this week that the cost to reach the utopian dream where man is able to control global "climate change" is going to cost more than $100 trillion; it's a truly ambitious goal considering that the government can't perform far simpler tasks — such as controlling spending and balancing its own budget. Never mind that the knowingly-understated price tag is more than twice global GDP. Heh. I guess we're so deep into the fiscal policy rabbit hole now that the math no longer matters. For anything …
Debit: But wait … Secretary Yellen's remarks only went downhill from there, as she also openly admitted that, "The gap between what governments have and what the world needs is large, and the private sector needs to play a bigger role." Translation: Soon, the billionaires won't be the only ones dipping into their wallets to pay those 'unrealized capital gains' taxes. As for us little people, we've been paying in other ways for quite awhile now …
Debit: Needless to say, that kind of unhinged government spending is why prices for everything are soaring. The non-transitory surge in inflation continued in October with a 0.6% month-over-month (MoM) increase in producer prices; on a year-over-year (YoY) basis, the producer price index (PPI) increase is an alarming 8.6% – that's a record high. As for consumer prices, the CPI October print was 6.2% YoY – that's the highest rate in more than 30 years. So much for transitory.
Debit: You'd think everybody could agree that skyrocketing consumer prices were something most folks would prefer to avoid at all costs. Not so, apparently, as Zero Hedge reported this week that, "While millions of Americans are suffering from runaway, galloping inflation everywhere from the gas pump to the grocery store — which affects low-income individuals the most — MSNBC deployed their best pretzel-logician to explain why all this inflation is literally … wait for it … 'good.'" Heh. Just more proof that we really do live in a clown world.
Debit: At least the Bank of England isn't buying MSNBC's ludicrous claim. In fact, this week the BoE's governor apologized to British citizens, saying he is 'very sorry' that UK inflation is rising amid forecasts the cost of living could increase as much as 5%. No, really. Now who wants to tell the clueless central banker at the BoE or the Fed that price increases passed 5% long ago and have been in double-digit territory for a long long time? Or that inflation is blatant theft of the public's purchasing power? The trick now is figuring out how to stop this ongoing monetary larceny. Hmm. Maybe something like this:
Credit: Speaking of ludicrous claims, market analyst Matthew Piepenburg says that despite the Fed's recent taper announcement, "it's as bogus as a 42nd Street Rolex. Taking $15 billion off $120 billion per month in QE, and sending the Fed's balance sheet to $9 trillion, while holding rates at zero, isn't the kind of 'tightening' that signifies a 'healthy' market. Add to that the liquidity provided by Standing Repo Facility and (other) swap lines and the bond market will see more – not less – support. So in short: nothing has changed." Well … except for the increasing amount of central banker subterfuge.
Debit: The constant disconnect has left Piepenburg asking: "How long can lies and control supplant reality? The growing yet shameful disconnect between market highs and economic lows is getting harder to explain, ignore or deny by the architects of the most artificial, rigged and dishonest market cycle in modern history. In short: It's no longer worth pretending that stock markets are correlated to natural supply and demand, or economic productivity." You can say that again. Here's proof:
Credit: Meanwhile, macro analyst Bill Holter reminded everyone this week that the massive valuations we are witnessing in the stock and housing markets is driven by debt; via low interest rates for homes, and debt-fueled stock buybacks for equities. More to the point, he notes that the pain will become palpable once these bubbles finally pop because although everyone's net worth will be decimated, the debt will remain, thereby making the ability to service it untenable. As for how long it will take for everyone's wealth to disappear after the bubble finally bursts, well … here's a good example:
Debit: Of course, we can all get a sneak peek at how these debt troubles will begin unfolding in America by looking at the deepening liquidity crisis in the rapidly-deteriorating Chinese property sector, where the index of Chinese junk bond yields hit another all time high last week after climbing above 21%, as yet another property developer there, Kaisa, missed a bond payment. In essence, the game of musical chairs has stopped and investors there are fighting for the few seats that are still available.
Credit: By the way, the lies and subterfuge we're now being bombarded with on a daily basis is a desperate final attempt by those in charge to hide our fraudulent debt-based monetary system's rotten foundation, which has become conspicuously exposed to the public. In fact, the only thing keeping it from completely collapsing is the fact that a good portion of the population is still unaware of the danger. But as Piepenburg notes, the good news is, "if there's one thing history has taught us, it's this: In the end, broken systems die and real money returns." That it does …
Debit: By the way, the primary reason why a majority of the population continues to be oblivious to the financial and monetary peril before them is — surprise, surprise – the mainstream media, as this article by the managing editor of Bloomberg's Markets Live team exemplifies. In it, he laments the increasing financial risks of the highly-inflationary environment we find ourselves in, and possible portfolio alternatives, without mentioning gold a single time. Frankly, the yellow metal's inexplicable omission is beyond bizarre.
Credit: Then again, not everybody is asleep at the wheel. Maybe all of this economic turmoil is why the bunker building business is exploding as the elitists begin to fear the masses are waking up – at least that's what Ron Hubbard reported this week. Hey … he should know. Hubbard is the CEO of Atlas Survival Shelters, which is one of the world's largest doomsday bunker builders. Now if only we can get everybody else to notice.
By the Numbers
The Treasury Department has announced inflation-adjusted figures for retirement account savings for 2022. While contribution limits are up for 401k plans, contribution limits for IRAs remain at 2019 levels:
$1000 The increase for maximum salary deferral amount for 401k and similar workplace plans in 2022. ($20,500)
$0 The increase in the maximum 401k catch-up contribution amount for those 50 and older in 2022. ($6500)
$3000 The increase in the overall 401k limit for 2022, which includes employer contributions. ($61,000)
4 The number of consecutive years that IRA contribution limits have remained unchanged. ($6000; $1000 catch-up)
$500 The increase in the contribution limit for SIMPLE retirement accounts for 2022. ($14,000)
Source: Forbes
The Question of the Week
 Loading ...
Last Week's Poll Result
How much did you spend on Halloween candy, costumes and decorations this year?
$0 (41%)
More than $20 (33%)
$1 to $20 (26%)
More than 2300 Len Penzo dot Com readers responded to last week's question and it turns out that almost 3 in 5 spent at least some cash on Halloween this year, although just 1 in 3 spent more than $20. As for my household, we spent $11.99 for a bag of candy to hand out to the trick-or-treaters but it was a pretty dead evening — if you'll excuse the pun — as only 23 kids came to the door. The good news is the excess candy won't go to waste — although it will go to waist.
I'm here all week, folks. And don't forget to try the veal!
If you have a question you'd like me to ask the readers here, send it to me at Len@LenPenzo.com and be sure to put "Question of the Week" in the subject line.
Useless News: Terms of Employment
A recent engineering graduate was having an interview for his first job with a big technology company.
The young man was fresh out of the Massachusetts Institute of Technology and he was clearly very impressed with himself.
As the interview was nearing an end the Human Resources officer asked him, "So, what are your expectations in terms of a starting salary?"
"Well," the young grad replied, "I'm looking for something in the region of $175,000 a year to start. However, the exact figure will depend on the quality of the benefits package."
His interviewer smiled and said, "Well, John … what would you say to five weeks annual vacation, 14 paid holidays, and full medical and dental coverage? And before you answer, let me add that the company will also match your retirement fund to 50% of your salary, and provide you with a company car, which is a Ford Mustang GT."
After hearing that, the young engineer sat up straight and exclaimed, "Wow!!! That sounds almost too good to be true!"
The HR officer then smiled and replied, "Of course it's too good to be true — but you started it."
(h/t: Stan)
More Useless News
Here are the top — and bottom — five states in terms of the average number of pages viewed per visit here at Len Penzo dot Com over the past 30 days:
1. Colorado (2.07 pages/visit)
2. California (2.05)
3. South Carolina (2.01)
4. Oregon (2.00)
5. Florida (1.95)
46. New York (1.52)
47. Massachusetts (1.48)
48. Michigan (1.45)
49. Kentucky (1.40)
50. New Jersey (1.33)
Whether you happen to enjoy what you're reading (like my good friends in Colorado) — or not (ahem, Joisey) — please don't forget to:
1. Click on that Like button in the sidebar to your right and become a fan of Len Penzo dot Com on Facebook!
2. Make sure you follow me on my new favorite quick-chat site, Gab — oh yeah, and Parler too! Of course, you can always follow me on Twitter. Just be careful what you say there.
3. Subscribe via email too!
And last, but not least …
4. Please support this website by patronizing my sponsors!
Thank you!!!! 😊
(The Best of) Letters, I Get Letters
Every week I feature the most interesting question or comment — assuming I get one, that is. And folks who are lucky enough to have the only question in the mailbag get their letter highlighted here whether it's interesting or not! You can reach out to me at: Len@LenPenzo.com
From Rudy:
Just wanted to tell you that I enjoy your blog. You really know your stuff. Good job!
Thanks, Rudy. If you think I know my stuff, you should meet the Honeybee — she knows everything!
If you enjoyed this, please forward it to your friends and family. I'm Len Penzo and I approved this message.
Photo Credit: public domain