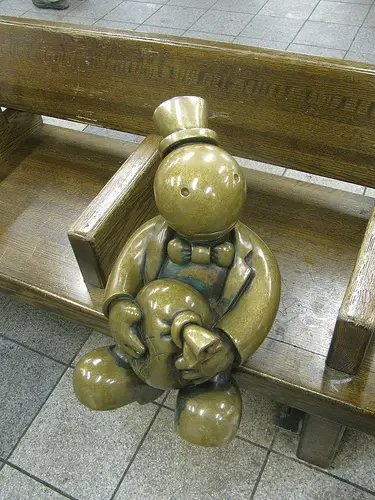 Success is psychological. Whether your goal is to become rich, lose 20 pounds or learn another language, your mindset is your strongest weapon. You are your own greatest asset — and your own worst enemy.
So today I'd like to share four truths you must learn about yourself before you can become rich. (Caution: These are harsh truths, and I'm feeling a little sassy right now. Don't take it personally.)
#4: You Don't 'Deserve' Anything
Remember those ads on television that say "You work hard — you deserve a little luxury?" That line works for selling cars, gourmet coffee, spa treatments — whatever. Advertisers love to convince people that they "deserve" something, often by reminding people how hard they work.
Well, guess what. Billions of people work hard. Janitors work hard. Cattle-ranchers work hard. Sheep farmers in Zimbabwe work hard. You're not special just because you work hard. And you don't 'deserve' a massage, a pedicure or an Audi just because you work hard.
#3: You Might Follow the Crowd
"Other people buy at the peak of the bubble and then sell in a panic when stocks crash," I hear you say. "But not me! I'm special! I'm contrarian, and I have the foresight and guts to stick this out."
Hmmm. I hope you're right. I really do. I want the best for you. But let's allow history to be the judge, because here's what's likely to happen to your untested hypothesis:
First, you'll see loads of people plowing back into the stock market. The Dow Jones was under 6000 a decade ago, and now it's closing in on 30,000! The economy has been in a recovery for a long time. It must be a "safe" time to get back in.
So you get back in. For a few months, things are going great. The economy is humming along. Stocks are rising.
And then there's a cataclysmic crash. The Dow sinks to Depression-era levels. You lose half your investment.
At this point, you're not going to admit that you're panicking. You're going to convince yourself that it's time to "re-think your strategy."
Here's a hint: whenever someone is "re-thinking their strategy" at the bottom of the market, he or she is probably panicking. If someone is using uber-fancy words — if they're "strategically re-assessing in light of an altered economic paradigm" — they're freakin' scared out of their wits.
#2: You're More Motivated By Loss Than Gain
Two years ago you loaned money to your friend — $2000, interest-free. If you hadn't done so, you would certainly have invested it in the stock market and doubled your money.
But you're not concerned about the extra $2000 potential dollars that you lost as a result of opportunity cost. You're only concerned with getting your initial $2000 back. Why? Because the gain is theoretical, but the initial cash is actual.
We're hardwired to be more upset about losing what we have than failing to gain what we don't have. If you lose half your money in the stock market, you become upset. But if you miss out on the recovery — failing to double your money — you hardly notice.
I can hear your objections already. "But some people lose their life savings! And doubling your money is fraught with risk! You can't really compare the two!"
Okay, fine. Try this example: If a thief or con artist rips you off by $3000, you'll be mad. But if you forgo the opportunity to invest in a CD that would have earned you a guaranteed $3000 profit after inflation, you won't be nearly as upset.
(CDs these days barely keep pace with inflation, but that's another story altogether.)
#1: You're More Motivated By the Present Than the Past or Future
While you were at the airport, someone stole your suitcase. Inside that suitcase were a few new, unopened items you planned on returning to the store for a full refund. You lost $200 refund dollars.
But you're not upset about your loss of past dollars. You're more upset about the $80 you have to spend buying a new suitcase. Why?
Because even though we're motivated by loss, we're even more motivated by immediate outlay. We hate losing money in the present more than we hate losing money we spent in the past.
That's why we'll clip a coupon, or buy a Groupon, that saves $10, but we won't drive to the store to return a $10 item that we never opened and no longer need.
***
About the Author: Paula Pant is the proprietor of the Afford Anything blog and podcast.
Photo Credit: stock photo