It's time to sit back, relax and enjoy a little joe …
Welcome to another rousing edition of Black Coffee, your off-beat weekly round-up of what's been going on in the world of money and personal finance.
Stop the world; I want to get off. That is all.
The man who does not value himself, cannot value anything or anyone.
— Ayn Rand
Credits and Debits
Debit: Did you see this? A new survey conducted by financial services company Azlo found that almost half of small business owners think they'll eventually have to permanently close their businesses. In fact, 47% of the small business owners surveyed say they anticipate closing their shops, and 41% say they're already looking for full-time work elsewhere. Yikes.
Credit: Unfortunately, as macroeconomic expert par excellence Bill Holter notes: "What we've seen so far is tame compared to what will come in the months ahead. What happens in August when unemployment benefits run out? How many mortgages and rents will be in arrears? What will people do who lost their jobs?" Hopefully, not this:
Debit: So how did we get here? Well … households, students, corporations and governments around the world have borrowed far more dollars than they can afford. Many of those entities have taken that dollar-based debt to buy stocks, bonds and real estate on margin. Even worse, many of them have used those assets to borrow even more dollars — which were then used to buy more securities. As a result, some banks and hedge funds highly leveraged.
Debit: Of course, all of this leverage has has created a feedback loop where the borrowed money artificially inflates asset prices, which creates the collateral to borrow still more. And the banks happily play along because thanks to fractional reserve banking, they can loan out 90% of their deposits, and still claim to have the on hand. Never mind that they conjure every last cent of that new cash out of thin air.
Debit: The trouble is, so many dollars have been created since the dollar's anchor to gold was broken in 1971 that: 1) there is no longer enough good collateral available to back most new dollar-based loans that are being created around the world; or 2) entities that borrowed dollars are at risk of getting margin calls on the collateral they pledged, which is forcing them to sell assets and close positions. In other words: the feedback loop ends up doing this …
Debit: Ironically, despite the alarming number of dollars now being created at an exponential rate, with each passing day it gets harder to find enough of them to cover margin calls. As a result, the next time the stock market crashes, those over-valued assets will once again be dumped en masse to raise cash — causing them to sell for far less than what lenders have them marked to on their books. Imagine that.
Debit: That, in turn, will trigger even more margin calls. If the financial carnage is left unchecked, the cascade effect will eventually lead to plummeting prices for nearly everything. Typically, that would be great news for any investor looking to pick up previously overpriced assets for a song — but, perversely, deflation is lethal to a debt-based monetary system.
Debit: By the way, the deflation bugaboo is why, when the next market crisis rears its ugly head, the Fed will print as many fiat dollars as necessary and use them to: 1) bailout failing companies and hedge funds; and 2) buy troubled assets at absurdly inflated prices. It's also why the Fed has no choice but to continue printing $5 billion per day to support its latest quantitative easing (QE) program — a campaign that will run forevermore.
The real world vs. Federal Reserve models pic.twitter.com/cecdTgUh8T

Rudy Havenstein, nominally. (@RudyHavenstein) June 1, 2020
Debit: If QE doesn't run forevermore, it will until the world balks at the vast number of dollars in circulation, resulting in the greenback losing its global reserve currency status. On that day, the dam will burst, and the great majority of those exported dollars will flood back into the US, eventually leading to significantly reduced purchasing power for most Americans who failed to buy wealth insurance — if not outright hyperinflation.
Credit: Sadly, every fiat currency in history has suffered the same fate; the dollar will be no exception. With a deficit expected to surpass $5 trillion this year — and the National Debt headed to $30 trillion — the dollar's days are growing very short now. The Fed can let interest rates rise and let the US default — or they can keep conjuring currency out of thin air to keep rates low, killing the dollar in the process. The good news is: gold wins either way.
The Question of the Week
 Loading ...
Last Week's Poll Results
Are you planning any leisure travel this summer?
No. (56%)
Yes, domestic. (40%)
Yes, foreign. (4%)
Yes, foreign and domestic. (1%)
More than 1800 Len Penzo dot Com readers responded to last week's question and it turns out that roughly 4 in 9 will be enjoying some form of leisure travel at some point this summer. That being said, among those who are planning to travel. only 13% will be leaving the country. As for me, I'm staying home this summer.
If you have a question you'd like me to ask the readers here, send it to me at Len@LenPenzo.com and be sure to put "Question of the Week" in the subject line.
By the Numbers
According to a recent survey, here are the top ten worldwide destinations that tourists say they can't wait to get back to:
10 Walt Disney World Resort, Orlando United States
9 Phi Phi Islands, Thailand
8 Times Square, NYC, United States
7 Brooklyn Bridge, NYC, United States
6 Great Sphinx of Giza, Egypt
5 Eiffel Tower, Paris, France
4 Magic Kingdom Park, Orlando, United States
3 Santorini, Greece
2 Bali, Indonesia
1 Giza Pyramid Complex, Egypt
Source: Forbes
Useless News: The Golf Hazard
A man and his wife were out golfing one day when they came upon the hardest hole on the course; it has a steep downhill slope and you can't quite see where your drive goes. So they tee off and walk down the hill and, lo and behold, the guy's ball is sitting right in front of a big barn.
The couple looks the situation over and after a minute the wife finally says, "You know … if we open both sets of barn doors, you'll have a clear shot to the green."
The husband agreed, and so they opened both doors. He then carefully lined up his shot and swung; the ball made it through the first set of doors — but then it hit the far wall and ricocheted backward, hitting his wife in the head and killing her.
A few months later, the widow decided it was finally time to hit the golf course again — this time with his buddies.
They came up to the same hole and, wouldn't you know it, after driving the ball down the fairway, the guy's ball once again ended up behind the same barn.
Surveying the man's predicament, one of his golf buddies said, "You know … if we open both barn doors you'll have a clear shot to the green."
The widow looked at his friend and replied, "No way! The last time I tried that I got a triple bogey."
(h/t: Cowpoke)
This Week's Sponsor: Get the Best Insurance Rates with Gabi!
Gabi is a full-service, online advisor who compares all your insurance options to find you the right policy. Best of all, Gabi gets 7 out of 10 clients lower premiums! So what are you waiting for? Get an instant quote with Gabi and save up to $720 annually!
Hey, while you're here, please don't forget to:
1. Click on that Like button in the sidebar to your right and become a fan of Len Penzo dot Com on Facebook!
2. Make sure you follow me on Twitter!
3. Subscribe via email too!
And last, but not least …
4. Please support this website by patronizing my sponsors!
Thank you!!!! 😊
(The Best of) Letters, I Get Letters
Every week I feature the most interesting question or comment — assuming I get one, that is. And folks who are lucky enough to have the only question in the mailbag get their letter highlighted here whether it's interesting or not! You can reach out to me at: Len@LenPenzo.com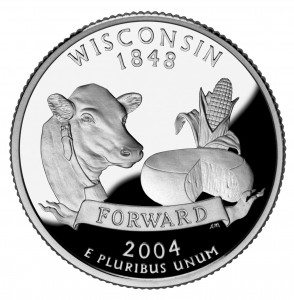 After reading my opinion piece on the five worst US State Quarter designs, Vlady Fox had a few nominations of his own, including the coin from Wisconsin. Why?
Because nothing says "timeless, classy design" like a big old cow head next to a hunk of cheddar cheese.
That's a valid beef, Vlady. In fact, I couldn't have said it butter myself.
If you enjoyed this, please forward it to your friends and family. I'm Len Penzo and I approved this message.
Photo Credit: public domain