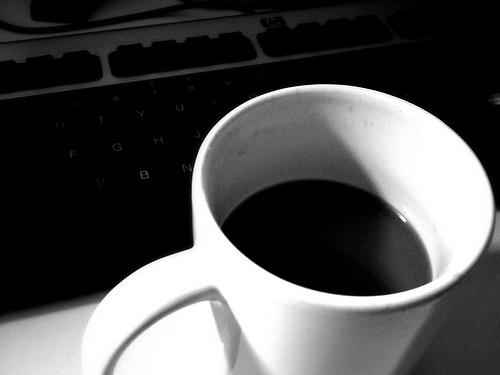 It's time to sit back, relax and enjoy a little joe …
Welcome to another rousing edition of Black Coffee, your off-beat weekly round-up of what's been going on in the world of money and personal finance.
There is no means of avoiding a final collapse of a boom brought about by credit expansion. The alternative is only whether the crisis should come sooner as a result of a voluntary abandonment of further credit expansion, or later as a final and total catastrophe of the currency system involved.
— Ludwig Von Mises
The hardest thing to explain is the glaringly evident, which everybody has decided not to see.
— Ayn Rand
Credits and Debits
Debit: Well … the Tesla clown show continues. Last Monday, Tesla's stock price rose 14%. By Tuesday, it was up another 24% to close at $969 — a 129% gain since the new year started just five short weeks ago. Keep in mind that Tesla's 2019 revenues were a paltry 2.2% — and they reported a net loss of $862 million. Oh, yeah … did I mention that Tesla has lost money every year since 2008 when it began reporting results? It's true.
Credit: On the other hand, it's not all unicorns and rainbows. The stock price of credit-card issuer Discover plunged 11.1% last Friday — despite beating earnings estimates. According to Dave Kranzler, "the dagger was Discover's loan charge-offs, which jumped to 4% of the outstanding balance; that's the highest rate since it peaked at 5% during the financial crisis." Hey … you can't win 'em all:
Debit: Meanwhile, German banks are now holding triple the amount of cash they had on hand in May 2014; that's when the ECB went to negative interest rates — a de facto tax on deposits — thereby increasing pressure on those already-beleaguered institutions. In fact, German banks have been stuffing their vaults with so many euro notes that they're actively searching for additional storage facilities. Attention German bankers: I have a spare closet available. Maybe two.
Debit: Although the central banks won't admit it, those negative rates are why debt has displaced savings as the primary means of economic advancement. Unfortunately, as you can see below, since 2008, new debt has provided a rapidly diminishing economic "kick" before taking on its long-term role as an economic millstone that gets heavier by the day. Even worse, since 2015 each dollar of new debt has actually resulted in less than a dollar of new GDP:
Debit: So mathematically, it's "game over" for the current monetary system. One investment strategist summed up the central bankers' refusal to admit defeat — while encouraging even more debt — with a Snickers bar analogy. To wit: Only an undiscerning doctor would think his Snickers bar prescription — intended to increase his patient's energy — has nothing to do with the subject's follow-on weight gain and subsequent growing malaise.
Debit: Speaking of denial, the US Bureau of Labor Statistics reports that the value of a new vehicle rose by only 0.6% since 1997. No, really. Even though the average price of a new car rose 124%, from $16,400 to $36,718. And now you know why Shadowstats and the Chapwood Index say annual price inflation is running at roughly 10%, even though the government consistently reports it to be under 2%.
Credit: As Alasdair Macleod notes, those phony inflation statistics give the illusion that real GDP is positive when, in reality, if it were properly adjusted for price inflation it would be negative. Of course, the government has a strong incentive to hide the inflation because, since the advent of the Fed in 1913, the US dollar has lost nearly 99% of its purchasing power relative to gold. Oh … and if you think that's a sneaky monetary trick, check this out:
Credit: The financial subterfuge hasn't affected Americans' mood regarding their current finances — at least if the latest Gallup poll is any indication. It shows that Americans' views on their personal financial situation are now at or near record highs. In fact, 59% of Americans now say they're better off financially than they were a year ago — that's up from 50% last year. Hooray!
Credit: By the way, those Americans who say they're better off financially than they were a year ago surpassed the previous all-time high of 58% in January 1999. What's more, three in four US adults predict they'll be better off financially a year from now — and that is the highest satisfaction rate since 1977.
Debit: Then again, as Zero Hedge warns, the Fed's "ongoing problems with the repo market means that the liquidity crisis that's clogged up critical plumbing within the US financial system — and continues to percolate just below the surface — is getting worse, not better." Sadly, the Fed is eventually going to lose control and a financial crisis will bubble to the surface that will cause most Americans to reassess their financial situation, albeit in a much dimmer light.
Last Week's Poll Result
How much money do you think you'll need to retire comfortably?
More than $2 million (34%)
$1 million to $2 million (29%)
$500,000 to $999,999 (27%)
Less than $500,000 (10%)
More than 2000 Len Penzo dot Com readers responded to last week's question and it turns out that 5 in 8 of them believe they'll need at least $1 million to retire comfortably. Frankly, that number depends on a lot of personal factors. For example, according to Lance Roberts at Real Investment Advice, someone just starting their working career who wants to retire comfortably in 30 years with the equivalent income of $60,000 in today's dollars would need to save $2.85 million over that time frame in order to account for inflation and taxes.
If you have a question you'd like me to ask the readers here, send it to me at Len@LenPenzo.com and be sure to put "Question of the Week" in the subject line.
The Question of the Week
 Loading ...
By the Numbers
If you plan on watching the 92nd Academy Awards this week, here are some numbers to keep in mind while you're being lectured by the social justice warriors who are lucky enough to get on stage:
$72,000 The cost to run an ad on page one of The Hollywood Reporter during Oscar season.
$105,000 The price a couple will pay to attend the Vanity Fair after-party.
$215,000 The value of this year's gift bags, which are delivered in multiple suitcases to Oscar nominees before the ceremony. Among other items, the gifts include an Antarctic cruise, and $25,000 worth of cosmetic treatments, rejuvenation procedures, lip fillers and chemical peels.
$1,500,000 The cost to get the average actress camera-ready for her walk down the red carpet.
$10,000,000 Amount to get an A-list actress camera-ready for the red carpet.
$18,100,000 The cost it took to get Cate Blanchett camera-ready for her walk down the red carpet in 2014; yes, that's the most expensive in Oscars history.
$100,000,000 Amount Hollywood spends on award season lobbying.
Source: Forbes
Useless News: The Sausage King
A man went into a store and asked the clerk behind the counter for five pounds of Polish sausage.
The clerk looked at him and asked, "Are you Polish?"
The guy, clearly offended said, "As a matter of fact, I am — but let me ask you something. If I asked you for some Italian sausage, would you ask if I was Italian? Or, if I asked for German bratwurst, would you ask if I was German? Or if I asked you for a kosher hot dog, would you ask if I was Jewish? Or, if I asked you for a taco, would you ask if I was Mexican? Well? Would you?"
The clerk nervously looked away from the customer he so clearly offended and said, "Well … no."
Not satisfied, the offended man decided to drive his point home. "Well, all right then!" he said. "So why would you ask me if I'm Polish simply because I asked for Polish sausage?"
The clerk said, "Because this is Macy's."
(h/t: Johnny J.)
This Week's Sponsor: File Taxes Online with H&R Block!
Tax time is here. The good news is you can file taxes from anywhere with Block by your side. H&R Block is a leading global consumer tax services provider with over 60 years of tax experience. You can get 25% off when filing online by simply clicking on the banner below.
H&R Block makes filing your taxes easy!
Other Useless News
Here are the top — and bottom — five states in terms of the average number of pages viewed per visit here at Len Penzo dot Com over the past 30 days:
1. Alaska (2.23 pages/visit)
2. Maine (2.06)
3. North Dakota (2.03)
4. Connecticut (1.87)
5. Kentucky (1.82)
46. West Virginia (1.20)
47. Rhode Island (1.18)
48. Montana (1.17)
49. South Dakota (1.13)
50. Illinois (1.09)
Whether you happen to enjoy what you're reading (like my friends living on the frozen Alaska tundra) — or not (ahem, Illinois) — please don't forget to:
1. Click on that Like button in the sidebar to your right and become a fan of Len Penzo dot Com on Facebook!
2. Make sure you follow me on Twitter!
3. Subscribe via email too!
And last, but not least …
4. Please support this website by patronizing my sponsors!
Thank you!!!! 😊
(The Best of) Letters, I Get Letters
Every week I feature the most interesting question or comment — assuming I get one, that is. And folks who are lucky enough to have the only question in the mailbag get their letter highlighted here whether it's interesting or not! You can reach out to me at: Len@LenPenzo.com
Christina wrote in after reading my post explaining why people who can't live on $40,000 per year have nobody to blame but themselves:
Len, I have a small problem with this post.
Uh huh … Get in line, Christina.
If you enjoyed this, please forward it to your friends and family. I'm Len Penzo and I approved this message.
Photo Credit: brendan-c