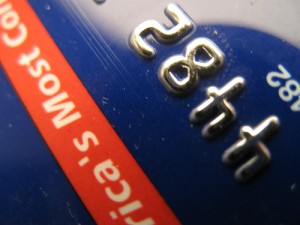 The other day the Honeybee applied for a clothing-store credit card to take advantage of a deal that gave her a one-time savings of 15% off her purchase. I know.
To tell you the truth, I'm not really that big of a fan of in-store credit cards, but because the Honeybee and I are extremely disciplined when it comes to our finances and paying off the household credit cards in full at the end of each month, I didn't really mind. After all, it's not the first time we've decided to take advantage of such a promotion.
Retailer credit cards typically have several potential drawbacks that you should always consider before committing to sign up for one. Here are four of the biggest:
Dubious dispute resolution service. I've had a couple of instances in the past where I was stuck with an unsatisfactory service or product that the vendor refused to correct. Thankfully, my general credit card company has been able to resolve the problem each time. You usually get no such benefits with store cards; if you find a problem, you're on your own.
Increased susceptibility to mailing lists. It's not uncommon for consumers who sign up for store credit cards to find themselves on marketing mailing lists. And you know what that means: more junk mail.
Increased risk of adversely affecting your credit score. This can happen in one of two ways: First, for those with borderline to average credit scores, keep in mind that even one rejection can affect your ability to get future credit. So, if you think you may fall into that category, be sure to request a free credit report before applying for that credit card. Having too many credit accounts open at one time can also adversely affect your credit. With that in mind, if you already have lots of credit cards in your purse or wallet, you may want to think twice before applying.
Higher interest rates. On average, store credit cards tend to have higher interest rates than general purpose credit cards. The Honeybee's new card has a minimum annual percentage rate of 28.4%. If you have excellent credit you may be able to find other cards that offer a lower rate. On the other hand, credit card interest rates are now at all-time highs, so you have to be careful.
Yes, when you're at the checkout counter, getting a one-time discount of up to 25% may be tempting. Just make sure you consider all the risks before making the leap. Especially if you're the type who is unable or unwilling to pay off your credit card in full each month.
Photo Credit: the consumerist