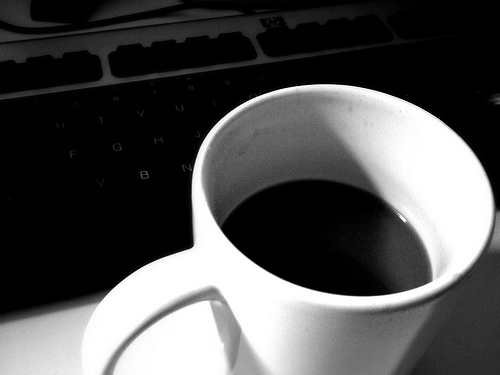 It's time to sit back, relax and enjoy a little joe …
Welcome to another rousing edition of Black Coffee, your off-beat weekly round-up of what's been going on in the world of money and personal finance.
I hope everyone is enjoying their weekend. I know I am … so let's get this show on the road.
It is a feeling of relief, almost of pleasure, at knowing yourself at last genuinely down and out. You have talked so often of going to the dogs and well, here are the dogs …
— George Orwell, Down and Out in Paris and London
Credits and Debits
Debit: Don't look now, but not only did industrial production plunge last month to its lowest level in more than 10 years, but the Cass Freight Index is once again warning that an economic contraction may be on the way, as the index has now fallen for 11 consecutive months. Those negative data points are rather ironic, considering we're constantly being reminded that we're in the midst of, well … you know …
The Greatest Economy in American History!

Donald J. Trump (@realDonaldTrump) October 30, 2019
Debit: Hey … Speaking of sluggish economic indicators, I see that marijuana stocks are going up in smoke after the latest round of dismal earnings. For example, this year Canopy Growth, Cronos and Tilray are down 41%, 72% and 34%, respectively. And for those who thought they were somehow "reducing risk" through diversification via a cannabis ETF, well … in the past eight months, the Alternative Harvest ETF has lost 56% of its value. Although I'm sure these guys don't care:
Credit: The plunge in marijuana stocks is occurring despite huge inflows of artificial central-bank liquidity that is otherwise dominating stock market prices — regardless of earnings or growth. Of course, that is unsustainable and the Fed knows it. As asset manager Sven Henrich notes, "the day of reckoning is coming" — although in the meantime, the Fed is going to do everything in its power to indefinitely prevent it. But good luck with that.
Debit: Sadly, in order to delay the inevitable, the world's central banks have been pumping so much funny money into the global economy for so long now that the resulting asset price distortions are becoming absurd — especially with respect to the US stock market. In fact, the distortions are so absurd they'd be comical if their ultimate correction wasn't going to be so financially devastating to almost everyone. For example:
Just 2 stocks, $MSFT & $AAPL, have now a combined market cap larger than the Russell 2000 and the entire German stock market.
Charts h/t @carlquintanilla @Schuldensuehner pic.twitter.com/aTI8NfpZAC

Sven Henrich (@NorthmanTrader) November 17, 2019
Debit: By the way, the Fed's long-awaited balance-sheet normalization program that was supposed to show that the financial system had officially recovered from the Great Financial Crisis of 2008 — otherwise known as quantitative tightening (QT) — was terminated in September after just 21 months. Even more disturbing, since then, 40% of the cash that was removed from the system via QT has already been returned. No, really.
Credit: It certainly seems as if the Fed is in panic mode. As Charles Hugh Smith points out, "If everything's just peachy with global banking and the US economy, why the sudden mainlining of $300 billion of financial cocaine into the financial system? That's more than the entire GDP of Chile and a host of other nations." Indeed. And now that we're on the business end of the exponential debt curve, the oddities will only grow larger, faster.
Debit: And although the Fed vehemently denies it, all of the evidence suggests that it's now directly monetizing the massive US budget deficits. In other words: We're finally going to find out whether or not the Magic Money Tree Modern Monetary Theory (MMT) is the no-brainer financial fix that the … heh … so-called "forward thinking" Ivy League academics have been claiming it is. Like it, or not.
Debit: Meanwhile, Bank of America is warning that the Fed is not only pursuing quantitative easing (QE) without calling it QE, but by doing so it's raising the odds of another market crash by "short-circuiting the market's ability to accurately price the supply and demand for leverage as asset prices rise." Okay … but if the Fed is now monetizing new debt, a stock market crash will be the least of America's worries.
Credit: Vladimir Putin certainly sees where the latest Fed intervention is headed. Last week he offered an ominous prediction: "The US dollar enjoyed great trust around the world. But it's now being used as a political weapon, biting the hand that feeds them and leading many countries to turn away from the dollar as a reserve currency." As a result, Putin expects that the dollar "will collapse soon." I know … Unfortunately, nobody asked him if "soon" was in dog years …
Debit: Then again, when you consider that fully one-half (!) of all American workers made less than $32,838 in 2018, a dollar collapse leading to new currency based on real wealth is almost certainly best for the long-term future of America. After all, even I will admit that very few people can support a family today on just $2750 a month — and, remember, that's before taxes.
Credit: Yes, any monetary reset via a new gold-backed currency — or a sharply and rapidly-devalued dollar — will be extremely painful in the short run. But it's the only viable solution. And the sooner we take our medicine and pull the plug on today's dying system, the sooner America can return to a place where a middle class income can be realized with a single breadwinner, rather than two. Until then, things will slowly continue to get worse.
By the Numbers
While it's still too early to know the full scale of California's self-imposed fire-season power outages last month, the latest figures from the most recent outages offer a preview of future blackout impacts that Californians will likely be dealing with for the better part of a decade:
1600 Number of cell towers that were shut down.
57 Percentage of Marin County that lost cellular service.
260,000 People in Marin County affected by the lack of cell service.
100 Percentage of Mendocino County that lost all data capabilities, landline and cell service; in all, 90,000 people were affected.
23 Percentage increase in Shasta County's food bank demand during the outage.
$4,500,000 Amount Sonoma County had already spent from its general fund to deal with the outages before the most recent shutdown even occurred in late October.
$20,000 Amount of general fund money Oroville High School in Butte County spent on generators, fuel, and extra help.
$60,000,000 Sonoma County's approximate economic losses in the blackout lasting October 8 to 11 alone.
Source: Mother Jones
The Question of the Week
 Loading ...
Last Week's Poll Results
How long have you been living at your current address?
1 to 10 years (35%)
More than 20 years (32%)
11 to 20 years (27%)
Less than 1 year (6%)
More than 1900 Len Penzo dot Com readers responded to last week's question and it turns out that almost 3 in 5 of them have been living in their current home for 11 years or longer. On the other hand, 6% moved to a new place within the past year. As for yours truly, I've been in my current home now for 22 years. Wow … how time flies!
If you have a question you'd like me to ask the readers here, send it to me at Len@LenPenzo.com — and be sure to put "Question of the Week" in the subject line.
Useless News: The Nasty Parrot
A man bought a parrot, only to have it constantly insult him. He tried everything to make the parrot stop, but nothing worked. So the frustrated man put the parrot in the freezer.
At first, the parrot's insults kept coming even faster and more furious than before. But then, after a few minutes, they suddenly stopped.
After enjoying the silence for a couple of minutes, the man began thinking that he might have killed the parrot. So he opened the freezer and took the shivering bird out.
The grateful parrot then looked at the man and stammered, "S-s-sorry for being r-r-rude. Please f-f-forgive me."
Then, after another moment, the parrot softly asked, "D-d-do you mind telling me w-w-what the turkey did?"
(h/t: Charlie)
Other Useless News
Here are the top five articles viewed by my 28,109 RSS feed, weekly email subscribers, and other followers over the past 30 days (excluding Black Coffee posts):
Debt Elimination: The Pros and Cons of Dave Ramsey's Baby Steps
Hey, while you're here, please don't forget to:
1. Click on that Like button in the sidebar to your right and become a fan of Len Penzo dot Com on Facebook!
2. Make sure you follow me on Twitter!
3. Subscribe via email too!
And last, but not least …
4. Consider becoming a Len Penzo dot Com Insider! Thank you.
Letters, I Get Letters
Every week I feature the most interesting question or comment assuming I get one, that is. And folks who are lucky enough to have the only question in the mailbag get their letter highlighted here whether it's interesting or not! You can reach out to me at: Len@LenPenzo.com
After reading a recent Len Penzo dot Com article explaining the 4 things every homeowner should look for in a pest control company, Eric left this comment:
You should know that some of the chemicals used can harm the surrounding environment as well as the local inhabitants.
Yes … especially the "local inhabitants" known as cockroaches and bedbugs.
If you enjoyed this, please forward it to your friends and family. I'm Len Penzo and I approved this message.
Photo Credit: brendan-c