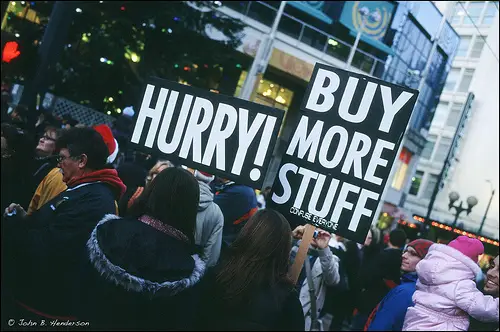 What's not to love about Friday?
I mean, really … if Saturday didn't exist, Friday would be the best day of the week, bar none.
Let's face it, on any given Friday, it's hard to find anyone in a bad mood; especially after lunch time.
My only complaint with Friday is that it comes just once per week.
Black Friday is a different story, however. I wish it never came at all.
Anybody who has ever ventured out on Black Friday to bag an amazing deal on a clever holiday gift knows what I'm talking about. Enormous crowds, bumper-to-bumper traffic, and endless lines make Black Friday a living nightmare.
At most, there are only 53 Fridays in any given year. So whose idea was it to waste one of them on Black Friday?
Sadly, I tried — and failed — to find a specific scape goat. However, I did manage to dig up these facts regarding the black sheep of the Friday family:
Because it follows Thanksgiving every year, Black Friday can fall on any day between November 23rd and November 29th. (I know. But I'm just getting warmed up.)
The term "Black Friday" was first used in the 19th century to describe the financial Panic of 1869, which erupted after a couple of speculators tried — and failed — to corner the gold market.
The use of "Black Friday" to describe the day after Thanksgiving supposedly originated with the Philadelphia police department back in the early 1960s.
Even so, according to Wikipedia, the term "Black Friday" didn't begin seeing more widespread use outside of Philadelphia until 1975.
The cops in the "City of Brotherly Love" originally coined the term because they weren't fond of the higher-than-usual traffic and pedestrian congestion that accompanied Black Friday.
Concerned about the potential negative implications that "Black Friday" would have on commerce, a public relations executive named Abe Rosen led a marketing push in the 1960s to change the term to "Big Friday." Although the media cooperated, the campaign ultimately failed.
Of course, Abe was badly mistaken. Aprroximately 150 million shoppers per year shop on Black Friday. Imagine how many more shoppers would have hit the stores if the day was called "Big Friday."
Black Friday is a very special day for Apple; it's typically the only day of the year they discount their products.
According to the National Retail Federation (NRF), approximately 75% of all people between 18 and 34 years old go shopping on Black Friday. No doubt you can find most of them at the Apple Store.
One hallmark of Black Friday is retailers' penchant for offering so-called limited "door-buster" deals on big-ticket items that are often as much as 60% off regular prices.
Door-buster deals are probably why, according to the NRF, 28% of the people who shopped during last year's Thanksgiving weekend lined up at the stores by 12:01 a.m. on Black Friday. That's up from 10% a decade ago.
If you find yourself stuck in a long queue on Black Friday, look at the bright side: it's probably shorter than the world's longest-ever Conga line — 119,986 people. I said "probably."
Unfortunately, those "door-busters" can lead to the real thing. In 2008, a Long Island Walmart employee was trampled to death by a stampede of impatient Black Friday shoppers who broke down the doors minutes before the store was scheduled to open.
No, that's not the same Walmart where two people were shot on Black Friday — during a dispute over a parking space. That store was in Tallahassee, Florida.
With all that potential danger lurking, it's no wonder last year 88 million people did their Black Friday shopping online.
Internet shoppers will be happy to know that, according to DealNews.com, 70% of in-store Black Friday deals are typically available online for the same price — if not less.
Black Friday isn't the best time to buy toys, brand-name HDTVs, and winter apparel. According to DealNews.com, "Toys see the deepest discounts right before Christmas; brand-name HDTVs sink in price between December and February; and winter apparel sales are best after Christmas."
Despite all the chaos that happens every Black Friday, it turns out that it's not even the best day for deals anymore. Since 2011 that honor has belonged to … Thanksgiving. Yes, Thanksgiving. Frankly, that's enough to make anyone pine for Monday.
Photo Credit: jbhthescots