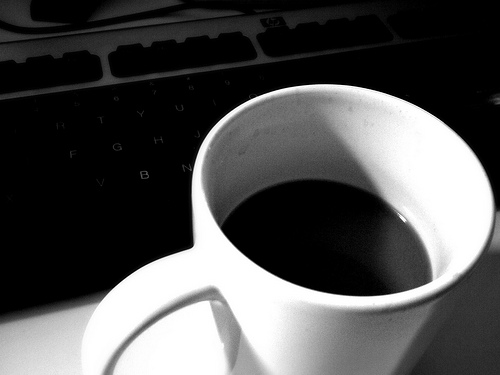 It's time to sit back, relax and enjoy a little joe …
Welcome to another rousing edition of Black Coffee, your off-beat weekly round-up of what's been going on in the world of money and personal finance.
I hope everybody is having a nice relaxing weekend. I know I am! Okay, away we go …
Everyone wants to live at the expense of the state. They forget that the state lives at the expense of everyone.
— Frederic Bastiat
The modern mind dislikes gold because it blurts out unpleasant truths.
— Joseph Schumpeter
Credits and Debits
Debit: Did you see this? Inflation-adjusted US Census data shows that incomes since 1960 have risen just 16% — while rents have climbed 72%, and house prices have soared 121%. Yet more proof of gradual long-term economic rot behind the scenes.
Debit: On a somewhat related note, I see the Conference Board Leading Economic Index for the US tumbled 0.3% in June; that's the biggest month-over-month drop since January 2016. The biggest areas of economic decline were driven by rising unemployment claims, and weaknesses in manufacturing orders and housing permits. So the odds we're quickly approaching — if not already in — a recession are increasing daily.
Credit: Despite all of the smoke billowing from the American economic engine, nobody seems to be too concerned, as stocks continue to hit new records on a weekly basis. As a result, the market-cap-to-GDP ratio is nearing 150%. That's only slightly lower than the last peak reached during the Dot Com bubble. Hmm. Does anyone else see a problem here? No? Okay … then how about here:
Debit: Last Friday the S&P breached 3000 for the first time. Meanwhile, the Dow isn't too far away from topping 30,000. Even so, Anheuser-Busch InBev — which happens to be the worlds largest brewer — scrapped plans to issue the year's biggest IPO with the sale of nearly $10 billion of its Asian business shares because of weak investor demand. No, really.
Credit: As Zero Hedge notes: "With stocks at all time highs, it's beyond bizarre that, if there is buyer froth, as it (appears) now, then the question of just who is buying stocks looms as more than just a humorous placeholder: If it's not investors, and if investors have no appetite for stocks, then who keeps on buying the market to ever higher highs?" Psst. You can bet the world's central banks know. I hope you do too.
Credit: Then again, as MN Gordon noted this week: "The stock market is no longer about pricing anticipated future earnings or business profits. It's merely about front running the Fed's applications of cheap credit." And why not? All of those freshly-printed dollars being conjured out of thin air — without a corresponding increase in economic output — have to go somewhere.
Debit: To put this in another perspective, we're currently seeing the eroding value of the dollar being reflected in the prices of stocks and bonds. That's the "good" news. The "bad" news — at least for the Fed — is when the price for those stocks and bonds are finally seen as being too rich (I know, but just humor me), the true state of the greenback's rapidly falling purchasing power will finally be revealed via the dollar price of gold.
Debit: Speaking of gold, last week Fed Chair Powell was asked about his thoughts on whether or not the US should return to the gold standard. Of course, his answer was far from surprising — as was the painfully obvious macroeconomic naivete of the congresswoman posing the question:
Credit: But as Dave Kranzler succinctly points out, "Everything about Powell's answer is incorrect. The function of a gold standard is not to stabilize' the price of the currency but, first and foremost, to stabilize the currency supply in relation to the economy's wealth output" — which is precisely why most politicians abhor it. Gold puts a yoke on their spending, thereby restricting the federal government's size and power.
Credit: For his part, Jim Grant argues that it's time to abandon the 'PhD Standard' which brought the era of government bailouts and too-big-to-fail. He notes that the gold standard was "as imperfect as any other human institution," but unlike our fiat system, prices remained stable, and actually fell over extended periods; and America thrived. Best of all, the system managed itself. Effectively. Much to the dismay of central bankers everywhere.
By the Numbers
Amazon just released results of their annual two-day Prime Day; it was the largest shopping event in the company's history, exceeding sales totals for last year's Black Friday and Cyber Monday combined. Here are a few more numbers on the retailer's exclusive sale:
175,000,000 The total number of products purchased by Amazon's Prime members.
100,000,000 The number of Prime members.
$119 The annual cost for Prime membership.
$12,000,000,000 Amazon's estimated annual revenue just from Prime subscriptions.
1.75 The average number of Prime Day items purchased this year by each subscriber.
$1400 The amount spent annually at Amazon by the average Prime subscriber.
$700 The amount spent annually at Amazon by non-Prime customers.
$6,000,000,000 Total Prime Day sales revenue for the 2-day event.
Source: Inc.
Last Week's Poll Result
How often do you typically barbecue during summertime?
Rarely, if ever (38%)
More than once per week (25%)
Once per week (24%)
Once or twice per month (12%)
More than 1600 Len Penzo dot Com readers answered last week's survey question and it turns out that half of you use the grill at least once per week during the summer months. You can count me among that group too; we typically use the barbecue three or four times per week when the weather is hot if only because it helps keep the house cooler.
If you have a question you'd like to see featured here, please send it to me at Len@LenPenzo.com and be sure to put "Question of the Week" in the subject line.
The Question of the Week
 Loading ...
Useless News: Have a Heart
A wealthy man who was having heart trouble went to the doctor to see what his options were. Naturally, the doctor recommended a heart transplant to his patient.
So the man reluctantly agreed, and asked if there were any hearts immediately available, since money was no object.
"I currently have three hearts ready for transplanting," said the doctor. "The first is from an 18-year old kid, non-smoker, athletic, swimmer, with a great diet; he hit his head on the swimming pool and died. It's $100,000. The second heart is from a marathon runner, 25 years old, great condition, very strong; he got hit by a bus. It's $150,000. The third is from a heavy drinker, cigar smoker, and steak lover. It's $500,000."
"Hey, why is that heart so expensive? He lived a terrible life!" asked the patient.
"That's true," said the doctor, "but it's from a lawyer — so it's never been used."
(h/t: Sam I Am)
Other Useless News
Here are the top — and bottom — five Canadian provinces and territories in terms of the average number of pages viewed per visit here at Len Penzo dot Com over the past 30 days:
1. Alberta (1.76 pages/visit)
2. Prince Edward Island (1.63)
3. Quebec (1.59)
4. British Columbia (1.52)
5. Manitoba (1.49)
9. Ontario (1.36)
10. Nova Scotia (1.20)
11. Northwest Territories (1.00)
12. Newfoundland & Labrador (1.00)
13. Saskatchewan (1.00)
Whether you happen to enjoy what you're reading (like those crazy canucks in Alberta, eh …) — or not (ahem, you hosers living on the frozen Saskatchewan tundra) — please don't forget to:
1. Click on that Like button in the sidebar to your right and become a fan of Len Penzo dot Com on Facebook!
2. Make sure you follow me on Twitter!
3. Subscribe via email too!
And last, but not least …
4. Consider becoming a Len Penzo dot Com Insider! Thank you.
Letters, I Get Letters
Every week I feature the most interesting question or comment — assuming I get one, that is. And folks who are lucky enough to have the only question in the mailbag get their letter highlighted here whether it's interesting or not! You can reach me at: Len@LenPenzo.com
After reading my article describing how to know if your spending is out of control, someone calling themselves "Len Penzo Is Amazing" — no, really — left this comment:
Thanks, Len. I had no idea how much money I was wasting! You are my hero.
Well … thank you — but you certainly set a very low bar for your heroes!
If you enjoyed this, please forward it to your friends and family. I'm Len Penzo and I approved this message.
Photo Credit: (coffee) brendan-c