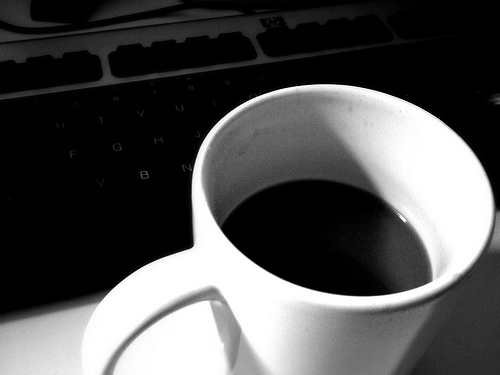 It's time to sit back, relax and enjoy a little joe …
Welcome to another rousing edition of Black Coffee, your off-beat weekly round-up of what's been going on in the world of money and personal finance.
Well … another glorious week comes to an end, so let's get this party started, shall we?
Never bring the problem solving stage into the decision making stage. Otherwise, you surrender yourself to the problem rather than the solution.
–Robert H. Schuller
I seem to smell the stench of appeasement in the air.
— Margaret Thatcher
Credits and Debits
Debit: This just in: With China no longer accepting used plastic and paper, cities are facing steep collection bills from recycling companies looking to recoup lost profits, thereby forcing those communities to end their programs or burn or bury more waste. That's problematic, if true: What are we going to do with the millions of extra recycling bins that most every household will no longer be needing?
Debit: Did you see this? New data shows that bitcoin transaction volume in Venezuela fell 40% after its crumbling electric grid went down last week. Apparently, energy-intensive bitcoin transactions aren't practical during major power outages. Put another way: During the crisis, bitcoin was even less valuable than Venezuela's nearly-worthless fiat currency it was supposedly designed to insure against. Imagine that.
Debit: Speaking of energy, I notice that the average national gas price stands at $2.61 — that's 30 cents more than last month. Hey … don't complain. Here in California, we have the most expensive pump prices in the nation — yes, even higher than Hawaii. The average price for a gallon of 87-octane in the Golden State is currently pushing $3.50 — which, as you can see, is causing havoc for the tanker truck drivers around here too:
Debit: If you think gasoline is getting expensive, you should check out the latest gym shoes being sold by Gucci — for $870. Uh huh. Believe it or not, they've been "treated for an all-over distressed effect" that give them the look of worn-in sneakers. No, really. By the way, if you're interested, the shoes come in multiple color options, including a strawberry print for women that costs an additional $110. Unbelievable.
Credit: In other consumer news, for the first time ever, more US households now subscribe to a digital streaming service than to traditional pay television. Yep. The average American now subscribes to three streaming services. Binge-watching continues to be a popular activity too, with 91% of US millennials saying they've watched at least three episodes of a show in a single sitting. Heh. Just three? Pikers.
Debit: Here's more evidence that a recession is looming — if not already here: the CFO of FedEx warned this week that his company's year-over-year revenue decline is a sign of worldwide macroeconomic conditions and continuing weaker global trade growth. In fact, the outlook in 2019 is so poor, FedEx cut their revenue forecasts for the rest of the year. Uh oh.
Debit: Meanwhile, US economic data is deteriorating and Treasury yield curve inversions are getting worse, as nearly half of the curve is now inverted. For what it's worth, the last two times the credit markets saw that much curve distortion, asset bubbles started popping shortly thereafter. We'll have to wait and see whether history repeats itself — or if this time is truly different. If the Fed restarts QE, bet on the latter.
Debit: Even Fed President Robert Kaplan all but admitted recently the entire US financial system is a huge bubble that requires the continuation of extreme monetary policy via extraordinarily-low interest rates to avoid an economic implosion — which is precisely why the Fed waved the white flag at Wednesday's FOMC meeting by tacitly surrendering control of US monetary policy to the stock market. Weimar Republic, here we come!
Credit: The Fed's complete capitulation to Wall St. became official when they announced: 1) there would be no more rate hikes in 2019; and 2) they would stop quantitative tightening (QT) by September. And all this because the S&P fell a little more than 14% in December. Think about that. Bill Fleckenstein sums things up this way: "Post-QE normalization was a failure, because QE didn't do what they expected it to — it just caused inflation."
Credit: Before the Great Financial Crisis, the Fed's balance sheet was $800 billion. After multiple rounds of QE, it grew to $4.5 trillion. The Fed's QT campaign was eventually supposed to return the balance sheet to $1 trillion, give or take a $100 billion. Well … that ain't happening now, as Carl Quintanilla points out:
According to the Fed, "we have 6 more months of QT at $35b per month or a total of $210b which will only take their balance sheet to a bit less than $3.8 Trillion. The temporary QE that Ben Bernanke sold us on is now permanent. You can check out anytime you like but…" @pboockvar

Carl Quintanilla (@carlquintanilla) March 20, 2019
Credit: Clearly, even Stevie Wonder can see the emperor has no clothes; the Fed has been faking things all along. What more proof do you need? Oh, sure; asset prices may keep climbing now, but the global economy will continue its malaise — if not outright decline — until the dollar price of gold is reset, or a new monetary system is established. In other words, the US dollar — at least as we currently know it — is a …
Credit: Even the Bank for International Settlements (BIS) — a.k.a. the central banks' central bank — knows the buck is toast. After all, it's no coincidence that the BIS will permit central banks to count their physical gold as a full reserve asset beginning on March 29th. Could the dying dollar also be why central banks bought twice as much gold in 2018 as the year before — and more gold than at any time since 1971? What do you think?
The Question of the Week
 Loading ...
Last Week's Poll Results
How would you describe your financial situation when compared to your siblings?
Better (54%)
About the same. (25%)
Worse (21%)
More than 1500 Len Penzo dot Com readers responded to last week's question — which was provided by reader Frank — and slightly more than half said they consider themselves to be, financially speaking, better off than their siblings. On the other hand, 1 in 5 say they're worse off.
If you have a question you'd like me to ask the readers here, send it to me at Len@LenPenzo.com — and be sure to put "Question of the Week" in the subject line.
(The Best of) By the Numbers
You may want to think twice before inviting champion eater Matt Stonie to dinner. Here are some of his previous gastronomical feats:
6 Pounds of bacon he consumed in five minutes. (That's a world record.)
182 Slices of bacon it takes to make six pounds.
8 Minutes it took Stonie to gobble up a 14.5 pound birthday cake.
101 Number of traditional tacos Matt recently put away during an 8-minute span.
20.8 Pounds of pumpkin pie he devoured in 8 minutes.
10 Minutes it took Stonie to dispatch 24 gyros.
10.5 Pounds of frozen yogurt he swallowed in a 6-minute period.
Source: Major League Eating
Useless News: TGIF
A drunk guy staggered out of a bar one Friday evening, just as a fire engine raced past, with its siren wailing and lights flashing.
Immediately, the drunk started chasing the truck, running as fast as he could until he eventually collapsed, gasping for breath.
He then shouted at the fire engine as it continued racing down the street, "If that's the way you want it, you can keep your stupid ice cream!"
(h/t: Julie H.)
Other Useless News
Here are the top five articles viewed by my 25,293 RSS feed, weekly email subscribers, and other followers over the past 30 days (excluding Black Coffee posts):
Hey, while you're here, please don't forget to:
1. Click on that Like button in the sidebar to your right and become a fan of Len Penzo dot Com on Facebook!
2. Make sure you follow me on Twitter!
3. Subscribe via email too!
And last, but not least …
4. Consider becoming a Len Penzo dot Com Insider! Thank you.
Letters, I Get Letters
Every week I feature the most interesting question or comment assuming I get one, that is. And folks who are lucky enough to have the only question in the mailbag get their letter highlighted here whether it's interesting or not! You can reach out to me at: Len@LenPenzo.com
After reading a Len Penzo dot Com oldie-but-goodie explaining why the Coke Rewards program isn't worth participating in, Joe Smith left this comment:
I think this is the dumbest article I have ever read.
Oh, yeah? Well … I've got plenty more where that came from.
If you enjoyed this, please forward it to your friends and family. I'm Len Penzo and I approved this message.
Photo Credit: brendan-c