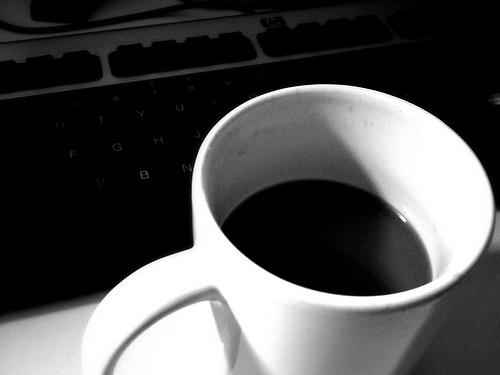 It's time to sit back, relax and enjoy a little joe …
Welcome to another rousing edition of Black Coffee, your off-beat weekly round-up of what's been going on in the world of money and personal finance.
Well … another glorious week comes to an end, so let's get this party started, shall we?
The inherent vice of capitalism is the unequal sharing of blessings; the inherent virtue of socialism is the equal sharing of miseries.
— Winston Churchill
Democracy is the road to socialism.
— Karl Marx
The masses have never thirsted after truth. Whoever can supply them with illusions is easily their master; whoever attempts to destroy their illusions is always their victim.
— Gustave Le Bon
Credits and Debits
Debit: Don't look now, but forward corporate earnings expectations have plummeted despite the recent boomerang recovery in stawks. It's a good thing earnings aren't supposed to be an important component in determining stock valuations. Oh, wait …
Credit: As I mentioned here last week, the big turn-around in stocks has everything to do with the world's central banks firing up their printing presses — yet again. For all you skeptics out there, Chris Carolan offered this graphical illustration of central bank's decision to rapidly ramp up liquidity in late December in the face of collapsing markets:
My contention in December was that the ONLY way for crash avoidance was a repeat of the January 2016 printing binge as depicted in my version of the "money printing pump."

Now the question is…
Can they keep it up?

(Insert erectile dysfunction humor here) pic.twitter.com/uHeBeyRaaE

Chris Carolan (@spiralcal) January 16, 2019
Debit: Did you see this? The decline in existing US home sales is growing, with double-digit year-over-year decreases seen in Jacksonville, Las Vegas, Kansas City and Denver. In fact, the US market hasn't been this slow since 2015; and overall, it suffered its biggest annual decline in 8 years. That's especially bad news for home flippers; this one just found out that her latest million-dollar renovation won't be ready to put on the market for at least another month:
Credit: Of course, a big reason for those falling home sales is rising interest rates. Although, with the Fed Fund Rate currently set at just 2.25%, market interest rates really aren't that high by historical standards; actually, they're not even close to normal. The trouble is, as Peter Schiff points out, the US economy is built upon ten years of 0% interest rates. #SmokeAndMirrors
Debit: The recent short-term government shutdown exposed this vulnerability. America has added record debt over the past 10 years while financing its recovery with low rates, yet all this spending has done little for the wealth of the general population. As such most people make the big mistake of being woefully unprepared financially when the economic "good times" finally end. Oh … and speaking of big mistakes:
Credit: The CEO of Kroger supermarkets, Rodney McMullen, made note of the psychological dichotomy last week, saying customers are beginning to express concerns about growing economic uncertainty: "It's fascinating. They feel incredibly good about the economy, but very nervous about where things are headed." Apparently, shoppers are no longer being fooled by shrinking package sizes on grocery store shelves.
Credit: By the way, if you're looking for more insight into where we're headed, just ask the chief economist of Saxo Bank, Steen Jakobsen. He's convinced that what he calls "the worst monetary experiment in history" will soon be coming to an end. That's not a bad thing. At least it doesn't have to be. Well … relatively speaking.
Debit: Hopefully, our current monetary system will end in an orderly fashion — unlike what has happened in the People's Socialist Paradise of Venezuela, where the annual inflation rate is now 2,000,000%. In response, officials recently increased the minimum wage to 18,000 bolivars per month. Unfortunately, that's roughly $6.70; barely enough to buy a dozen eggs and two pounds of beef. Forward, amigos!
Credit: Not surprisingly, Venezuela's president Nicolas Maduro was the target of yet another failed coup this past week. Then again, a surly citizenry is to be expected in the midst of a rapidly unraveling social fabric spawned by economic collapse. Sadly, the suffering will continue to get worse until the economically-clueless socialists are removed from power and a free-market economy is restored.
Credit: Please don't think the US is somehow inoculated from similar ideologues; it's not. As Simon Black reminds us, "Throughout history, whenever the wealth gap gets large enough, it corrects. Sometimes that happens through legislation and sometimes through violence. People demand that their politicians forcefully redistribute the wealth. And the politicians, always hungry for more power, are happy to step up to the plate."
Credit: At some point, a monetary system reset will be required to restore America's manufacturing base and jump start US living standards that have been floundering — at best — since 1971. But unless the US takes its economic medicine very soon, Mr. Black's warnings will eventually become reality. The monetary reset is inevitable; the only question is how we ultimately choose to get there.
By the Numbers
Until this week's temporary agreement to stop the government shutdown, 15% of all government workers had been on furlough for more than a month. Here are a few more figures:
380,000 The number of furloughed government workers.
420,000 The number of government workers who are working without pay.
10,500 The number of air traffic controllers who are working without pay.
359 The number of federal employees who work for the White House.
56% The percentage of White House employees who are currently on furlough.
Source: CBS News
The Question of the Week
Loading ...
Last Week's Poll Results
Would you accept $10 million to leave your country and never return?
More than 1400 Len Penzo dot Com readers responded to last week's question, and slightly more than 3 in 5 said they would leave their home country in exchange for $10 million. Three years ago this week, I asked the same question — except the offer price was "just" $2 million. Only 41% agreed to leave. Obviously, everybody has their price.
Useless News: Psychology Assignment
A psychology professor assigned the men in his class as one group and the women as another, to each collectively decide if computers are masculine or feminine.
The men said "feminine," because no one but their creator can decipher their internal logic and because they speak in code language that only they and experts can understand and every mistake you make is stored in their memory for later retrieval and as soon as you take up with one you spend half your paycheck on accessories for it.
The women said "masculine," because in order to get their attention you have to turn them on and they have a lot of data but can't think for themselves and they are supposed to solve problems but half the time they are the problem and as soon as you take up with one you realize that if you had waited a little longer you could have gotten a better model.
(h/t: RD Blakeslee)
Other Useless News
Here are the top five articles viewed by my 25,030 RSS feed, weekly email subscribers, and other followers over the past 30 days (excluding Black Coffee posts):
Hey, while you're here, please don't forget to:
1. Click on that Like button in the sidebar to your right and become a fan of Len Penzo dot Com on Facebook!
2. Make sure you follow me on Twitter!
3. Subscribe via email too!
And last, but not least …
4. Consider becoming a Len Penzo dot Com Insider! Thank you.
Letters, I Get Letters
Every week I feature the most interesting question or comment assuming I get one, that is. And folks who are lucky enough to have the only question in the mailbag get their letter highlighted here whether it's interesting or not! You can reach out to me at: Len@LenPenzo.com
After reading last week's article warning about the nine biggest home repair scams, Jason left this comment:
Coincidentally, for the introductory price of $109.99, I'm offering a complete carpet cleaning package that kills roaches and termites while it cleans your carpets! Heck, it'll even keep your mother-in-law away! I can't offer this deal all day though, so hurry up and send an order to "notashyster @thepersistentitch.com."
Um … I'll take two.
If you enjoyed this, please forward it to your friends and family. I'm Len Penzo and I approved this message.
Photo Credit: brendan-c