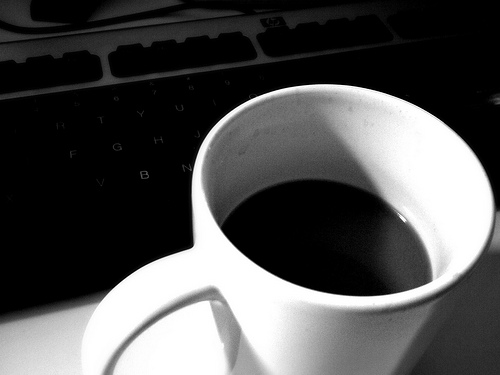 It's time to sit back, relax and enjoy a little joe …
Welcome to another rousing edition of Black Coffee, your off-beat weekly round-up of what's been going on in the world of money and personal finance.
Okay, away we go …
"The goose that lays golden eggs has been considered a most valuable possession. But even more profitable is the privilege of taking the golden eggs laid by somebody else's goose. The investment bankers and their associates now enjoy that privilege."
— Louis D. Brandeis
"In the absence of the gold standard, there is no way to protect savings from confiscation through inflation. Deficit spending is simply a scheme for the 'hidden' confiscation of wealth. Gold stands in the way of this insidious process. It stands as a protector of property rights."
— Alan Greenspan
Credits and Debits
Credit: Stocks may have recovered a good chunk of what they lost since their early February meltdown but, financial analyst Dave Kranzler says there are signs that "The professional money is leaving the stock market at a rate that has only been equaled (twice) in the last 20 years, in 2000 and 2008." Who knows? Maybe the third time is a charm.
Debit: Hey … Remember when a single bitcoin commanded more than $19,000 — the equivalent of almost 15 troy ounces of gold — with "experts" calling for the soaring cryptocurrency to reach $50,000, $100,000 and even $1 million? Yeah, it seems like that was such a long time ago — but it was only last December. Imagine that.
Debit: Alas, bitcoin never did hit the million-dollar mark — or $50,000 for that matter. In fact, since the last greater fool bought a bitcoin for $19,783.06 on December 17th of last year, bitcoin has shed more than $13,000 and is now struggling to stay above $6000, which means those who bought the cryptocurrency near its parabolic top have lost 70% of their investment — in six short months. Ouch. See for yourself:
Credit: If you think that's bad, just wait until the US dollar finally implodes; then bitcoin's true value will be revealed. For those of you still wondering what that final number is, well … here's a hint:
Debit: In other news, I see that Venezuela's economic death spiral has picked up speed — if that's even possible. In November 2016 it took 1500 bolivars to buy a single dollar. Today, it takes a stunning 2.3 million bolivars to buy a single buck. Less than a month ago, that same greenback would have fetched only 800,000 bolivars. Surprised? You shouldn't be. That's what happens, folks, when inflation is 37,076%.
Debit: On a related note, US inflation accelerated in May to the fastest pace in more than six years. The consumer price index rose 2.8% from a year earlier, matching estimates, a Labor Department report showed Tuesday. That was the biggest gain since February 2012 and follows a 2.5% increase in April. Then again, that's still 37,073% lower than Venezuela's inflation rate, so don't worry. Be happy!
Debit: After last week's G7 meeting, John Bolton, complained that "other countries still expect America will always be their bank" — then warned that would be changing. Apparently, Bolton is yet another American politician who fails to recognize the one-sided benefits that America derives from having the world's premier reserve currency.
Just another #G7 where other countries expect America will always be their bank. The President made it clear today. No more. (photo by @RegSprecher) pic.twitter.com/emAVNqRqhc

John Bolton (@AmbJohnBolton) June 9, 2018
Credit: After reading the National Security Advisor's comment, Ian Bremmer astutely pointed out that, what Bolton is unwittingly arguing for is an end to the US dollar's reserve currency status — and the ensuing reduction in most Americans' standard of living that such a move would entail. Apparently, Mr. Bolton never heard of Triffin's dilemma.
Credit: Meanwhile, the US is using tariffs to help reduce the trade deficit — and threatening more. The trouble is, the US trade deficit is inextricably linked to the American economy because the world's central banks need US dollars for their reserves. As long as the US dollar remains the world's reserve currency, the US will always have annual trade deficits. Just as Robert Triffin recognized many decades ago.
Debit: The bottom line is this: Like it or not, the US dollar is going to implode because it's the only remaining alternative. As MN Gordon notes, "Faith in the government's ability to cure all of society's ailments is what got us into this mess. For those who experience the insidious injustice of having their life savings vaporized through state sponsored currency debasement, that misplaced faith will never return." Let's hope so.
Credit: Of course, the real solution is waiting in the wings. As Hugo Salinas Price correctly states, "There's only one way to (eliminate) US trade deficits and renew productivity: abandon the present international monetary system and return to the gold standard." Yes, it will result in a temporary reduction in American living standards — but we'll all be better off in the long run. Besides, it's the right thing to do.
By the Numbers
Here's a quick look at some data on Father's Day:
$119.84 The average amount a person will spend for Father's Day this year, according to The National Retail Federation.
24,400,000 The number of married American fathers with children younger than 18, according to the US Census Bureau.
16 The percentage of single-parent American fathers, according to the US Census Bureau.
7 The average hours spent on child care per week by fathers, according to the Pew Research Center.
2.5 The average hours spent on child care per week by fathers in 1965.
Source: Forbes
The Question of the Week
Loading ...
Last Week's Poll Result
How many times per week on average do you eat fast-food?
Less than 1 (55%)
1 (19%)
2 (10%)
3 (8%)
More than 3 (8%)
More than 1200 Len Penzo dot Com readers answered this week's survey question and it turns out that slightly more than 1 in 4 of them grab a fast-food meal at least twice per week. When I was younger I was a fast-food junkie; I typically ate the stuff six or seven times per week. If I tried that now I'd be fatter than I already am!
This particular poll question was suggested by Kenny. If you have a question you'd like to see featured here, please send it to me at Len@LenPenzo.com and be sure to put "Question of the Week" in the subject line.
Useless News: Tight Skirt
In a crowded city at a crowded bus stop, a beautiful blonde was waiting for the bus. She was decked out in a tight leather mini skirt with matching tight leather boots and jacket.
As the bus rolled up and it became her turn to get on, she became aware that her skirt was too tight to allow her leg to come up to the height of the first step on the bus.
Slightly embarrassed and with a quick smile to the bus driver she reached behind her and unzipped her skirt a little thinking that this would give her enough slack to raise her leg. Again she tried to make the step onto the bus only to discover she still couldn't!
So, a little more embarrassed she once again reached behind her and unzipped her skirt a little more and for a second time attempted the step and once again, much to her chagrin she could not raise her leg because of the tight skirt. So, with a coy little smile to the driver she again unzipped the offending skirt to give a little more slack and again was unable to make the step.
About this time the big Texan that was behind her in the line picked her up easily from the waist and placed her lightly on the step of the bus. Well, she went ballistic and turned on the would-be hero screeching at him "How dare you touch my body!! I don't even know who you are!"
Upon hearing this, the Texan drawled, "Well ma'am, normally I would agree with you but after you unzipped my fly three times, I kinda figured that we was friends."
(h/t: billhilly)
Programming Note
If you recently read RD Blakeslee's latest Grandfather Says entry on moving to a new neighborhood, you may want to stop on by and take another look. He has provided some additional photos of his house-moving project you don't want to miss!
Other Useless News
Here are the top — and bottom — five Canadian provinces and territories in terms of the average number of pages viewed per visit here at Len Penzo dot Com over the past 30 days:
1. Ontario (1.59 pages/visit)
2. British Columbia (1.56)
3. Alberta (1.49)
4. Quebec (1.46)
5. Manitoba (1.32)
9. Newfoundland and Labrador (1.20)
10. New Brunswick (1.16)
11. Prince Edward Island (1.13)
12. Yukon Territory (1.12)
13. Northwest Territories (1.00)
Whether you happen to enjoy what you're reading (like those crazy canucks in Ontario, eh) — or not (ahem, you hosers living on the frozen Northwest Territories tundra) — please don't forget to:
1. Click on that Like button in the sidebar to your right and become a fan of Len Penzo dot Com on Facebook!
2. Make sure you follow me on Twitter!
3. Subscribe via email too!
And last, but not least …
4. Consider becoming a Len Penzo dot Com Insider! Thank you.
Letters, I Get Letters
Every week I feature the most interesting question or comment — assuming I get one, that is. And folks who are lucky enough to have the only question in the mailbag get their letter highlighted here whether it's interesting or not! You can reach me at: Len@LenPenzo.com
This week, Gary left the following pitch for an article he wrote in my inbox:
"Did you know that potato bugs hide under tree bark or other cover to protect them from freezing during the winter? The article might make a nice addition to your blog. What do you think?"
Umm … no. Now I have a question for you: What do you get when you step on a potato bug? A mashed potato bug!
I'm Len Penzo and I approved this message.
Photo Credit: (coffee) brendan-c