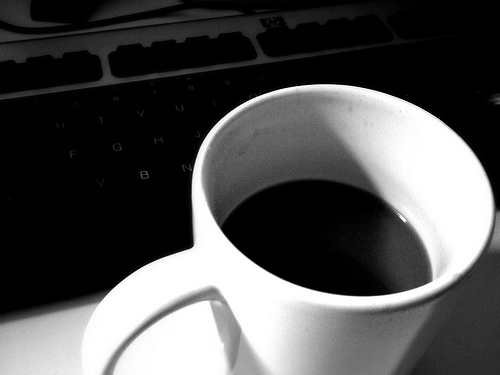 It's time to sit back, relax and enjoy a little joe …
Welcome to another rousing edition of Black Coffee, your off-beat weekly round-up of what's been going on in the world of money and personal finance.
Another glorious week comes to an end. Off we go …
"When the President signs this Act, the invisible government by the Money Power, proven to exist by the Money Trust Investigation, will be legalized. The money power overawes the legislative and executive forces of the Nation and of the States."
— Rep. Charles A. Lindbergh, on the bill which established the Fed.
When a government is dependent upon bankers for money, they and not the leaders of the government control the situation, since the hand that gives is above the hand that takes.
— Napoleon Bonaparte
Credits and Debits
Credit: Don't be alarmed, but the number of Americans filing unemployment benefits dropped to the lowest level in 48 years last week. Oh, I know what you're thinking: With the "official" unemployment rate threatening to fall below 4%, it won't be long before there won't be enough workers to mow our lawns, wash our cars, and take our orders at the local McDonald's. Talk about doom and gloom.
Debit: With such a hot job market, it's hard to understand how nearly 25% of fully-employed millennials still require help from their parents to pay the bills because wages should be skyrocketing. And since we all know US government economic data is beyond reproach, I think it's safe to say that one in four "fully-employed" millennials are actually pulling a fast one on Mom and Dad. Obviously.
Debit: The truth is, wages are definitely not skyrocketing; in fact, they're only growing at a very modest annual clip of 2.7%. Unfortunately, 18 of 20 US metropolitan areas saw home prices grow at an even higher pace — and 16 of those saw home price growth of 5.4% or higher. Yes, that's double the average wage growth. Does anyone else see a problem here? Okay … then how about here:
Debit: In other news, the World Economic Forum says in 2015, the combined retirement savings gap was more than $70 trillion, spread across eight nations. In fact, that deficit is increasing by $28 billion per day and, at that pace, will reach $400 trillion by 2050 — that's five times the size of the current global economy. But I'm sure that's just a minor detail. Or not.
Debit: Heck, even Bloomberg noted this week that an American pension fund collapse is on the horizon, suggesting that, "The next phase of public pension reform likely (to) be touched off by a stock market decline creates the real possibility of at least one state fund running out of cash within a couple of years." Um … Ya think?
Credit: Then again, Bloomberg's pension crisis assessment may be just a wee bit too optimistic. That's right; according to financial analyst Dave Kranzler, "If the stock market were to sustain an extended decline of more than 10% (for) several months, then every public pension in the US would collapse." The good news is … well, I can't really think of any.
Credit: It's not just the public pension system that is knocking on death's door. The great Bill Holter notes that, "The world has changed, and the financial system is on its death bed — and yet few can see it." You're absolutely right, Bill. But you can bet eye do. Ahem.
Debit: For his part, economist Thorsten Polleit believes that, "The risk of a currency crisis is growing by the day. The concern that it might be a crisis that could eventually bring down the fiat money system is by no means an exaggeration." No it's not. Besides, I don't tolerate exaggeration here. And I've warned about the risk of a looming currency crisis in this column at least a quadrillion times before.
Debit: Of course, the ultimate insurance against currency collapse is gold. And at the current liquidation rate, Venezuela will effectively sell the last of their yellow metal by next summer which, as Zero Hedge notes, will result in the final stage of Venezuela's social collapse. Forward, amigos!
Credit: Finally … This week West Virginia Congressman Alex X. Mooney sent a letter to Treasury Secretary Steve Mnuchin and Fed Chairman Jerome Powell regarding concerns over the US government's surreptitious involvement in the gold market, asking the Treasury and Fed to come clean about government policy toward gold. Hooray! Obviously, the "X" stands for "exemplary."
Credit: By the way, Congressman Mooney is the same guy who introduced a bill last month that would return America to the gold standard. No, really. Under Mr. Mooney's legislation the Fed would still exist, but it would administer the money supply rather than dictate it. It's a great start — but eventually, the Fed must be abolished. Otherwise nothing really changes. And you can take that to the bank.
By the Numbers
Last week was the 100th running of the The Boston Marathon. Here are some numbers on the world's oldest annual marathon:
26.2 The course distance for any Olympic-standard marathon, in miles.
1972 Year women were first officially allowed to enter the Boston Marathon.
2:39:54 This year's blue-ribbon time for Desiree Linden, who was the first American woman to win the event in 33 years.
2:19:59 Course record for the women's division, set by Ethiopia's Bizunesh Deba in 2014.
2:03:02 Course record for the men's division, set by Kenyan Geoffrey Mutai in 2011
$185 The 2018 registration fee for American entrants.
29,978 Runners who registered for the 2018 race.
28,200 The number of bananas that were available for runners on the course.
19 The number of registrations this year from runners 80 or older.
$150,000 Prize money for both the men's and women's winners of the 2018 Boston Marathon.
Source: Forbes
The Question of the Week
 Loading ...
Last Week's Poll Results
Which would you rather find?
True love. (57%)
$10 million (43%)
Of the more than 1400 Len Penzo dot Com readers who responded to last week's question, almost 3 in 5 are hopeless romantics. As for the rest, well … they probably figure with $10 million in their bank account, the quest for "true love" will eventually take care of itself.
Useless News: Near Death Experience
A 65 year old woman had a heart attack and was taken to the hospital. While on the operating table she had a near death experience. Seeing God, she asked, "Is my time up?"
God said, "No, you have another 33 years to live."
While the woman was recovering in her hospital bed she figured that, since she had so much more time to live, she may as well make the most of it. So she decided to stay in the hospital and have a face-lift, liposuction, breast implants and a tummy tuck. She even had someone come in and change her hair color and brighten her teeth!
After her last operation, she was finally released from the hospital — but while crossing the street on her way home, she was killed by an ambulance.
Arriving in front of God, the woman demanded, "I thought you said I had another 33 years! Why didn't you save me from the ambulance?"
God replied: "Because I didn't recognize you!"
(h/t: RD Blakeslee)
Other Useless News
Here are the top five articles viewed by my 19,565 RSS feed, weekly email subscribers, and other followers over the past 30 days (excluding Black Coffee posts):
Hey, while you're here, please don't forget to:
1. Click on that Like button in the sidebar to your right and become a fan of Len Penzo dot Com on Facebook!
2. Make sure you follow me on Twitter!
3. Subscribe via email too!
And last, but not least …
4. Consider becoming a Len Penzo dot Com Insider! Thank you.
Letters, I Get Letters
Every week I feature the most interesting question or comment assuming I get one, that is. And folks who are lucky enough to have the only question in the mailbag get their letter highlighted here whether it's interesting or not! You can reach out to me at: Len@LenPenzo.com
Last week I got this note from Carroll:
"Len, I think your blog deserves more attention than it's getting. I'll probably be back to read more."
Thank you, Carroll! Hey, wait a minute … What do you mean, "probably"?
I'm Len Penzo and I approved this message.
Photo Credit: brendan-c