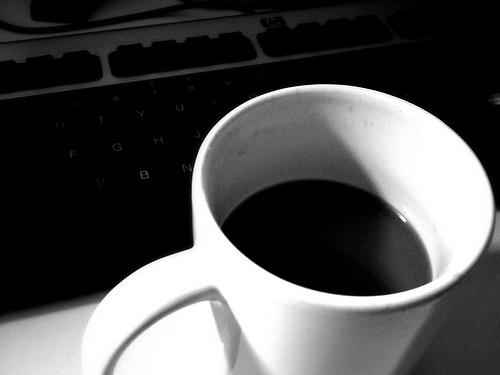 It's time to sit back, relax and enjoy a little joe …
Welcome to another rousing edition of Black Coffee, your off-beat weekly round-up of what's been going on in the world of money and personal finance.
Let's get right to it this week …
"In the Carboniferous Epoch we were promised abundance for all,
By robbing selected Peter to pay for collective Paul;
But, though we had plenty of money, there was nothing our money could buy,
And the Gods of the Copybook Headings said: 'If you don't work you die.'"
— Rudyard Kipling (from The Gods of the Copybook Headings)
Credits and Debits
Debit: Did you see this? Los Angeles County asked homeowners to shelter homeless people in their backyard sheds. Yep. Homeowners can get paid to house the homeless in small sheds in their backyards because voters agreed to pay $1.2 billion in taxes to help with homeless city housing in Los Angeles County back in 2016. Heh. And yet, Los Angeles County officials wonder why their homeless population keeps growing.
Debit: On a related note, a recent Pew study found that, as of 2014 the number of Americans between 18 and 34 who are living with parents surpassed those in other living arrangements for the first time in more than 130 years. Not surprisingly, it also found that young adults in that group without a college degree are more likely to be living with parents, than to be married or cohabiting in their own homes. Imagine that.
Debit: I guess the increase in multi-generational homes probably shouldn't be a surprise, given that a recent study by a prominent housing-market data-aggregator showed that the average worker can't afford the median-priced home in 70% of US counties. Obviously, this wouldn't be a problem if America had more counties offering taxpayer-subsidized backyard sheds.
Debit: Keep in mind that the current lack of housing affordability remains despite the fact that the US banking industry is once again giving loans to anybody who can fog a mirror. Yes, even to this guy:
Debit: Meanwhile, as Zero Hedge notes, "China has signaled an aggressive and potentially more ominous escalation in the developing trade wars to the White House." How? Well … a macroeconomic consulting firm reported this week that the Chinese government has halted its purchases of US Treasuries. In other words: They cancelled America's credit card.
Debit: Of course, if true, that's bad news for the US, which depends on credit from other nations. In fact, Bloomberg notes that, "A mix of tax cuts and spending increases by the Trump administration and Congress leaves the US budget deficit on track to surpass the $1 trillion mark by 2020, two years faster than the CBO previously forecast. And the shortfall is estimated to reach $804 billion this fiscal year." Uh oh.
Credit: It used to be that US credit was primarily financed by other nations. But Treasury debt has ballooned by $3 trillion since 2014 — with 67% of it supposedly being bought by mutual funds, brokers, dealers, personal trusts, estates, businesses, and "other" investors. Really? As Chris Hamilton notes, "It's an open and awkward question why. It's hard to believe this is anything more than state level fraud." Hmm. Ya think?
Debit: If the US government is cooking the books to hide the fact that it is, in reality, monetizing most of its debt, then the dollar's demise may be closer than we think.
Debit: Understandably, Bloomberg says nervous investors are now flocking into gold ETFs. Unfortunately, ETFs are paper-based derivatives; so in an actual currency crisis, they'll fail to offer any protection, which means investors who are moving their cash from stocks and bonds to gold ETFs are jumping from the frying pan into the fire. Remember, folks: If you want gold and silver as insurance — then you must buy the real thing.
Debit: In other news, 15% of S&P 500 companies now have interest expenses that exceed their average 3-year earnings before interest & taxes; that's the highest level in two decades. As Jesse Felder notes, if rising interest rates force these zombie companies into liquidation, then major economic problems could be on tap, assuming the so-called "wealth effect" proves to be more powerful to the downside than it has been to the upside.
Debit: Frankly, it's not just stocks that may see more powerful moves to the downside after buyers turn into sellers. As Bill Blain pointed out this week: "Look how European bonds are already anticipating the end of QE — bunds are rising, begging the question: What happens when the QE-unlimited market-liquidity spigot is turned off? Clue: Pain. Lots of it." Blain is right, if only because fear always trumps greed.
Credit: And finally … Speaking of Europe, in 1660 Sweden's Riksbank was the first central bank to issue paper currency. Ironically, Sweden is well on its way to becoming the first cashless society. However, the Guardian reports that a small but growing number of Swedes are becoming wary of their nation's rush to eliminate cash, fearing a loss of control, cyber-attack risks, and the inherent loss of freedom. Huh. Who knew? Perhaps there's hope after all.
(The Best of) By the Numbers
When it comes to travel delays, here are the five best — and five worst — US hub airports to fly into or out of:
1 Honolulu
2 Portland, OR
3 San Diego
4 Tampa
5 Salt Lake City
26 Philadelphia
27 Chicago (O'Hare)
28 Newark, NJ
29 New York (JFK)
30 New York (LaGuardia)
Source: fivethirtyeight
The Question of the Week
Loading ...
Last Week's Poll Result
How old were you when you bought your first home?
29 or younger (58%)
30 – 39 (25%)
I've never owned a home. (15%)
40 or older (2%)
More than 1200 people responded to last week's question and it turns out that roughly 3 in 5 Len Penzo dot Com readers bought their first home in their twenties. Interestingly, just 2% of respondents said they bought their first home after they turned 40 — which suggests that if you've never owned a home in your first 40 years, you're unlikely to ever become a homeowner. Do you think that's a fair assumption?
Useless News: Last Will and Testament
Dave Smith was on his death bed and knew the end was near. While his nurse, his wife, his daughter and two sons were bedside with him at his home in London, he asked for two independent witnesses to be present and a camcorder put in place to record his last wishes.
So the independent witnesses were quickly assembled. When the camcorder was turned on, Dave mustered up what little strength he had left and began to speak:
"My son, Bernie … I want you to take the Mayfair houses."
"My daughter, Sybil … you take the apartments over in the East end."
"My son, Jamie … I want you to take the offices over in the City."
"Sarah, my dear wife … please take all the residential buildings on the banks of the Thames."
The nurse and witnesses were completely blown away, as they never realized the extent of his holdings.
And with that, Dave quietly slipped away. The nurse then said to his wife, "Mrs. Smith, my deepest condolences. Your husband must have been such a hard-working and wonderful man to have accumulated all that property."
"Property?" replied Mrs. Smith. "The idiot had a window cleaning business."
(h/t: AGAU)
Other Useless News
Here are the top — and bottom — five states in terms of the average number of pages viewed per visit here at Len Penzo dot Com over the past 30 days:
1. Minnesota (2.91 pages/visit) (!)
2. South Dakota (2.21)
3. Washington (2.10)
4. Idaho (1.73)
5. Arkansas (1.71)
46. Oklahoma (1.29)
47. Mississippi (1.22)
48. Massachusetts (1.16)
49. Rhode Island (1.14)
50. Montana (1.10)
Whether you happen to enjoy what you're reading (like my friends in Minnesota … for the second month in a row!!) — or not (ahem, Montana …) — please don't forget to:
1. Click on that Like button in the sidebar to your right and become a fan of Len Penzo dot Com on Facebook!
2. Make sure you follow me on Twitter!
3. Subscribe via email too!
And last, but not least …
4. Consider becoming a Len Penzo dot Com Insider! Thank you.
Letters, I Get Letters
Every week I feature the most interesting question or comment — assuming I get one, that is. And folks who are lucky enough to have the only question in the mailbag get their letter highlighted here whether it's interesting or not! You can reach out to me at: Len@LenPenzo.com
After reading this piece on my blog regarding how to find a pest control company that won't rip you off, Silas shared this:
"We really need a pest control company's help. We've got way too many ants in our kitchen, and I honestly have no idea how to get rid of them."
Hmmm. It seems like you know exactly how to get rid of them!
I'm Len Penzo and I approved this message.
Photo Credit: brendan-c