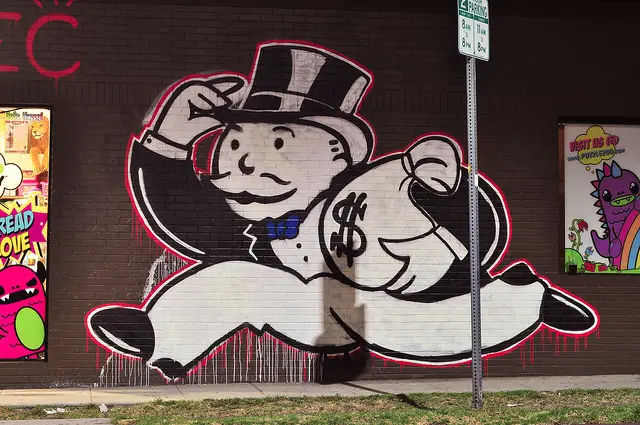 It is utterly amazing how many people still believe that when they deposit their cash at a bank, the money is dutifully socked away in the institution's vault, where the bank pays a small amount of interest for the privilege of storing that cash until the depositor returns to retrieve it, without any stipulations or conditions whatsoever.
A smaller percentage of the population "understands" that the bank is allowed to take a small portion of the depositor's cash and loan it to low-risk borrowers at a reasonable rate of interest.
Of course, that's not how it works.
In fact, most people would be shocked to know that when they deposit their cash in a bank, they become an unsecured creditor. Yes, the money is federally insured — but most people are unaware that in the US, the Federal Deposit Insurance Corporation, has less than $25 billion on hand to cover more than $9 trillion of eligible deposits.
In short, our banking system is the biggest con game in the world. With that in mind, here is a slightly revised version of a meme I recently saw floating around the web that succinctly describes just how fraudulent banking has become.
How People Think Their Bank Works
Jack deposits $1000 at the bank
The banks loan $1000 to a borrower, Jill
Jill pays the loan back, plus 10%
Result: The bank makes a 10% profit ($100)
How Banks Worked Until the Great Financial Crisis in 2008
Jack deposits $1000 at the bank
The banks loan $10,000 to a borrower, Jill
Jill pays the loan back, plus 10%
Result: The bank makes a 10% profit ($1000; i.e., 100% of the original deposit)
How Banks Have Worked Since 2008
Jack doesn't have to deposit anything (savers are an inconvenience)
The Fed conjures up fiat money on a computer screen and gives it to the bank
The bank loans $250,000 to a sub-prime borrower at 4% interest so they can buy a house worth $100,000
Result: Out of nothing, the bank makes a 4% profit annually for 30 years ($10,000 x 30 = $300,000).
See? It's magic!
So let's recap, shall we?
The primary role of any bank is not to protect your cash by holding it in their vault for safekeeping; in fact, it is quite the opposite.
Today, the banks' number one duty is to maximize profits for its shareholders — and they do that by using the cash you've unwittingly loaned to them as an unsecured creditor in any manner they choose.
Oh, sure … if you want your cash back, you'll get it. Eventually. Maybe.
Of course, that assumes that all of the bank's depositors don't ask for their funds back at the same time. In that case, all bets are off.
And if you don't believe me, try going to the bank and informing the banker behind the counter that you'd like to immediately withdraw more than a few thousand dollars of your money from your account. The odds are, she's going to tell you that it will take at least a day or two to honor your request.
But, hey … at least you're earning 1% interest or so for all of that trouble.
Photo Credit: aisletwentytwo