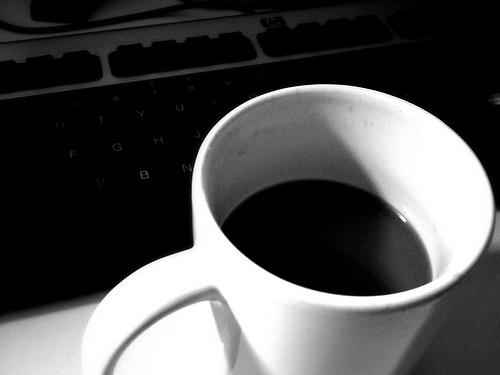 It's time to sit back, relax and enjoy a little joe …
Welcome to another rousing edition of Black Coffee, your off-beat weekly round-up of what's been going on in the world of money and personal finance.
It's a little past midnight. I'm writing this edition from Gate 21, Terminal B, at Phoenix Sky Harbor Airport. Unfortunately for me, I'm stuck here — forced to spend the night after a missed connection.
I certainly won't be sleeping much, and I have a deadline — so why not take advantage of the free time? That being said, this is going to be an abbreviated edition because, quite frankly, I'm pretty darn tired. So please excuse any typos; it's been a long day.
And with that, let's get right to it …
"Anyone with a pension or retirement fund is an investor in the stock market."
— Brad Katsuyama
"The difference between playing the stock market and the horses is that one of the horses must win.
— Joey Adams
Credits and Debits
Credit: The biggest interest rate jump in bond markets since March has bullish traders questioning the staying power of the second-longest equity advance ever. Sniff, sniff. Hey … Is that the scent of fear in the air?
Debit: Until last week, the acceleration in the S&P 500 had been on an upward parabolic trajectory — which sounds great, until you realize that a parabolic trajectory has two components: up and down.
Credit: As Graham Summers notes, the stock market's parabolic trajectory was a direct result of the Fed's extremely loose financial policies. Stocks waited to begin their plunge only after US Treasury bonds began to collapse, pushing yields higher.
Debit: Then on Monday, the stock market got a very small taste of reality when the 410-day record streak without a 5% correction finally ended, as the S&P 500 lost 4.1%, the Nasdaq dropped 3.8%, and the Dow plunged 1177 points for a one day loss of 4.6%. Huh. Apparently, it's not an old wives' tale — markets actually do go down.
Credit: The following day, Carl Icahn issued an ominous warning when he said, "This is a manifestation of a real deep problem we have in our markets. The market will bounce back but these are the rumblings before the earthquake."
Debit: Then again, try telling that to the trader who lost $4 million on Monday — cash that he had accumulated in just three short years of trading after starting with a $50,000 bankroll. Ouch.
Credit: The "good" news was that the markets reversed course on Tuesday — the Dow scratched back about a third of its losses from the day before — but then they wobbled on Wednesday, finishing the day essentially unchanged. On Thursday, however, the market lurched downward again, as the Dow plunged more than 1000 points for the second time in four days.
Credit: Then came Friday — the Dow ended the final session of the week up more than 300 points, ending the most turbulent week on Wall St. in a long time, and leaving stocks with their steepest weekly slide in two years. Clearly, volatility is back. Unfortunately, the early trend appears to be one of lower highs and lower lows — which suggests that, after 9 years, a new bear market may be finally coming out of hibernation.
Debit: I know what you're thinking: Okay, Len … So our stocks may be tanking but at least we still have Social Security and our pensions. If you say so, folks.
Debit: Frankly, if you think your Social Security and government pensions are set in stone because they are "guaranteed" by the government — or via Constitutional law — think again. As Simon Black points out, "The First Circuit Court affirmed last week without a doubt that government promises aren't worth the paper they're printed on." Imagine that.
The Question of the Week
Loading ...
Last Week's Poll Result
How many residences have you had during your lifetime?
6 to 10 (38%)
2 to 5 (31%)
11 to 15 (18%)
More than 15 (13%)
1 (1%)
More than 1300 people responded to last week's question and it turns out that almost 7 in 10 Len Penzo dot Com readers have lived at least six different addresses. As a point of comparison, the average person in the United States moves to a new residence 11.4 times during their lifetime.
By the Numbers
In honor of my carry-on luggage (that will soon be doubling as a pillow), here's a quick grab bag of random trivia:
118 The number of ridges around the edge of a dime.
32 Muscles cats have in each ear.
24 Hours in the entire lifespan of a dragonfly.
50 The number of states that are listed across the top of the Lincoln Memorial on the back of a $5 bill.
0 The number of animal domesticated during the last 4000 years.
1 The number of English words that end in "mt". Do you know the answer?
Useless News: The Value of a Good Vocabulary
I called one of my engineering buddies the other day and asked what he was doing.
He replied that he was working on an "Aqua-thermal treatment of ceramics, aluminum and steel under a constrained environment."
I was duly impressed.
However, upon further inquiry, I learned that he was washing dishes with hot water under his wife's supervision.
(h/t: billhilly)
Other Useless News
Here are the top — and bottom — five states in terms of the average number of pages viewed per visit here at Len Penzo dot Com over the past 30 days:
1. Maine (3.64 pages/visit) (!)
2. Minnesota (2.48)
3. Nevada (2.38)
4. South Dakota (2.34)
5. Rhode Island (2.25)
46. Ohio (1.46)
47. Alabama (1.41)
48. Montana (1.40)
49. Virginia (1.36)
50. Missouri (1.31)
Whether you happen to enjoy what you're reading (like my friends in Maine …) — or not (ahem, Missouri …) — please don't forget to:
1. Click on that Like button in the sidebar to your right and become a fan of Len Penzo dot Com on Facebook!
2. Make sure you follow me on Twitter!
3. Subscribe via email too!
And last, but not least …
4. Consider becoming a Len Penzo dot Com Insider! Thank you.
Letters, I Get Letters
Every week I feature the most interesting question or comment — assuming I get one, that is. And folks who are lucky enough to have the only question in the mailbag get their letter highlighted here whether it's interesting or not! You can reach out to me at: Len@LenPenzo.com
I recently received the following request from Tanya:
"Hi, Len. My husband and I were just wondering if you do personal loans. If you do, would you consider lending us $34,000 that we can pay back at $567 a month for five years?"
Um … no.
I'm Len Penzo and I approved this message.
Photo Credit: brendan-c