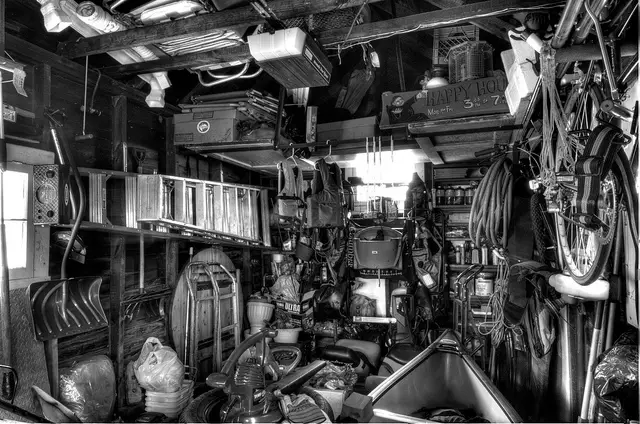 It's amazing how much stuff piles up in a family garage over the years. The stacks get higher every year because, presumably, the items within them hold value. It becomes harder to throw anything away.
While ignoring all those old bicycles, cleaning supplies, and other odds and ends in your garage may not change your life, the same cannot be said for ignoring all the financial clutter accumulating in your bank accounts, 401(k)s, IRAs and other investment storage units. Eventually, your money, your investments and your financial plans need a good cleaning and reorganizing.
"Financial products, investments and plans have a shelf life," says Mark Fried, president of TFG Wealth Management and author of Road Rules for Retirement. "You have to be aware of that and focus on it. The reason they have a shelf life is because your life changes — you have kids, lose jobs, have parents to take care of, or you make a lot more money. Like items in an overstuffed garage, some things in your financial garage might be outdated — or need to be found and updated."
Fried lists five areas to reorganize in your financial garage:
Your basic financial plan. When younger, some people purchase a plan but put it aside. "For folks who have actually done one, they had it done probably because the person was trying to sell them something," Fried says. "Now it's sitting in the back of the garage under the car wax they don't use anymore. If you have a retirement plan, you've got to re-evaluate it and make sure it's something you can use and depend on."
Old investments. Investments that seemed to make sense years before should be re-evaluated. "You need to know why your money is where it is," Fried says. "Why did you buy that partnership, or why did you buy this stock or this mutual fund? Now you're at a different stage of life, and the reason you had for buying it then isn't valid now."
Missing money. As in a garage, things go missing. The workforce of today is highly mobile, changing jobs on a regular basis. Every time you change a job there is a 401(k) or pension that has to be tracked. "Now there's an evolution of software packages where you can put in all of your information so you don't lose track of your investments or retirement accounts," Fried says. "You can easily track your old employer plans."
All insurance. Policies for health, life, auto and homeowners insurance all are worth a careful review. Fried points out that these reviews can lead to money savings. For example: empty nesters may want to restructure their auto policy since the kids aren't driving the parents' cars anymore; or a whole life insurance policy could be tweaked to bring more value. "A good insurance agent is reviewing your policies every year," Fried says.
Estate Plan. Wills may need updating. "A lot of people have a will, but they did it when their kids were very young, and now the kids are 27 and 31," Fried says. "The estate laws change. The power-of-attorney language could be out of date, or maybe you have gotten divorced and not changed the beneficiary. It's got to all be coordinated."
"You've collected all this stuff over the years," Fried says, "and you need to see what serves a purpose — and what doesn't."
***
About the Author: Mark Fried is an Investment Advisor Representative, a Chartered Retirement Planning Counselor and an insurance professional. He's been a contributor to Forbes, Morningstar and The Wall Street Journal, as well as a guest on Fox Business, NBC, and PBS.
Photo Credit: Lisa Campeau