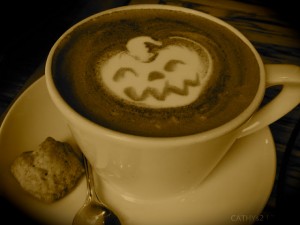 It's time to sit back, relax and enjoy a little joe …
Welcome to another rousing edition of Black Coffee, your off-beat weekly round-up of what's been going on in the world of money and personal finance.
I was out of town and didn't get back until late on Friday. As a result, I have a special jet lag edition for you this week. So please excuse the typos.
"Bubbles make believers of the unbelievers, make bears look like idiots, and the reckless look like geniuses."
— Northman Trader
Credits and Debits
Credit: Don't look now, but despite sky-high valuations, the stock markets continue to defy gravity. The S&P 500 and Nasdaq Composite both closed at record highs on Friday. In fact, the S&P ended in green figures for the seventh consecutive week — that's its longest weekly win streak since 2014. Hooray!
Credit: In case you're wondering how euphoric stock, bond and housing investors are at the moment, please refer to the following chart, courtesy of Stalingrad & Poorski: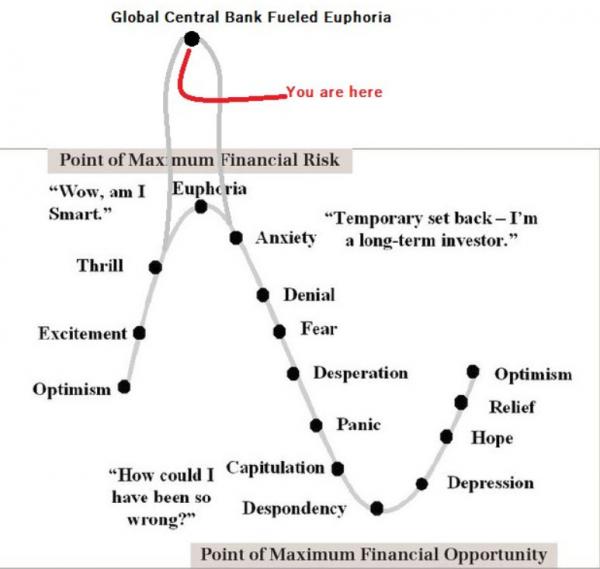 Credit: Meanwhile, financial analyst Albert Edwards points out that the US manufacturing index recently hit 60, which is an extremely rare event; in the past 30 years it's happened three times. For what it's worth, the index hit 60 in 1987 — right before Black Monday. Coincidence? Probably.
Credit: Investors don't seem to be too worried about a market crash; after all, market volatility as measured by the VIX is at a multi-generational all-time low. Asset manager Christopher Cole suggests the record-low volatility is proof that the stock markets' price discovery function is broken. He calls it, "A valuation illusion built on share buyback alchemy" — essentially, a snake eating itself.
Debit: Of course, that "valuation illusion" isn't due solely to stock buybacks. The Fed has printed more than $4 trillion dollars to buy Treasury bonds and mortgage securities — driving down rates in the process, and enabling an unprecedented credit bubble that has fueled the rampant inflation in stocks, bonds and housing.
Credit: Curiously, despite all of the Fed bond-buying, this was the week that the world's credit markets finally pierced a 36-year trend line on interest rates. We'll see if this is a sign that the long bull market in bonds is finally over — or simply a false breakout. For now, I'm betting on the latter.
Credit: On the other hand, if the bond market bull is finally dead, we're in for some interesting times ahead. As Bill Holter notes, the resulting "higher interest rates will act as a 'reveal' to who is solvent and who is not. This will morph into 'everyone' being insolvent, because higher rates will bankrupt sovereign treasuries and central banks." In other words, when the tide goes out, we'll all see who's been swimming naked. Ew.
Debit: Uncle Sam is certainly skinny dipping in an ocean of red ink. The National Debt recently surpassed $21 trillion, in part due to the US running up a $666 billion deficit for the fiscal year that ended last month. And next year will be more of the same.
Debit: Needless to say, after more than five decades of unlimited credit issuance to governments that insist on living above their means, the world's central banks are finally cornered: They can stop printing fiat currency and let stocks collapse — or they can keep the printing presses on hyperdrive, which will eventually unleash inflation, and hasten the inevitable popping of the bond bubble.
Credit: As Hugo Salinas Price sadly reminds us, "One highly important result of the monetary system we are forced to endure, has been the progressive moral deterioration of society in general." Go ahead and scoff if you wish — but the man is absolutely correct.
Credit: It's really quite simple. As Price notes, "Honesty prevails where real money — gold or silver — prevails. When nations make their living with (fiat currency), honesty weakens and vice flourishes, caused by the loss of reality that accompanies fake money that loses its value." Fortunately, returning to a monetary system based upon precious metals will fix things faster than any politician ever could. Believe it … or not.
By the Numbers
The most popular Halloween costumes of 2017, based on search results from Google Trends:
1 Wonder Woman
2 Harley Quinn
3 A clown.
4 A unicorn.
5 A rabbit.
6 A witch.
7 A mouse.
8 A pirate.
9 A zombie.
10 A dinosaur.
Source: Fortune
The Question of the Week
 Loading ...
Last Week's Poll Results
How many kids are you expecting this year for Halloween?
Less than 25 (52%)
25 to 50 (21%)
51 to 100 (17%)
More than 100 (10%)
More than 1100 people responded to last week's question and it turns out that a slim majority of Len Penzo dot Com readers expect fewer than 25 little goblins for the coming Halloween. The number of trick-or-treaters in my neighborhood typical varies between 50 and 150. I'm always happy when the number is on the low side if only because it means more candy for me!
Other Useless News
Here are the top five articles viewed by my 16,222 RSS feed, weekly email subscribers, and other followers over the past 30 days (excluding Black Coffee posts):
4 Really Dumb Ways to Pay Down Your Debt
Hey, while you're here, please don't forget to:
1. Click on that Like button in the sidebar to your right and become a fan of Len Penzo dot Com on Facebook!
2. Make sure you follow me on Twitter!
3. Subscribe via email too!
And last, but not least …
4. Consider becoming a Len Penzo dot Com Insider! Thank you.
Letters, I Get Letters
Every week I feature the most interesting question or comment — assuming I get one, that is. And folks who are lucky enough to have the only question in the mailbag get their letter highlighted here whether it's interesting or not! You can reach out to me at: Len@LenPenzo.com
After reading my post explaining why expensive luxury cars don't impress smart people, Rafael said:
"I wish people were half as enlightened as you."
Thank you, Rafael … but if you listen to my detractors, they'll say your wish would make most folks quarter-wits.
I'm Len Penzo and I approved this message.
Photo Credit: brendan-c