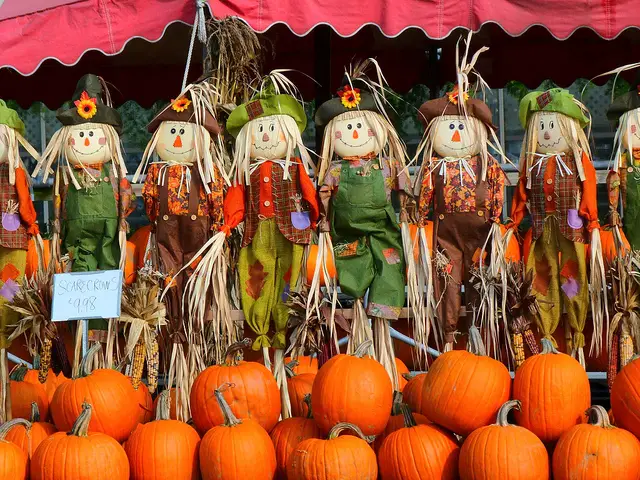 Just because summer is over doesn't mean you have to stop having family fun. With the kids back at school, bills due and a chill in the air, it feels hard to find affordable activities the whole family will enjoy. But if you're looking for a few frugal fall season family fun ideas, we've got you covered.
We all know that fall heralds a time of change and regal beauty as tree leaves turn yellow and red. There are hay rides, apple picking, hiking and crafting activities to enjoy. So put your warm clothes on, and get ready to have some fall fun without breaking the bank. Here are five ideas:
Attend a Fall Festival
Many cities and small towns host an annual fall festival to celebrate the coming season of change. There may be a parade, pumpkin carving, face painting, music, corn mazes and hay rides.
Many small farmers and other crafters show up as vendors to share local produce and handmade items. Support your community, enjoy free entertainment and take home locally grown food.
Apple Picking
In the fall, apples are in season and ripe for the picking. You'll find many different varieties depending on whether you go in early- or late-fall. Call ahead to double check hours of operation for apple picking, and ask for advice on how many pounds you should pick and which varieties you should choose. Pick your apples by grabbing them from the bottom and twisting the stem. Then, store them in a cool and dry place until you're ready to enjoy them.
Families also go to apple orchards to picnic or just walk the grounds. Other activities and entertainment may also be available, such as a live band or puppet show, depending on the orchard and time you choose to go. Farms that offer these activities should have a calendar of events online.
Enjoy Nature Parks
The pool and water parks are closed for the summer, but it's prime time to visit the nature parks in your area. For instance, at your local park, you and your family could:
Watch the leaves change and have a picnic. Enjoy that homemade apple pie for dessert.
Ride your bikes along the greenway.
Go kayaking. Don't forget life jackets!
Hike natural trails and have a guide teach your family more about the local flora and fauna.
See the beautiful sights from the top of a mountain.
Park playgrounds are also still enjoyable in the fall on less windy days. No matter what park activity you choose, remember to bring snacks, stay hydrated and use sunscreen as your kids take in the sun's vitamin D. Sunburns and sun exhaustion can occur even in the fall.
Decorate for the Fall
Decorating isn't only for the winter holidays. For example, fall wreaths and dried flower arrangements are perfect examples of home crafts that make fall decorating fun for the whole family.
Fall wreaths: A fall wreath may be $25 to $50 at the store, but you can make your own for much less. Go to your local dollar store to find the base wreath, needle nose pliers, wire and other supplies. Then, go on a walk with the family to collect pine cones, leaves and other natural materials to decorate the wreath.
Dried flower arrangements: Save those summer stems and let them dry to expose interesting-looking seeds and curled leaves. Take a walk to collect wild daisies and Queen Anne's lace. Hang flowers upside down to dry and then carefully arrange them in a vase or Mason jar.
Build a Scarecrow
Why not make a small scarecrow for your garden to add that harvest touch to your yard? It's easy to make a scarecrow with items you have around the house. You can blow up a balloon to use for the scarecrow's head. Hot glue, rope and rubber bands can secure the scarecrow, while old clothes may be used to dress it. You can then explain to your kids how farmers use scarecrows to keep their crops safe, since animals think they're humans standing guard.
Remember, the arrival of fall doesn't mean that the fun is over. With fall festivals, apple picking, outdoor activities and more to enjoy, the whole family can spend many fun autumn days together as they watch the leaves turn beautiful colors.
Photo Credit: Rusty Clark