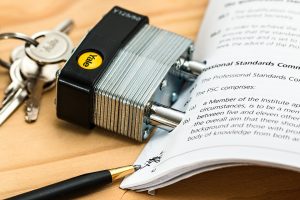 According to a report by the National Association of Small Businesses, the top three challenges of running a business are economic uncertainty, the cost of health insurance benefits, and a decline in customer spending. However, with the rise in digital technologies, small businesses everywhere have a higher risk of having their security systems breached as well.
And considering that 60% of small businesses go out of business within six months of a cyber attack, it's more important than ever to crack down on your small business's security standards. If you're looking to beef up security, both physical and digital, here are just a few tips for optimizing your small business's security.
Communicate Clearly
The first step to making your small business as digitally secure as possible comes with communicating rules and procedures clearly and consistently.
"Before you hire the first employee, you should establish a Code of Conduct. This document should outline what is acceptable or proper behavior within office premises and what repercussions there will be if an employee violates the terms," says Businesssecurity.net. "Though this document does not need to detail all necessary actions, it is best to outline necessary areas such as protecting company property and keeping sensitive information safe and within company premises."
Consistently Shred Old and Outdated Documents
Remember, sensitive information is often stored physically as well as virtually. Make it a company ritual to gather for weekly or monthly shredding sessions. Everybody can bring the documents they no longer need and protect company and customer information, which most likely includes sensitive personal and financial data.
Schedule A Security Audit
In 2010, there were 28 million small businesses in the United States, and many of their owners choose to amp up their security by having a professional conduct a security audit. These audits should reveal any vulnerable areas that could use increased security measures. Once these potential breaches are revealed, act immediately by implementing solutions to correct and strengthen any underlying infrastructure issues.
Audits aren't there to look for faults in your employees. They are in place to evaluate the security measures that you have set up on computers and around your office area. You should emphasize this when you notify your employees of the audits. This way no one will misunderstand your purpose in conducting the audit.
Keep Software Updated And Password Protected
One extra measure you can take to protect digital information is to keep all software updated to the latest version. There may be bugs in your current software that could lead to a data breach, so emphasize the importance of keeping your systems' software as current as possible. You should also make sure to use a secure connection at all times — a public WiFi network sounds nice, but it simply isn't feasible in a world where cyber attacks run rampant. Password protect all company WiFi networks and change them frequently. Sure, it's an extra step that may seem unnecessary, but if it protects your business, then it's entirely worth it. If it stops a data breach, it could keep your company in business.
Ultimately, staying vigilant about your small business's security protocol is the best way to avoid a breach.
Photo Credit: stock photo