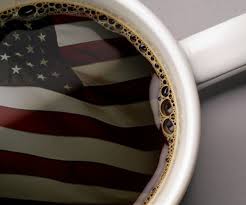 It's time to sit back, relax and enjoy a little joe …
Welcome to another rousing edition of Black Coffee, your off-beat weekly round-up of what's been going on in the world of money and personal finance.
Off we go …
"The track record of economists in predicting events is monstrously bad. It is beyond simplification; it's like medieval medicine."
— Nassim Nicholas Taleb
""I would rather get a PhD than stand to reach for toilet paper. Though some might emphasize the similarities between the two activities."
— Rhoda Janzen
"He that lives upon hope will die fasting."
— Ben Franklin
Credits and Debits
Debit: As I mentioned last week, Illinois has $14.6 billion in unpaid bills and, without a budget, the state is now left to deal with the consequences: tens of thousands of lost jobs, a roadwork shutdown, and looming bankruptcy — among other things.
Debit: It doesn't take a genius to see that Illinois is on the brink of falling into a financial death spiral. Needless to say, that's what happens when 25% of the state budget is used to fund gold-plated government pensions. No, really.
Debit: Things are so bad in the Land of Lincoln that, for now, lottery payouts over $25,000 are being delayed and the nationwide Powerball lottery is pulling out of Illinois. Well … there goes the Illinois' legislature's best solution for finding the cash it needs to settle its bills.
Credit: Did you see this? A study by the University of Washington has found that Seattle's recent mandatory minimum wage hikes backfired by crushing its job market. The decision by Emerald City politicians to interfere with the free market has resulted in the equivalent of 6500 lost jobs. So far. Imagine that.
Credit: Has the bitcoin bubble popped? After seeing the cryptocurrency gap downward 8% on Monday — and then end the trading day 15% lower — legendary trader Bill Flekenstein thinks so. Since bottoming at $2363 on Tuesday, the price has stabilized somewhat and is now trading around $2450. But that's no comfort to those who bought bitcoin at its all-time high of $3019 on June 11.
Credit: Meanwhile, financial analyst Dave Kranzler believes that multi-billion-dollar investment-fraud king Bernie Madoff is jealous because Tesla and Amazon are "the greatest Ponzi schemes in history." Kranzler's research shows that both companies rely on dubious accounting practices that effectively hide their true financial condition from casual investors.
Debit: In other news … Am I the only one who wonders how many people are actually out there clamoring to buy Prada "paper clips" for $185? Each. Yes, they're imported from Italy, made from silver, have the Prada logo embossed on the side, and are designed to hold currency — but still …
Credit: Then again, those Prada paper clips are nothing compared to the ultimate symbol of financial excess: the McMansion. I see the market for those annoying ersatz manors is heating up once again — just like it did prior to the bursting of the last housing market bubble.
Debit: Of course, some people never even recognized the last housing bubble until it finally popped. Retired Fed Chair Ben Bernanke — who earned a PhD in economics from MIT — certainly didn't. In fact, back in 2005, Mr. Bernanke told people that a housing bubble was "a pretty unlikely possibility." Apparently, statistical analysis isn't one of Ben's strong suits.
Debit: Speaking of central bankers, managers at the central banks' central bank — better known as the Bank for International Settlements (BIS) — said a financial crash in emerging markets is brewing that could hit the rest of the world with "a vengeance." There — now you can't say they didn't warn you.
Debit: On the other hand, America's top central banker, Janet Yellen, apparently didn't get the BIS memo. This week the Fed chair told the world that she doesn't "believe" another financial crisis will occur "in our lifetime." Heh. Silly statements like that usually signal a market top is close at hand. Usually.
Credit: Oh, I know what you're thinking: Obviously, Ms. Yellen knows her stuff because she has a PhD in economics from Yale! That's true; so did Irving Fisher. He's the Roaring 20s economist who proclaimed that, "Stock prices have reached what looks like a permanently high plateau" — three weeks before Black Tuesday. Uh huh. Now you know why PhD stands for "piled higher and deeper."
By the Numbers
On July 4, 1776, the Continental Congress approved the Declaration of Independence, setting the 13 colonies on the road to freedom as a sovereign nation.
2,500,000 The estimated number of people living in the newly independent nation in July 1776.
323,100,000 The estimated current US population.
65 The percentage of Americans who own an American flag.
$5,400,000 The value of US flag imports in 2016.
$27,800,000 The value of US flag exports in 2016.
94 The percentage of all US flag exports that went to Mexico in 2016.
$1,000,000,000 Estimated beer sales for this year's holiday weekend.
150,000,000 The number of hot dogs that will be consumed on July 4th weekend this year.
16,000 The number of public fireworks displays this year.
23,959,441 Americans who claimed English ancestry in the most recent US Census. That ranked third behind those claiming German (45,526,331) and Irish ancestry (32,713,324).
Source: CtPost
Insider Notes: A Lesson (or Three) on How Bonds Work
Hey! You need to be an Insider to view this section! If you'd like to join, please click "Insider Membership" at the top of my blog page.
Last Week's Poll Results
Are you eligible to receive a pension from a current or past employer?
More than 1200 Len Penzo dot Com readers responded to last week's question, and it turns out that in two in three of them are not eligible for a pension. They probably shouldn't feel so bad since the odds are good that most pension funds aren't going to survive the next market downturn anyway.
The Question of the Week
Loading ...
Other Useless News
Programming note: Unlike most blogs, I'm always open for the weekend here at Len Penzo dot Com. There's a fresh new article waiting for you every Saturday afternoon. At least there should be. If not, somebody call 9-1-1.
Hey! If you happen to enjoy what you're reading — or not — please don't forget to:
1. Click on that Like button in the sidebar to your right and become a fan of Len Penzo dot Com on Facebook!
2. Make sure you follow me on Twitter!
3. Don't forget to subscribe via email too! Thank you.
And last, but not least …
4. Consider becoming a Len Penzo dot Com Insider!
(The Best of) Letters, I Get Letters
Every week I feature the most interesting question or comment — assuming I get one, that is. And folks who are lucky enough to have the only question in the mailbag get their letter highlighted here whether it's interesting or not! You can reach out to me at: Len@LenPenzo.com
I can only assume that Fish decided to visit my About page after he dropped this brief message in my inbox:
Nope! Your [sic] still ugly!!!!
I guess this means you won't be asking me out for a date any time soon?
I'm Len Penzo and I approved this message.
Photo Credit: Community Coffee