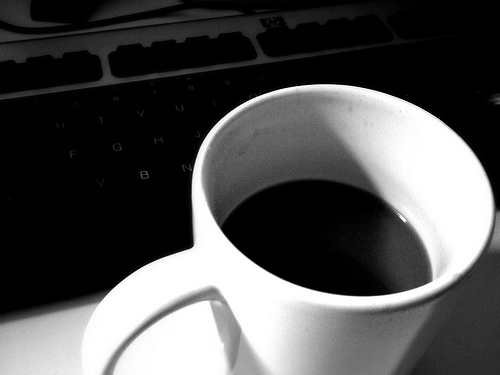 It's time to sit back, relax and enjoy a little joe …
Welcome to another rousing edition of Black Coffee, your off-beat weekly round-up of what's been going on in the world of money and personal finance.
Let's get right to it …
Life is a constant oscillation between the sharp horns of dilemmas.
— H.L. Mencken
The worst choice you can make, is no choice at all.
— Nicholas Stoller
Customers can have a car painted any color that they want, as long as it is black.
— Henry Ford
Credits and Debits
Credit: This week, President Trump maintained his pledge to restore Glass-Steagall. That was one of America's most important laws — a post-Depression mandate that prohibited banks from commingling their profits with customer deposits for speculative purposes. Unfortunately, it was repealed back in 1999 at Wall Street's request — and Main Street has been paying for it ever since.
Debit: Needless to say, bank stocks promptly responded to the Glass-Steagall restoration news by tumbling. Hmm. Why do you think that happened, you ask? Yeah … I wonder.
Debit: Speaking of stocks, the market is looking eerily similar to the way it was in 1999, just prior to the dot com crash. In 1999, the Fed was hiking rates, inflation was rising, and stocks were going parabolic. You know … just like today. Meh. I'm sure it's just a mad coincidence.
Debit: By the way, the soaring stock market belies the fact that desperate mall owners are looking for tenants by recruiting any businesses they can find, including grocers, doctors' offices — and high schools. Yikes. How would you like to be an alumni of "Galleria High"?
Debit: Of course, as ZeroHedge observes, those malls — most of which are now practically empty and sitting on prime real estate — are struggling thanks to "shifting consumption patterns, years of underinvestment by mall owners and a spate of retailer bankruptcies." Yes, but I suspect the biggest culprit is the Internet. Thanks, Amazon!
Debit: Then again, maybe there's yet another cause. For example, thanks to a floundering economy — the latest job figures notwithstanding — most Americans are so broke that they have little discretionary income anymore, as evidenced by the fact that half of all Americans can't afford to write a $500 check. Yes, half. No, really.
Credit: According to financial analyst Andy Hoffman, "(America's) rapidly dying economy is forcing the Fed to make a Hobson's Choice: raise rates to maintain credibility, but destroy both the economy and America's competitive position — or do nothing, and watch markets start to discount the hyperinflation that must inevitably arrive." I think it's obvious: the Fed will go with the first option … or the second.
Credit: Hoffman also points out that the Fed's decision to continue raising rates in the face of a struggling US economy is an "insane, suicidal gambit" that will only hasten the onset of the next financial crisis. He's right, you know.
Credit: Meanwhile, Hugo Salinas Price points out that America has a catch-22 of its own: "The US cannot have it both ways — it can't issue the world's money, and indulge in economic protectionism." That's because the latter will ultimately result in the US dollar losing its reserve currency status — and a lower standard of living for most Americans. At least temporarily.
Debit: One thing is certain: Reality is officially in short supply now that a single bitcoin is worth more than an ounce of gold. That's right; an upstart abstract purely-ethereal cryptocurrency with no intrinsic value whatsoever is currently more valuable than real-life precious metals.
Credit: Frankly, bitcoin being more valuable than gold makes as much sense as a screen door on a submarine — or an ice machine for an eskimo. You choose.
Credit: Finally … You know America's day of reckoning isn't too far off when even billion-dollar bond-king Bill Gross is admitting that the jig is up. In fact, in his most recent newsletter, he urged us to be more concerned about the return of our money than the return on our money because, "Our financial system is a truckload of nitroglycerin on a bumpy road." Uh huh. Hey, Bill … Welcome to the club.
By the Numbers
Here are a few facts on the US Navy's newest and most technologically-advanced warship ever built, the USS Gerald Ford. It's the first new carrier design since the Nimitz-class, which was commissioned in 1975:
$12,900,000,000 Cost to build the aircraft carrier, making it the most expensive warship ever.
200,000 Gallons of paint required to cover the ship; that's enough to paint the White House 350 times.
$4,000,000,000 Amount the US Navy will save over the ship's 50-year lifetime due to reduced maintenance requirements.
90,000 The final weight of the Ford in tons, equivalent to 400 Statues of Liberty.
10,000,000 Feet of installed electric cable, enough to reach the International Space Station 7.6 times.
4,000,000 Feet of fiber optic cable, enough to reach the International Space Station 3 times.
4,000,000 Pounds of weld metal used to build the ship.
5000 American shipbuilders involved in building the Ford.
4500 Sailors who will call the USS Gerald Ford home
5200 Sailors required to operate older Nimitz-class aircraft carriers.
Source: ABC News
Last Week's Poll Result
How much money do you usually withdraw at an ATM?
More than $100 (39%)
I don't use ATMs (34%)
$100 or less (27%)
More than 1400 people chimed in for last week's question and fully one-third of them say they don't use automated teller machines. I don't either — when I need cash, I ask the Honeybee. Hey … I'm not the household CFO — she is! And although the Honeybee uses an ATM when she needs more than $100 in cash, most of the time she uses the cash-back feature on her debit card at the grocery store checkout counter.
The Question of the Week
 Loading ...
Other Useless News
Here are the top — and bottom — five states in terms of the average number of pages viewed per visit here at Len Penzo dot Com over the past 30 days:
1. Arkansas (1.87 pages/visit)
2. Nevada (1.84)
3. Montana (1.79)
4. Alabama (1.74)
5. Delaware (1.69)
46. Connecticut (1.22)
47. Minnesota (1.20)
48. Michigan (1.17)
49. Colorado (1.14)
50. Wyoming (1.12)
Whether you happen to enjoy what you're reading (like my friends in Arkansas) — or not (ahem, Wyoming …) — please don't forget to:
1. Click on that Like button in the sidebar to your right and become a fan of Len Penzo dot Com on Facebook!
2. Make sure you follow me on Twitter!
3. Subscribe via email too!
And last, but not least …
4. Consider becoming a Len Penzo dot Com Insider! Thank you.
Letters, I Get Letters
Every week I feature the most interesting question or comment — assuming I get one, that is. And folks who are lucky enough to have the only question in the mailbag get their letter highlighted here whether it's interesting or not! You can reach out to me at: Len@LenPenzo.com
After reading about my personal spelling demons, Amanda shared this little gem:
My husband has been known to write checks for thirteen dollars and say, 'Keep the change,' to avoid having to spell 'twelve.' There are worse things.
Amanda, let's hope your hubby never has to write a check for $12,000.
I'm Len Penzo and I approved this message.
Photo Credit: brendan-c