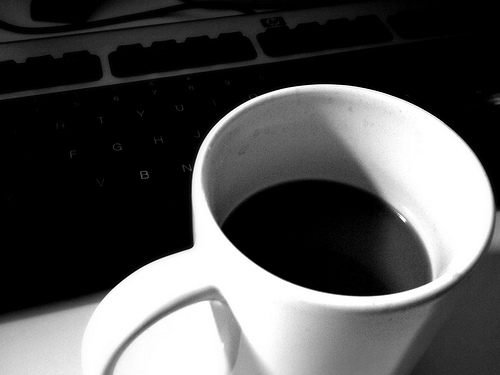 It's time to sit back, relax and enjoy a little joe …
Welcome to another rousing edition of Black Coffee, your off-beat weekly round-up of what's been going on in the world of money and personal finance.
Okay, let's get right to it this week …
Bull markets are born on pessimism, grow on skepticism, mature on optimism and die on euphoria.
— Sir John Templeton
Don't confuse brains with a bull market.
— Humphrey Neill
The market can stay irrational longer than you can stay solvent.
— John Maynard Keynes
Credits and Debits
Credit: I see the average person living in the People's Utopian Paradise of VenezuelaTM lost 19 pounds in 2016. What's their secret, you ask? Well … It's clueless nanny-state politicians who implement price controls because they naively believe that farmers and ranchers will produce food for the masses in the absence of a profit motive. Socialism: it's what's for dinner.
Debit: Speaking of nanny-state politicians, that onerous Philadelphia soda tax has resulted in sales plunging 50% within its city limits. That's not all; one of Philly's largest distributors says it's cutting 20% of its workforce in March due to lost business from the tax. And an owner of six ShopRite stores in the City of Brotherly Love says he has plans to layoff 300 workers. Good job, Philly. Forward!
Debit: Philadelphia area labor unions are another casualty of the 1.5-cent per ounce soda tax — which sounds innocent until you realize that the levy means, for example, that a 10-pack of flavored water currently carries a 51% tax. As a result, some Teamsters have seen their pay cut by as much as 70% because they're now moving fewer soda products.
Debit: In other news, after seven years of bailouts, the Greeks are only sinking deeper into poverty. Apparently, you can't solve a debt problem by taking on more debt. Imagine that.
Debit: Needless to say, with Greece once again experiencing bank runs, Italy's Banca Monte dei Paschi di Siena — Europe's oldest bank — on the verge of bankruptcy, and Germany's largest lender, Deutsche Bank, struggling with a crippling number of non-performing loans, it's only a matter of time before the euro currency returns to its intrinsic value: zero.
Debit: Frankly, the financial world isn't so rosy on this side of the pond either, with US household debt approaching levels not seen since just prior to the 2008 financial crash, and auto loan delinquencies at an all-time high. Don't panic … there's no need to jump off the side of a building. I'm sure that's just a wild coincidence.
Credit: On the other hand, this week President Trump did say that America's deficit-spending addiction is "absolutely out of control" and he intends to fix it. Psst. Somebody needs to tell him our annual trillion-dollar deficits aren't a bug — it's a feature — which is why they'll continue growing.
Credit: As economist Robert Triffin first warned in 1959, America must continue running deficits — and increase them over time — otherwise, the ticking time bomb known as the dollar-based international monetary system Ponzi scheme will implode.
Credit: Then again, maybe that's the President's intent: usher in an honest monetary system based upon real wealth and not debt. If so, it'a a noble one, despite the tremendous amount of temporary pain that will follow — especially for us Americans, who have been enjoying an artificially-high standard of living since the early 1970s at the expense of the rest of the world.
Credit: Of course, as Alhambra Partners' Jeffrey Snider notes, mathematics ensures that the current monetary system is going to eventually fail anyway, which is why he says, "There has to be another Bretton Woods conference — a global monetary get-together where people analyze solutions to the problem rather than (continually) applying band aids that don't work." From your lips to God's ears, Jeffrey.
Credit: The coming dollar implosion must be getting close because even Alan Greenspan is now calling for a return to a gold-backed monetary system. Yes, that Alan Greenspan.
Credit: I know what you're thinking: But, Len, it can't be that bad because the stock market is on fire! That it is. This Friday marked the 11th consecutive day that the Dow closed at an all-time high. Uh huh. That's the index's longest streak of record highs since January 1987.
Debit: And it's not just the Dow; the NASDAQ 100 has been on fire too. That's not necessarily a good thing, though: it hasn't been this overbought since 1992. Yes, even more than it was at the peak of the dot com bubble back in 2000. Uh oh.
Debit: One thing is certain: with television talking heads last week seriously asking if the best move from now on is to "just buy everything," nobody can blame those who believe that the apparent stock market euphoria is currently bordering on madness.
By the Numbers
Hollywood is holding its 2017 Academy Awards this week. Here are some facts and figures behind the movie industry's biggest night:
8.5 Weight, in pounds, of the Oscar statuette.
$696 Current estimated value of the 24-karat gold-plated Oscar statuette.
900 Estimated length, in feet, of the red carpet at the Dolby Theatre, which is hosting the Awards.
100 Running time, in minutes, of the shortest Oscar telecast. (1959)
263 Running time, in minutes of the longest Oscar telecast. (2002)
0 Minutes I'll spend watching this year's Oscar telecast.
Source: Forbes
The Question of the Week
 Loading ...
Last Week's Poll Results
How often do you typically eat breakfast?
Daily (66%)
Occasionally (21%)
Rarely (13%)
More than 1300 Len Penzo dot Com readers responded to last week's question and two out of three eat the most important meal of the day on a daily basis. Not me. For me, breakfast is a treat that I enjoy once a week, if I'm lucky. That being said, if I don't get at least one cup of coffee every morning — and preferably two — I'm unable to function.
Other Useless News
Here are the top 5 articles viewed by my 14,163 RSS feed, weekly email subscribers, and other followers over the past 30 days (excluding Black Coffee posts):
4 Frugal Dining Spots Most People Never Consider — But Really Should!
Why Pastry Chefs are Financially Savvier Than the Common Man
Hey, while you're here, please don't forget to:
1. Click on that Like button in the sidebar to your right and become a fan of Len Penzo dot Com on Facebook!
2. Make sure you follow me on Twitter!
3. Subscribe via email too!
And last, but not least …
4. Consider becoming a Len Penzo dot Com Insider! Thank you.
Letters, I Get Letters
Every week I feature the most interesting question or comment — assuming I get one, that is. And folks who are lucky enough to have the only question in the mailbag get their letter highlighted here whether it's interesting or not! You can reach out to me at: Len@LenPenzo.com
After reading my article highlighting four things every homeowner should look for in a pest control company, Tomas, left this comment:
I didn't realize that a pest removal service offers flea removal. That's something my brother could use for sure.
Hold on, Tomas! Before you go "all-in" on an exterminator, maybe your brother should consider a flea collar first.
I'm Len Penzo and I approved this message.
Photo Credit: brendan-