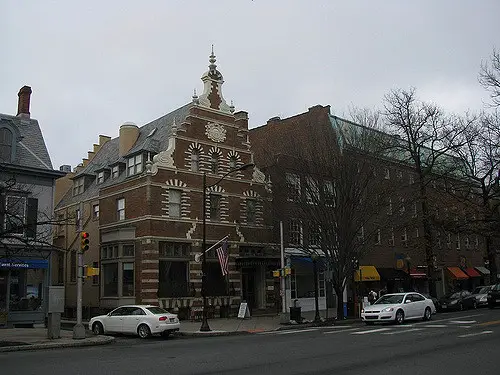 Princeton University recently earned the top ranking among national universities according to U.S. News & World Report — but there's much more to Princeton, New Jersey, than its academics.
Princeton, the product of a merger between a borough and a township, walks the line between bustling and intimate with a modest population of 30,000 residents.
Historical Look and Feel
Taking a stroll around the main streets of Princeton, NJ may lead to a line of questioning that goes something like this: Am I in a brochure right now?
Princeton's emphasis on careful preservation results in a wide array of architectural styles, from English Vernacular of the late 1600s to stately Gothic Revival designs of the early 20th century. This means that curious residents can skip the tourist-trap architectural tours that take hours in major cities and appreciate the handsome lineup of building design at hand whenever they choose.
History buffs won't need to merely imagine what it might have been like when major U.S. historical events occurred in the area. Instead, they can witness the sites for themselves. The Princeton Battlefield-Stony Brook Settlement Historic District and many more painstakingly preserved landmarks allow residents to hop between centuries on any given day.
Green Acres
Princeton residents who enjoy escaping into a pastoral landscape full of lush trees and soft grass once in a while have plenty of regular spots from which to choose. Even those who are more inclined to favor urban settings or tight-knit neighborhoods will benefit from the beautifully maintained parks and activities the city offers. Take Herrontown Woods, which is situated to the east of the Princeton Ridge. With over three miles of trails and over 142 acres of space, it's an ideal spot for light exercise and witnessing the changing seasons. There are many other green spaces that punctuate Princeton, so long-time nature enthusiasts and recent expats of huge cities alike can slip away into a soothing natural space whenever it suits them.
Howdy, Neighbors
Princeton also offers convenient proximity to New York City and Philadelphia. Situated about an hour from each city, it's easy to spend a thrilling weekend in a larger city without going too far out of your way.
Residents can go about getting to the Big Apple or the City of Brotherly Love in a few different ways, including by public transportation like train or bus. However, many prefer to maintain control over their journey so they can come and go as they please. Of course, whether they're packing a weekend duffel, briefcase, or carry-on, conscientious drivers always make sure they're carrying proper New Jersey car insurance before sliding into the driver's seat for confidence-boosting coverage while they're cruising I-95.
Quality of Life
WalletHub recently ranked Princeton in the 99th percentile for 2016's best small cities in America, placing it at the top of 1268 cities with populations between 25,000 and 100,000 residents. Princeton received especially high marks in categories measuring its economic health, safety, and quality of life.
On the other hand, Princeton's low affordability rank reveals that this historical haven is quite a bit costlier to reside in than other small cities on the list. With a median household income of almost $117,000 — more than double that of the U.S. average — it's important to note that Princeton's excellent quality of life comes at a cost.
Just as there are many specialized subjects of study at Princeton University, there are many facets to living in this picturesque East Coast locale that take a little digging to fully discover.
Photo Credit: Bogdan Mogulski