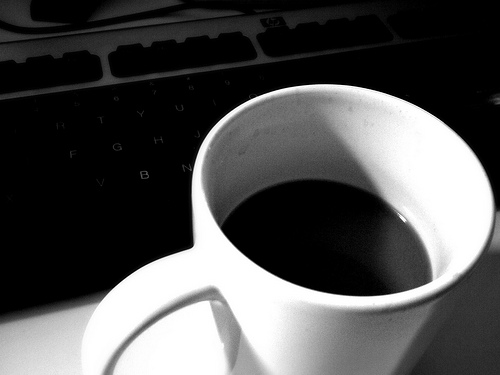 It's time to sit back, relax and enjoy a little joe …
Welcome to another rousing edition of Black Coffee, your off-beat weekly round-up of what's been going on in the world of money and personal finance.
Let's dive right in this week …
There is no means of avoiding the final collapse of a boom brought about by credit expansion. The alternative is only whether the crisis should come sooner as the result of voluntary abandonment of further credit expansion, or later as a final and total catastrophe of the currency system involved.
— Ludwig Von Mises
The essence of the Ponzi scheme is that it's like an addictive drug. Once someone enters into one, he finds it psychologically impossible to face the reality of its statistical unsustainability. He refuses to get out in time, and his participation fundamentally changes his outlook toward reality.
— Gary North
Credits and Debits
Debit: On Friday, America saw the first change in the executive branch of government since 2009 — and during that time, the nation fell $10 trillion deeper into debt. That's double the amount of red ink that was racked up in the previous eight years between 2001 and 2008.
Debit: Unfortunately, the international monetary system is a Ponzi scheme, which is why I expect the National Debt to double yet again to $40 trillion by 2025 — assuming the system survives that long. There's really no alternative. We're on a runaway train; any attempt to slow — or reverse — the accumulation of debt will only hasten the inevitable collapse. On second thought, I guess that's a good thing.
Debit: Indeed, if the US makes a concerted effort to reduce its trade deficit with the rest of the world, it will only exacerbate the decrease in dollar reserves held by the world's central banks; those reserves have already declined 10% since reaching their peak on August 2, 2014. As Hugo Salinas Price points out, "The decline of International Reserves is a clear sign of world credit contraction." Indubitably.
Credit: The following chart from Mr. Salinas illustrates the decline in reserves — and even though it's in Spanish, it clearly shows the Ponzi scheme unleashed after Nixon closed the gold window in 1971 will be ending soon. Remember, as the rate of descent in US dollar reserves increases, the end of the "Almighty Dollar" — and America's day of reckoning — approaches at a faster pace too. Got gold?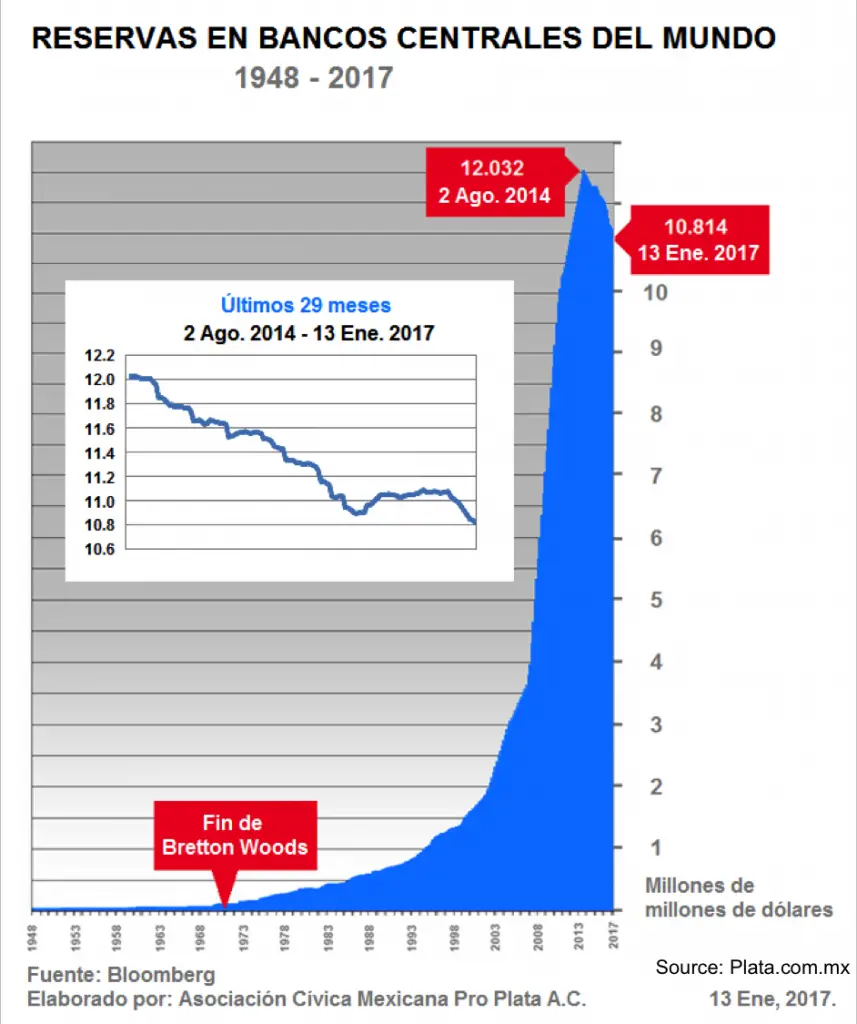 Credit: As financial analyst Andy Hoffman notes, the current financial system is in its death throes, as exemplified by, "Financial 'markets' which are so over-the-top manipulated, that even the average person — who has little or no capital invested — is starting to realize it." Wait a minute, Andy! Some of us average people have seen this coming for awhile now.
Debit: Our failing monetary system is why, despite being better educated, millennials now earn 20% less than boomers did at the same stage of life in 1989. I hate to rain on the new president's inaugural parade, but it's also why the general economic malaise will continue. Real reform cannot begin until our current debt-based monetary system is scrapped and replaced with something new.
Debit: Of course, the Fed and its fellow central bankers, in their quest to keep the Ponzi alive for as long as possible, are doing their best to flood the world with additional credit. As a result, prices continue to rise for the things we all need to survive — including already-soaring rents, which are now rising at their fastest pace since 2007.
Debit: By the way, if you think rents are high, just be thankful you aren't looking to buy a home — or a mansion. One particular 38,000 square-foot, 12-bedroom, 21-bath Bel Air home with three kitchens, a 40-seat movie theater, an infinity pool and 270-degree hilltop views is going for $250-million. I know … but what did you expect for a quarter-billion?
Credit: Did you see this? After being given a seemingly-endless runaround by his local DMV, a Virginia man decided to submit his tax bill in person — using five wheelbarrows loaded with 300,000 pennies. It took DMV personnel an entire day to tender his payment. Heh.
Credit: Oh, and before you feel sorry for those DMV workers who had to count all of those pennies, try putting yourself in the shoes of the poor guy standing in line behind the "wheelbarrow man."
Debit: Finally … It looks like California Governor Jerry Brown and his inept budget office double-counted certain budgetary cost savings while "forgetting" to incorporate other expenses, resulting in a $1.6 billion budget deficit. They'll probably make up the shortfall by imposing higher taxes on the "wealthy." Hey … how come we never hear about the government making a mistake on the surplus side?
By the Numbers
The American Dream is gone and won't be returning until we get a new monetary system. Here are some numbers on how the failing system has affected America's middle- and lower-class:
68 The percentage of US income growth since 1980 that went to the top 10% of earners.
0 The percentage of US income growth since 1980 that went to the bottom half of earners.
117,000,000 Americans whose income failed to keep pace with inflation over the past four decades.
45 The percentage of middle income millennials who currently earn more than their parents did at the same age, adjusted for inflation.
90 The percentage of middle income Americans who, in 1967, earned more than their parents did at the same age, after adjusting for inflation.
50 The percentage of Americans today who make up the middle class.
61 The percentage of middle class Americans in 1971.
Source: ABC News
Last Week's Poll Result
What is your employment situation right now?
Employed Full Time (55%)
Retired (27%)
Unemployed (11%)
Employed Part Time (7%)
More than 1100 people answered last week's survey question. The Bureau of Labor Statistics continues to insist that the US unemployment rate is under 5%, but Len Penzo dot Com readers aren't as fortunate as almost 1 in 5 of them are either unemployed or working intermittently. Another 27% are retired … I hope blissfully.
The Question of the Week
Loading ...
Other Useless News
Here are the top — and bottom — five Canadian provinces and territories in terms of the average number of pages viewed per visit here at Len Penzo dot Com over the past 30 days:
1. Manitoba (1.63 pages/visit)
2. Ontario (1.42)
3. Newfoundland and Labrador (1.41)
4. Alberta (1.40)
5. Nova Scotia (1.36)
9. Quebec (1.24)
10. New Brunswick (1.19)
11. British Columbia (1.16)
12. Prince Edward Island (1.13)
13. Yukon Territory (1.00)
Whether you happen to enjoy what you're reading (like those crazy canucks in Manitoba, eh) — or not (ahem, you hosers living on the frozen Yukon tundra) — please don't forget to:
1. Click on that Like button in the sidebar to your right and become a fan of Len Penzo dot Com on Facebook!
2. Make sure you follow me on Twitter!
3. Subscribe via email too!
And last, but not least …
4. Consider becoming a Len Penzo dot Com Insider! Thank you.
Letters, I Get Letters
Every week I feature the most interesting question or comment — assuming I get one, that is. And folks who are lucky enough to have the only question in the mailbag get their letter highlighted here whether it's interesting or not! You can reach me at: Len@LenPenzo.com
Ozzy574 wrote in to tell me why he refuses to buy precious metals:
Hasn't anyone told you that you can't eat gold?
Many times. Then again, I bet you don't have any Federal Reserve Note recipes either.
I'm Len Penzo and I approved this message.
Photo Credit: brendan-c