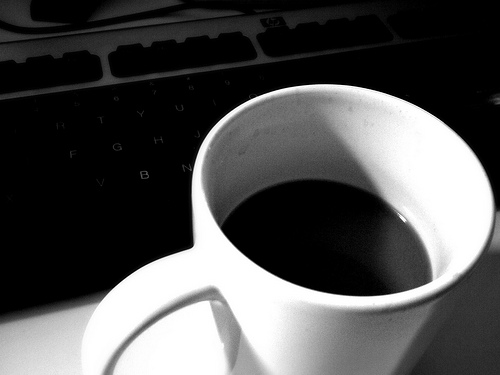 It's time to sit back, relax and enjoy a little joe …
Welcome to another rousing edition of Black Coffee, your off-beat weekly round-up of what's been going on in the world of money and personal finance.
Okay, off we go …
Credits and Debits
Debit: The US dollar is soaring to highs not seen in more than a decade, while gold and silver prices have recently been mercilessly smashed into submission — despite any news that would trigger such events. That is leading financial analyst Dave Kranzler to believe that "Something really ugly is coming toward the global economic and financial system." Uh oh.
Debit: As Kranzler observes, the last time precious metals took a beating while the dollar surged sharply was during the summer of 2008, which just happened to be immediately before the fall of Lehman Brothers — and the ensuing collapse of the global financial markets.
Credit: Dave is probably right … but the world's central bankers have shown a remarkable ability since 2008 to pull a never-ending supply of financial rabbits out their hat. Something tells me they've still got a few more left. Or do they?
Credit: Then again, the stock markets don't seem too concerned. The three major US stock indices finished Black Friday up for the day, extending their weekly winning streak to three. For the Russell 2000, that's its longest winning streak since 1996. Hooray!
Debit: Apparently, rising interest rates are now good news for stocks — even though they typically never used to be. Oh, and remember when Hillary Clinton was leading the polls? That was supposedly good for the market too — but now that Donald Trump is president-elect, well … that's suddenly bullish for the market. Yep. It all makes perfect sense, doesn't it?
Credit: By the way, the stock market isn't the only thing that's booming — US tax receipts are too. In fact, the US Treasury took in more than $3 trillion during the 2016 fiscal year. In case you're wondering, that's an all-time record.
Debit: Remarkably, despite trillions of dollars in annual tax revenue, both the US economy — and the federal government — have been unable to function since the Crash of 2008 without the monetary water wings provided by the Fed's zero-interest rate policy and $10 trillion of additional debt.
Debit: How is that possible, you ask? Well … as Simon Black notes, it's because taxpayers continue to see their contributions wasted on a "Giant, bloated, federal bureaucracy that squanders its revenue on some of the most obscene waste imaginable." In other words: the US economy can't swim on its own because the government is a boat anchor around its neck.
Credit: The good news is, despite all of that government waste hindering the economy, there are still 1700 new millionaires being minted every day in America. The bad news is you can bet the majority of those newly-minted McMillionaires today don't feel exorbitantly wealthy. (Psst. That's because they aren't.)
Debit: I know what you're thinking, but consider this: A million bucks today has the same buying power that $341,000 did in 1980 — or $45,000 did 100 years ago. And that, of course, is a result of the dwindling value of the US dollar under the century-long stewardship of the Federal Reserve Bank. Frankly, Mayor McCheese could have done a better job.
Debit: The dollar's loss of purchasing power is why being a single-digit millionaire — or earning $100,000 annually — no longer carries the same cachet today as it did even twenty years ago. Sure, it's nothing to sneeze at — but it's also overrated.
By the Numbers
Black Friday has mercifully come and gone, but here are some figures on the biggest shopping weekend of the year:
3200 Number of TVs sold by Target every minute during the first hour of Black Friday this year.
16,000 People who piled into Macy's flagship Herald Square store when it opened at 5 p.m. this Thanksgiving.
100,000+ Number of toys ordered on Amazon during the initial two hours of Black Friday.
74 Percentage of people who did at least a portion of their holiday shopping on Black Friday this year.
47 Percentage of all consumers who plan to shop this year on the day after Black Friday.
21 Percentage of people who did some holiday shopping on Thanksgiving.
Source: CNBC
The Question of the Week
 Loading ...
Last Week's Poll Results
Do you think Fort Knox still has all of the gold the US claims it has stored there?
No (54%)
I'm not sure (29%)
Yes (17%)
More than 1500 (!) Len Penzo dot Com readers responded to last week's question and fewer than 1 in 5 of them believe Fort Knox holds all of the gold the US says it owns. Count me among the group who isn't sure. Technically, the US Treasury owns 8134 tons of gold: 4583 tons are supposedly held at Fort Knox, 1364 tons at the Denver mint, 1682 at West Point and 418 tonnes at the Federal Reserve Bank of New York. Of course, the US could put everyone's mind at ease by conducting an audit — but the last audit that included a list of gold bar serial numbers was completed in 1953. Since then there have been several smaller-scale less-thorough audits. The big question is: why has it been so long since the last full audit?
Other Useless News
Here are the top 5 articles viewed by my 11,203 RSS feed, weekly email subscribers and followers over the past 30 days (excluding Black Coffee posts):
Hey, while you're here, please don't forget to:
1. Click on that Like button in the sidebar to your right and become a fan of Len Penzo dot Com on Facebook!
2. Make sure you follow me on Twitter!
3. Subscribe via email too!
And last, but not least …
4. Consider becoming a Len Penzo dot Com Insider! Thank you.
Letters, I Get Letters
Every week I feature the most interesting question or comment — assuming I get one, that is. And folks who are lucky enough to have the only question in the mailbag get their letter highlighted here whether it's interesting or not! You can reach out to me at: Len@LenPenzo.com
If I had a nickel for certain messages I find in my inbox every month — like this one from Elgin363 — I'd have at least $100 by now:
Just finished reading your last five Black Coffee articles. Very entertaining. But tell me, where do you buy your tin foil hats?
I make them myself, Elgin. It's cheaper that way.
I'm Len Penzo and I approved this message.
Photo Credit: brendan-