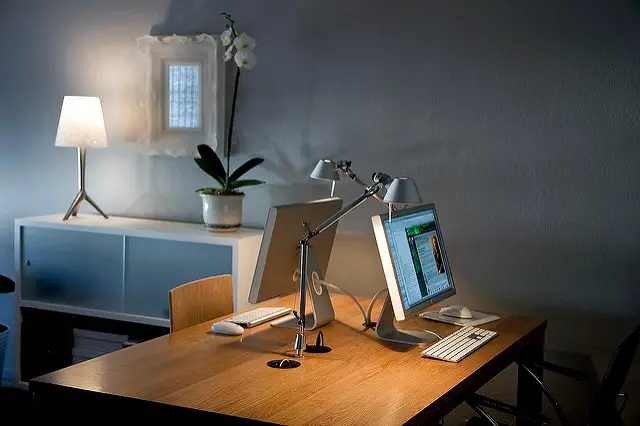 Flexible scheduling and the beauty of technology in the workplace has allowed for more opportunities than ever to work from home — either part or full-time — rather than hanging out in the office seven days a week.
That being said, just any space won't usually do for you to get your productive and creative juices flowing. You need an area of the house you can call your very own. The catch? You also can't spend a fortune on redesigning your entire home to accommodate this space.
What do you do?
Don't panic. All it takes is a little thought, some creativity and knowing a few tricks. Here are six ways to get you started creating your very own stylish and functional home office space:
Utilize Existing Space
First and foremost, it's silly to think you need to redesign and add-on an entirely new space for a home office. More than likely, you already have some unused or underutilized area of your home or apartment you could transform into your new work station.
Open staircase? Post up underneath it. Tiny closet that doesn't hold much of anything? Voila! You have a hideaway desk. Window seat that never gets used? Transform it into a desk with a view. There are more possibilities than you think.
Maybe you haven't even decided on a home yet because your need for office space has kept you from finding something in your price range. That's okay. Going into a viewing with an idea of what to look for and how to finance it, will go a long way in helping you find the perfect home and space.
Make a 'Priority' List
We all have a dream list of all the bells and whistles we want in a home office, but sticking to a budget requires you to distinguish between the 'wanted' items and the 'priority' items. Don't worry, though. The 'wanted' list doesn't necessarily mean you can't buy them ever. It just means getting yourself up and running while watching your dollars requires you to know the difference between desire and necessity.
For example, if you work in the tech industry, you may want to spend more on a super efficient router and internet connection. However, if you're in the creative industry, you might need to have a working space with great natural light or a large-display computer monitor. Your must-haves will vary, but just be sure you really think about what it is you do and don't actually need to save valuable dollars.
Check out Desk Options
Obviously the desk is one of those important necessities, and purchasing a new one can be extremely expensive, eating most of your priority item budget. Before you go out and purchase that new piece of furniture, make sure you don't already have something around the house that might suit the job.
You can even hit up the local antique store, flea market or second-hand shop to see what unwanted treasure you can transform into your very own original piece. If you're really handy, you can build one — which actually isn't as difficult as it sounds!
Hit up the Web for Unique Storage Ideas
You have your desk, which is extremely important, but you also need to consider storage options for your office supplies, documents, books, folders, etc. Without it, you'll probably find your home office space becomes quite chaotic and messy in no time at all. This doesn't bode well for creative genius.
But, you don't have to go and buy out IKEA to have an organized space. Check out the home office storage section of sites like Pinterest, or just do your own Google search to see what others out there have already done. Who knows. After doing your research, you may find you already have a majority of usable items just lying around the house — ready and waiting for you to re-purpose them.
Invest in a Good Desk Chair
The piece de resistance? What you're going to plant your backside in for a majority of your day: your desk chair. This could be the one area where it's OK to splurge a little in your budget. If you don't have a proper seat to get comfortable, you might find you're just as unhappy working from home as you are at the office.
Make It Feel Like Home
Okay, maybe this isn't the biggest necessity out there, but making your home office space resoundingly 'you' is both fun and important. When you deliberately and lovingly choose each item, it's both rewarding and therapeutic. Some might even say it gives the space a happy aura, which can only be good for productivity, right?
But, remember it's not necessary to go crazy with your credit card. Before you go out and buy anything, have a look through your house to see if there are any favorite pieces you can re-purpose. Most likely there is something that could use a new home on your desk or office wall. There also are loads of ideas that are either low-cost or free — you just need to look for them.
It's not as difficult as you think to create a stylish home office without spending loads of dough. Just think outside the box a little, and you'll be well on your way to creating a smashing work space you love.
Photo Credit: blupics