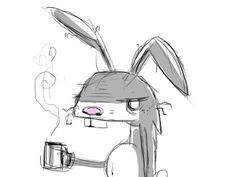 It's time to sit back, relax and enjoy a little joe …
Welcome to another rousing edition of Black Coffee, your off-beat weekly round-up of what's been going on in the world of money and personal finance.
Happy Easter everyone! Off we go …
Credits and Debits
Debit: While you're waiting for that $2500 reduction in your annual healthcare premiums promised by Obamacare advocates from sea to shining sea — heh — chew on this: when it comes to rising insurance premiums outpacing wage increases, things have never been worse. Only now, you may not get to keep your doctor. Forward!
Debit: Medical costs are so out of whack that healthcare expenses were the single biggest source of incremental spending in the US last year by nearly a factor of two. In fact, ZeroHedge estimates that healthcare spending will surpass housing as Americans' biggest cash outlay before the end of the year. Barf bag, anyone?
Debit: In other news, Peter Schiff noted this week that the inventory-to-sales ratio is 1.4; the last time it was that high was May 2009, when the US was in the teeth of the Great Recession. Curiously, the ratio has never been that high with the economy not in recession. Translation: the next downturn is going to be epic.
Credit: Unfortunately, even ex-Fed Chairman Ben Bernanke now admits that the Fed is running out of monetary policy bullets to counteract the next economic contraction. Then again, I'm certain that will eventually end up being a blessing in disguise.
Credit: What Mr. Bernanke will never admit, is that the dollar-based international monetary system is on its death bed. That's why interest rates will never return to normal — and it's also why things can never begin to get better until the fiat-based system finally kicks the bucket.
Debit: And while monetary policy may be severely limited from here on out, the Central Banks will continue overplaying the manipulation card. Did you just scoff? Did you? Well … open your eyes. As Gary Savage notes, "market intervention is now a fact of life in modern markets." Yes. And when that fails, the only parlor trick left is hyperdrive currency-printing.
Credit: By the way, blatant unabashed market manipulation helps explains financial analyst Dave Kranzler's frustration this week when he remarked that the "stranger-than-fiction system is on full retard." Yep. Somebody forgot to tell the Fed that you should never go full retard. Too late now.
Credit: Meanwhile, the rapidly-failing fiat system has Hugo Salinas Price saying it's 1790 all over again. Why? Because just as "the conceit of the National Assembly in France in 1790 led to total economic prostration in the course of seven years, (so will) today's conceited Central Bankers. But don't expect any of them to say 'We were mistaken.'" Oh, I don't, Hugo. I don't.
Credit: How close are we? Nobody knows for sure, but signs suggest that the system is reaching its limit. Rapidly shrinking debt-market liquidity — most recently experienced by Credit Suisse — is a prime example. And it's only getting worse. As financial analyst Bill Holter notes, when the 'exit door' is shrinking, how do you sell if no one is willing to buy?
Credit: Most people think that the Financial Crisis of 2008 was fixed by the world's Central Banks eight years ago — but all they did was "solve" a debt problem with … more debt. It's a trick that probably won't work again. And it's why the next crisis may be the final crisis. At least for the current debt-based fiat-currency Ponzi scheme masquerading as a sound monetary system.
Debit: That's bad news for those who refuse to protect themselves with precious metals. On the other hand, and somewhat perversely, it'll be no skin off the backs of one in three people who have never saved a dime for their retirement. Or anything else for that matter.
Debit: Apparently some folks really can go full retard and get away with it.
By the Numbers
While you're hiding Easter eggs tonight, amaze your friends with these quick facts on the holy holiday:
22 The earliest day in March that Easter can fall.
25 The latest day in April that Easter can arrive.
25 Average number of hours it takes a hen to lay a single egg.
0 In ancient times, the number of eggs that Christians were allowed to eat during Lent.
501,000 Number of eggs used for the world's largest-ever Easter egg hunt in Winter Haven, Florida.
4 Percentage of people who eat chocolate Easter bunnies from the tail first. (I know.)
Source: History
Last Week's Poll Results
What do you enjoy more?
Saving (72%)
Spending (18%)
I'm not sure (10%)
More than 1200 people responded to last week's question. Based on the survey results, I'm happy to report that a strong majority of Len Penzo dot Com readers — more than 7 in 10 — prefer saving over spending. Why am I not surprised? 🙂
The Question of the Week
 Loading ...
Other Useless News
Here are the top 5 articles viewed by my 8978 RSS feed and weekly email subscribers over the past 30 days (excluding Black Coffee posts):
36 Amazing Uses for the Lowly Plastic Grocery Bag
Hey, while you're here, please don't forget to:
1. Click on that Like button in the sidebar to your right and become a fan of Len Penzo dot Com on Facebook!
2. Make sure you follow me on Twitter!
3. Subscribe via email too!
And last, but not least …
4. Consider becoming a Len Penzo dot Com Insider! Thank you.
Letters, I Get Letters
Every week I feature the most interesting question or comment — assuming I get one, that is. And folks who are lucky enough to have the only question in the mailbag get their letter highlighted here whether it's interesting or not! You can reach out to me at: Len@LenPenzo.com
This week Janice passed along some well wishes:
Len, I just wanted to say I love your blog! I hope you have a very happy Easter!
Thank you, Janice. And I hope your holiday is, um, eggcellent too!
I'm Len Penzo and I approved this message.
Photo Credit: Teresa Whitaker