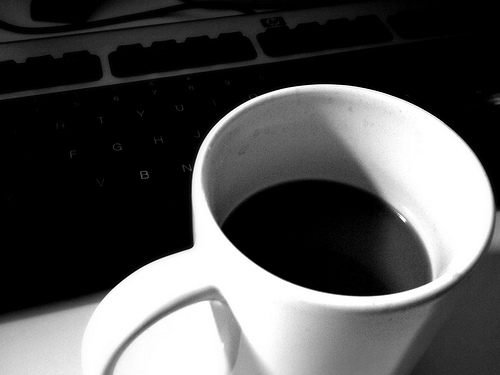 It's time to sit back, relax and enjoy a little joe …
Let's get right to it this week …
Credits and Debits
Debit: So … what's wrong with this picture? Despite being fed month after month with low US unemployment rate figures, the number of people on food stamps remains at an all-time high. (See what I did there?)
Debit: Meanwhile, the CEO of a prominent dry-bulk shipper is warning that collapsing international trade "has never been (worse) in modern history," and that a wave of bankruptcies are on the horizon. Relax, folks. I'm sure he's just another fiction peddler.
Credit: You can bet Moody's thinks any reports of economic malaise is pure poppycock. They say there are 'no signs of recession.' Then again, they said the same thing before the Great Recession of 2008 too.
Debit: In other news, it was reported this week that Twitter has lost $2 billion in ten years. Yes, 'billion' with a 'B' — yet they still remain in business. And with no shortage of suckers investors lining up to buy their stawk at $20 per share. Is this a great country or what?
Credit: Of course, as recently as the turn of the century, zombie companies like Twitter were hard-pressed to stay in business for even a few years — but that was when the price of money (better known as the "interest rate") was valued properly. Before we went down the rabbit hole.
Debit: For the past decade, real interest rates have been negative — and that has led to absurd economic distortions. One example: By selling 10-year bonds at negative interest rates this week, Japan successfully enticed suckers investors to pay the Finance Ministry to borrow their cash. I know. Read it again. Slowly.
Debit: And even though those negative interest rates imply that there's already too much fiat funny-money sloshing around the world, one large bank says there's actually a cash shortage. Paging Alanis Morissette: now you know the true definition of 'ironic.' You're welcome.
Credit: Perhaps that's why the Bavarian Banking Association advised its members this week to avoid the ECB and begin holding their excess reserves in physical cash — in their own bank vaults. Do I sense a loss of confidence? Maybe; then again, maybe not.
Debit: Regardless, something is amiss in the financial world as evidenced by the extreme volatility in the markets — none more so than oil. By my count, over one 27-hour period this week, panic trading resulted in six rapid price swings of more than 2.5%. No need to worry, folks — that's perfectly rational behavior.
Credit: For his part, Alan Greenspan says, "We're in trouble." Why? He says it's because, "productivity is dead in the water." Now I'm not going to correct an ex-chairman of the Fed. On second thought … yes, I am: Ahem. Actually, Alan, we're in trouble because our debt-based fiat monetary system is on its death bed.
Credit: As more people wake up to the fact that our fiat based system is dying, gold is becoming tougher to find. In fact, supplies are so tight that one Canadian bullion dealer will now pay you interest to hold your precious metals. No, really. That, folks, is the smell of desperation in the air.
Credit: You think I'm kidding? On Friday, BlackRock suspended issuance of their gold trust shares because of "surging demand for gold." The Comex currently has just 74,000 registered ounces in its vaults; that means there are now 542 suckers investors holding paper gold claims for every ounce of physical deliverable metal.
Debit: Then there's Canada — after a big gold sale last month, the Canadian Treasury now holds just 77 troy ounces. The rocket surgeons in Ottawa's Finance Department decided that, instead of storing gold as their reserve asset, it makes more sense to hold other nations' (dying) fiat currencies. Yes, it's madness. Welcome to the rabbit hole.
By the Numbers
When it comes to gold, Canada's number is 77. That's 20 more ounces than Heinz has varieties! Here are a few facts about Heinz's most famous product:
1876 Year that Heinz ketchup first came onto the market.
650,000,000 Bottles of Heinz ketchup sold worldwide each year.
140 Countries where Heinz ketchup is sold.
11 Billions of Heinz single-serve ketchup packets sold annually.
0.28 Speed, in miles per hour, that Heinz ketchup is traveling when it exits the bottle.
11 Percentage of people who know that applying a firm tap directly to the "57" on the neck of the bottle will release the ketchup faster.
Source: The Heinz Company
Insider Notes
God — and my day job — willing, I intend to publish my State of the Household report for Insiders later this week.
Last Week's Poll Results
Coke or Pepsi: Which brand do you prefer?
Coke (60%)
Pepsi (22%)
I have no preference (18%)
More than 900 Len Penzo dot Com readers responded to last week's question and 3 in 5 say they prefer Coke over Pepsi. I do too. In fact, I generally won't drink Pepsi — even if it's the only option. The Honeybee is the same way, especially when it comes to her favorite cocktail — Jack Daniels and Pepsi just doesn't cut it. She's right.
The Question of the Week
 Loading ...
Other Useless News
Programming note: Unlike most blogs, I'm always open for the weekend here at Len Penzo dot Com. There's a fresh new article waiting for you every Saturday afternoon. At least there should be. If not, somebody call 9-1-1.
Hey! If you happen to enjoy what you're reading — or not — please don't forget to:
1. Click on that Like button in the sidebar to your right and become a fan of Len Penzo dot Com on Facebook!
2. Make sure you follow me on Twitter!
3. Don't forget to subscribe via email too! Thank you.
And last, but not least …
4. Consider becoming a Len Penzo dot Com Insider!
Letters, I Get Letters
Every week I feature the most interesting question or comment — assuming I get one, that is. And folks who are lucky enough to have the only question in the mailbag get their letter highlighted here whether it's interesting or not! You can reach out to me at: Len@LenPenzo.com
After reading my stupid fees post E-Dogg sent me this:
Guess what, Len. You owe me a $5 'reader fee.' Your article was good, enjoyable, and humorous but, alas, I read it, and that's my fee. (I charge extra for dirty cash.)
Wait … you mean to tell me there's actually clean cash?
I'm Len Penzo and I approved this message.
Photo Credit: brendan-c