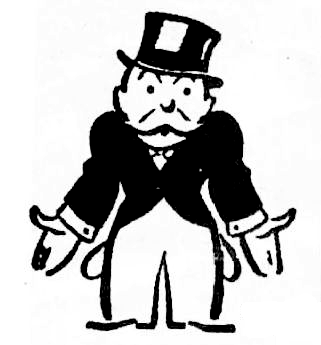 No, you're not going crazy, folks. In today's world, nothing is as it seems anymore. Down is up. Bad is good. Black is white. And the money in your wallet — as well as the stuff making up your bank and retirement accounts — is nothing but an empty promise.
That's right; the current worldwide monetary system is a debt-based system which perverts the entire concept of money. Why? Because in a debt-based system, "money" is created from debt, instead of productive work. As a result, it's just an IOU!
So, how perverse is our debt-based monetary system? Well, let's go down the rabbit hole and take a closer look at what happens when "money" is an IOU instead of something tangible like gold and silver — or even currency backed by gold and silver:
If you loan somebody $100 in Federal Reserve Notes (e.g., a $100 bill), you get to put that loan down on your books as an asset. On the other hand, if you or I deposit the same $100 in Federal Reserve Notes at a bank, the cash in that account suddenly becomes a liability for the bank. So cash is an asset, unless you loan your cash to a bank by depositing it with their establishment — then it's a liability. Got that?
But wait; there's more. When a loan is originated the principal is created out of thin air, but the interest is not — and that's where the trouble arises, because those interest payments require the onerous transfer of your labor to the bankers in exchange for the relative ease they needed to generate the loan. Think about the absurdity of this: The banks are charging us interest on loans for cash that they didn't even have in the first place!
The banks can get away with this because of fractional reserve banking rules. It used to be they could loan 9 out of every 10 dollars deposited. However, in 2020 the Fed changed that requirement. Now the banks can loan 100% of customer deposits!
Meanwhile, we slave away to pay off those loans — plus hundreds or thousands of dollars in interest — even though the bankers didn't have the cash in the first place, and in reality, did nothing more than bang out a few keyboard strokes on the computer!
There's only one reason for a debt-based monetary system: it allows banks and governments to steal  the citizens' wealth. They do this by robbing producers and savers via inflation, and debtors via interest payments. They also rob future generations by saddling them with bills they never agreed to pay for in the first place.
Of course, this scam would be impossible to pull off if we ever went back to a monetary system anchored by honest money: gold and silver. As a result, governments, and the banks they're in bed with, do everything in their power to discredit precious metals.
The good news is, this 52-year-old financial sham — our current debt-based monetary system — is mathematically unsustainable. As a result, you can be sure that gold and silver will have their day in the sun again.
And judging by the most recent turmoil affecting the world financial markets, that day is coming. Quickly. There is too much debt on the books now — and it's growing at an exponential pace. In fact, there is so much debt on the books that the system has become hopelessly dysfunctional.
It's important you understand this. That's because when enough people stop believing in "the full faith and credit of the United States government," they'll call in their chips. And that's when the world's fantasy debt-based monetary system will finally implode. It's also when the curtain will rise on the true value of all those IOUs. And that's when the real "fun" will begin.
It is well enough that people of the nation do not understand our banking and monetary system, for if they did, I believe there would be a revolution before tomorrow morning.
– Henry Ford
Photo Credit: stock photo