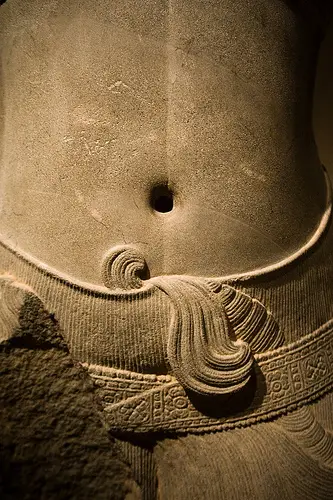 In case you're wondering, only 10% of all humans have an "outie" belly button. At least that's what Wikipedia claims.
For what it's worth, like most folks, I have an "innie."
By the way, belly buttons don't have a monopoly on innies and outies; the financial world has them too. Specifically, I'm talking about the dangerous practice of bailouts and bail-ins that governments are employing with increasing frequency to save so-called "too big to fail" banks and businesses from bankruptcy.
Bailouts and Bail-ins
Most people are familiar with bailouts. They usually come in the form of government loans that transfer some or all of a failing entity's risk to the taxpayers. One example: Back in 2009 General Motors received a bail out of almost $50 billion in cash, loans and other bankruptcy aid from the government. Unfortunately, the taxpayers lost $10 billion after the Treasury finished selling the last of its GM stock.
While bail-outs indiscreetly affect almost everyone's pocketbook through taxation, so-called bank "bail-ins" shift the risk to the depositors. That's great news for the taxpayers.
Then again, if it's your bank that requires the bail-in … well, not so much.
In 2013, depositors with the insolvent Bank of Cyprus had 47.5% of their savings over $132,000 stolen from them under the guise of a bail-in. In fact, the Bank of Cyprus bail-in is the new blueprint that will be used in the European Union from here on out to save failing banks.
And don't think bail-ins are just being limited to Europe. They're not. Bail-ins are now the law in the United States too.
Unraveling the Illusion
I strongly suspect most people would be surprised to learn that when they hand their money over to the bank, by law, they become unsecured creditors and the bank becomes a debtor to them. The bank is then free to loan or invest the cash as it pleases, while the depositors are left with only a legal claim on their money.
Unfortunately if a bank goes, ahem, belly-up, then unsecured creditors are, by law, near the back of the line when it comes to getting their money back; even the bank's bond holders have more seniority. As such, there is often very little left for the unsecured creditors to recover.
Of course, the banks don't tell you that when you're putting your hard-earned money in their institutions. Then again, if they did, I suspect at least a few more people would decide to hide their money elsewhere — or, at the very least, greatly reduce the amount of cash in their interest bearing accounts.
Here are a few other points that I think many unwitting bank depositors fail to understand:
Banks operate under a fractional reserve system where, typically, only one out of every ten dollars deposited is backed by cash reserves. The rest essentially ends up being loaned out.
Because of the fractional reserve system, banks never have enough money available to cover their depositors if everyone decided to pull their money out at the same time due to a sudden loss of confidence.
If a bank fails, you could lose a portion of your deposits. Yes, the Federal Deposit Insurance Corporation (FDIC) insures individual accounts in the US up to $250,000; but insurance is only as good as the insurer — and the FDIC currently has just $25 billion on hand to cover $9.2 trillion in deposits. I know. With that in mind, it's not unreasonable to envision the FDIC running out of funds in the event of a catastrophic systemic collapse — or even a limited one.
Banks aren't liable for any lost deposits that aren't reimbursed by the FDIC.
We've all been conditioned to believe that putting our money in the banks is a smart thing to do because it's "perfectly safe" and insured by the federal government. The truth is, it's all an illusion — built upon a fragile foundation of trust, and the good moral character and business acumen of the bankers to whom we entrust our money. Keep that in mind the next time you deposit your hard-earned cash into an interest-bearing bank account — especially considering how little interest the bankers are paying today.
The sad truth is, as deposit interest rates continue to hover near zero, the risk-reward ratio gets tougher to justify with each passing day. Regardless of whether you have an innie or an outie.
Photo Credit: Orin Zebest