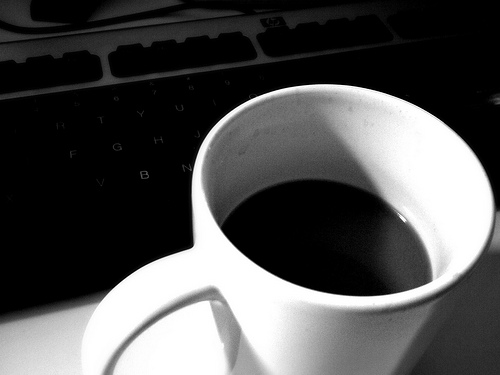 It's time to sit back, relax and enjoy a little joe …
Welcome to another rousing edition of Black Coffee, your off-beat weekly round-up of what's been going on in the world of money and personal finance.
A mathematician, an accountant and a Keynesian economist all interviewed for the same job.
At the end of the mathematician's interview, the interviewer asks "And finally, what does 2 + 2 equal?"
"Four," said the mathematician.
At the end of the accountant's interview, the interviewer asks "And finally, what does 2 + 2 equal?"
"Four, give or take 5% for error," replied the accountant.
At the end of the Keynesian economist's interview, the interviewer asks "And finally, what does 2 + 2 equal?"
The Keynesian economist peers around the room, goes to the window, shuts the blinds, walks over to the door and locks it. Then he dims the lights, sidles up close to the interviewer and whispers, "What do you need it to equal?"
Credits and Debits
Debit: I see the New York state lottery commissioners have approved longer Powerball odds. If they're confirmed by the remaining stakeholders, then the United States may soon see its very first billion dollar jackpot — and millions of additional suckers.
Debit: Speaking of suckers … After peaking in mid-June, China's stock markets are now crashing. The Shanghai Index lost 5.9% on Wednesday alone; it's now more than 32% off its all-time high, while the Shenzhen Index has plunged nearly 40%.
Debit: In a vain attempt to arrest the Chinese markets' inevitable return to economic reality, on Monday, China's central bank began underwriting brokerages' margin lending businesses — in other words, effectively buying stocks. Unfortunately, that didn't work.
Debit: Still, something had to be done (aside from letting the markets heal themselves), so on Wednesday China told state companies and business executives to buy stock shares to help stem the uncontrolled decline in share prices. Of course, that didn't work either.
Debit: As the market carnage continued to spread, increasingly desperate Chinese bureaucrats also banned the nation's $159 billion state pension fund from selling any of its stocks. I know. But hold on … it gets better:
Credit: On Thursday, with the cascading stock market still in a terminal free fall, Chinese police began cracking down on dangerous financial outlaws such as "malicious short sellers" and even — gasp — rumor spreaders. No, really.
Credit: Needless to say, getting the cops involved worked beautifully — at least temporarily. In fact, the Shanghai Composite Index ended Thursday with its biggest one-day increase since March 2009. I just hope the Fed isn't taking notes.
Debit: Meanwhile, Greece continues to struggle with their own financial problems — namely: too much debt. This week, a CNBC headline read: "Euro, drachma, bitcoin? Greece's currency options." Um, did you catch the headline's big omission?
Credit: Either CNBC needs a new headline writer, or they buy the snake oil sold by Keynesian "economists" who claim that the world's ultimate currency — gold — is merely a barbarous relic. Silver too. Heh. I suspect we'll know the answer relatively soon.
Debit: Remember, absurd Keynesian economists like the New York Times' Paul Krugman tell us with a straight face that the only way to save obviously-bankrupt countries like Greece is to, well … go deeper into debt. I know. But that's exactly what he suggested in 2012. And Greece did. Oops.
Credit: Frankly, an increasing number of people have stopped buying what Keynesians are selling; instead, they're choosing to protect themselves with precious metals. How many people, you ask? Well, enough to force the US Mint to suspend sales of Silver Eagles this week because it couldn't meet the demand. Imagine that.
Debit: By the way, on the same day that the US Mint was running out of silver bullion, the price of silver, incredibly, plunged to lows for the year. Who still thinks our pathetically-corrupt markets aren't hopelessly broken?
Credit: Hey, the good news is those low prices present a golden opportunity to buy a little wealth protection for a relative song. For now.
Debit: One reason why the markets are broken is because of government intervention. What else could explain the euro's inconceivable rise against the dollar on June 29th, immediately after talks between Greece and its creditors had completely collapsed?
Credit: David Stockman claims that last week's resounding "no" vote in Greece means the European Central Bank is, "suddenly on the ropes." We'll see — but never underestimate the bankers' ability to kick the can a little further down the road.
By the Numbers
Putting your chances of winning the lottery in perspective. (Hint: It probably ain't going to happen.)
1:1 The odds of a flipped coin coming up heads (or tails).
77:1 Your odds of dying in a car accident.
500:1 The odds of being born with extra fingers or toes.
136,000:1 The odds you'll be struck and killed by lightning during your lifetime.
700,000:1 Your odds of being crushed by an errant asteroid.
1,505,000:1 The odds of becoming a movie star.
50,000,000:1 The odds of a golfing twosome getting consecutive holes-in-one on the same hole.
175,000,000:1 Your odds of winning a Powerball jackpot with a single ticket.
292,000,000:1 Your odds of winning a Powerball jackpot with a single ticket if proposed changes are adopted.
Source: CNN; CBS Sports; NBC News
The Question of the Week
Loading ...
Last Week's Poll Result
On average, how many cups of coffee or tea do you drink per day?
2 (28%)
3 (22%)
1 (21%)
0 (16%)
4 (7%)
5 or more (6%)
More than 400 people chimed in to answer last week's question and it turns out that most Len Penzo dot Com readers love their tea and coffee! In fact, 84% of those who responded have at least one cup per day — and more than one in three readers here drink three cups or more daily. My usual java intake is two cups per day, but I'll occasionally have an extra cup or two — especially when it's cold outside.
Other Useless News
Here are the top — and bottom — five states in terms of the average number of pages viewed per visit here at Len Penzo dot Com over the past 30 days:
1. Vermont (3.07 pages/visit) (!!)
2. Montana (2.62)
3. Alaska (2.17)
4. (tie) Iowa (2.14)
4. (tie) Utah (2.14)
46. South Carolina (1.49)
47. New York (1.47)
48. Texas (1.46)
49. Wyoming (1.44)
50. South Dakota (1.37)
Whether you happen to enjoy what you're reading (like Ben & Jerry, and all of my other friends in Vermont) — or not (ahem, South Dakota) — please don't forget to:
1. Click on that Like button in the sidebar to your right and become a fan of Len Penzo dot Com on Facebook!
2. Make sure you follow me on Twitter!
3. Subscribe via email too!
And last, but not least …
4. Consider becoming a Len Penzo dot Com Insider! Thank you.
Letters, I Get Letters
Every week I feature the most interesting question or comment — assuming I get one, that is. And folks who are lucky enough to have the only question in the mailbag get their letter highlighted here whether it's interesting or not! You can reach out to me at: Len@LenPenzo.com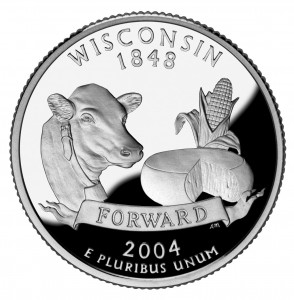 After reading my opinion piece on the five worst US State Quarter designs, Valdy Fox had a few nominations of his own, including the coin from Wisconsin. Why?
Because nothing says "timeless, classy design" like a big old cow head next to a hunk of cheddar cheese.
That's a valid beef, Vlady. In fact, I couldn't have said it butter myself.
I'm Len Penzo and I approved this message.
Photo Credits: brendan-c