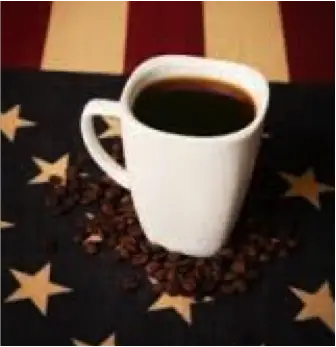 It's time to sit back, relax and enjoy a little joe …
The USA is celebrating its 239th birthday this weekend. Hooray!
For the record, it was on July 4th, 1776, that the United States officially divorced itself from English rule. With that in mind, here's a holiday pop quiz question for you:
Q: Do they have a Fourth of July in Great Britain?
(I've got the answer below, after this week's poll question.)
Okay, off we go …
Credits and Debits
Credit: The US unemployment rate continues to fall. The Bureau of Labor Statistics says June's unemployment figure was just 5.3%. Wow! That's the lowest level in almost 38 years. Cue the fireworks show!
Debit: Before you get too excited, keep in mind that headline jobless figure is only possible due to government hocus pocus: they don't count the 1.5 million exasperated people who quit looking for work over the past year — 640,000 of them in June alone.
Debit: As David Stockman points out, if one tallies the number of labor hours actually supplied to the US economy compared to the potential labor hours of the nation's available workforce, then the true unemployment rate is 42.9%. I'll wait while you read that again.
Debit: The headline jobless numbers also gloss over the deteriorating composition of the workforce: Yes, 161,000 new part-time jobs were created last month — but the number of full-time positions fell by 349,000. That's only good news if you like working at McDonald's.
Credit: Speaking of the Golden Arches, did you see that they're increasing the size of their Quarter Pounder this month? It's pre-cooked weight will climb from 4 ounces to 4.25. Be still my beating heart. McDonald's hopes the change will increase burger sales. I doubt many people will notice.
Debit: On the other hand, restaurants have certainly noticed the recent rise in egg prices — from April to May they jumped 120%, thanks to a recent episode of bird flu. The USDA says it may take up to two years for the egg industry to fully recover.
Debit: Meanwhile, Greece has officially defaulted on a $1.75 billion payment to the IMF. Unfortunately, that's just a very small portion of the $350 billion Athens owes creditors.
Credit: Then again, as Latvia's President admitted this week — to the bankers' chagrin — everybody knows the Greek debt will never be repaid because it's too big. What he forgot to mention was that the same story applies to the debt owed by Italy, Portugal, Spain, and Ireland too.
Debit: Oh, and it's no secret that the US won't be able to pay off all of the debt it has accrued either — well, unless it wants to destroy the US dollar. Frankly, the US doesn't have a choice. The math ensures the US dollar is on borrowed time. (No pun intended.)
Debit: So now the real "fun" begins: There are already reports surfacing that Greek banks are considering so-called "haircuts" of 30% on all deposits over $8900.
Debit: And, no, depositors can't pull their cash out and stuff it in a mattress before the haircuts become official; withdrawals have been limited to less than $67 per day in July. The good news is, at that rate, it only takes 150 days to withdraw $10,000 worth of euros. Well, assuming the euro lasts that long.
Credit: MarketWatch says the Greek financial crisis, "won't hurt the US economy." I know. As Franklin Saunders notes: "Y'all write that down, right next to Irwin Fisher's famous statement before the 1929 crash, 'Stocks have reached a permanently high plateau.'"
Credit: Puerto Rico avoided a default of its own on Wednesday — at least temporarily — after it made last-minute bond payments totaling slightly more than $1 billion. Yes, I'm talking about the US territory of Puerto Rico.
Credit: Even Puerto Rico's governor admits that his island — like Greece — now has far too much debt on the books for anyone to believe that it can ever be repaid. Are you beginning to see a pattern here, people?
Debit: Oddly, gold and silver prices — which typically skyrocket on serious market turmoil like what unfolded in Greece and Puerto Rico this week — fell. Stocks, on the other hand, somehow kept their losses manageable. Strange. It's as if there was an invisible hand intervening in the markets — or not so invisible.
Debit: Even so, the so-called "Plunge Protection Team" couldn't keep the stock markets completely unscathed — the S&P 500 still had its biggest decline since March. As for the Dow and Nasdaq, they had their worst weeks since April and early May, respectively. But the worst is yet to come.
Credit: Consider the recent suppression in precious metals prices a gift to you from the powers that be. At least you still have a chance to protect yourself at prices that are a relative bargain. For now. The day is coming when you won't be so fortunate.
Debit: One thing is certain: When the Plunge Protection Team can no longer contain the next big financial crisis, don't expect central banks to help. Even the Bank of International Settlements now says they've backed themselves into a corner from which there's no escape.
Credit: Of course, the only surprise from the BIS's warning is the amount of time it took for them to figure that out. After all, some of us (ahem) have been saying the same thing for more than a few years now.
By the Numbers
Here are some Independence Day facts, just in time for the Fourth of July:
2,500,000 US population on July 4, 1776.
321,200,000 US population today.
56 Signers to the Declaration of Independence.
5 Committee members who drafted the Declaration of Independence. (Ben Franklin, John Adams, Thomas Jefferson, Roger Sherman and Robert R. Livingston)
1826 Year that Jefferson and Adams died. (Coincidentally, both on July 4th — the 50th anniversary of the signing of the Declaration of Independence!)
1832 Year the last surviving signer of the Declaration died. (Maryland's Charles Carroll, 95.)
9 Number of Declaration signers from Pennsylvania. (The most from any state.)
$673,000 Value of US flags exported to Turkey in 2014; that was the most of any country.
$3,500,000 Value of all US flags imported to America last year.
97 Percentage of imported US flags that came from China.
Source: InfoPlease
Last Week's Poll Results
Can you drive a car with a stick shift?
Yes (59%)
No (34%)
Yes, but not very well. (7%)
More than 500 Len Penzo dot Com readers responded to last week's question and, somewhat surprisingly, almost 3 in 5 say they're comfortable operating a manual transmission vehicle — better known as a "stick shift." I've had at least one stick shift vehicle in my driveway almost continuously since I first learned how to drive more than 30 years ago. Of course, I taught my teenage son, Matthew, how to drive a stick last year — and my 15 year-old daughter Nina is now learning. I think knowing how to drive a manual transmission is one of those skills everyone should have. Hey, you never know when you might need to drive one — and they're fun! (Well, they are once you get the hang of it.)
The Question of the Week
Loading ...
Quiz Answer
Of course, Great Britain has a Fourth of July! You don't really think they'd go from July 3rd to the July 5th, do you? I know. It's an old joke my Dad likes to break out every Independence Day. Somebody almost always falls for it.
Insider Notes: Food as an Alternative Investment Vehicle
Hey! You need to be an Insider to view this section! If you'd like to join, please click "Insider Membership" at the top of my blog page.
Other Useless News
Programming note: Unlike most blogs, I'm always open for the weekend here at Len Penzo dot Com. There's a fresh new article waiting for you every Saturday afternoon. At least there should be. If not, somebody call 9-1-1.
Hey! If you happen to enjoy what you're reading — or not — please don't forget to:
1. Click on that Like button in the sidebar to your right and become a fan of Len Penzo dot Com on Facebook!
2. Make sure you follow me on Twitter!
3. Don't forget to subscribe via email too! Thank you.
And last, but not least …
4. Consider becoming a Len Penzo dot Com Insider!
(The Best of) Letters, I Get Letters
Every week I feature the most interesting question or comment — assuming I get one, that is. And folks who are lucky enough to have the only question in the mailbag get their letter highlighted here whether it's interesting or not! You can reach out to me at: Len@LenPenzo.com
This week, Randy took a few minutes to fill out an official Len Penzo dot Com complaint form:
Here in Kansas we're tired of the "dumbing down of America" by morons, and it appears you fit in that category.
Well, what did you expect, Randy? People like me who insist on living here in California are morons by definition.
I'm Len Penzo and I approved this message.
Photo Credit: imagekb.com