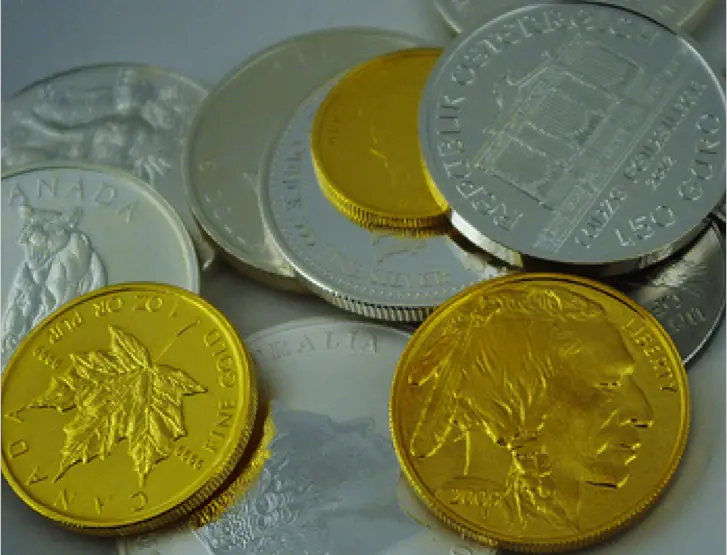 Ever since I started writing about the importance of owning physical gold and silver as insurance against the inevitable failure of the US dollar, I've been receiving an increasing volume of questions in my inbox from folks curious to know more about precious metals.
With that in mind, here's one that I received last week from Joshua:
"I was wondering about how much (gold and silver) a person should own. I'm 38, with a wife and three kids. My only debt is a mortgage and a small bank loan. Going by your prep list for a possible coming financial collapse, I am well prepared. My plan is to start buying precious metals mostly as an insurance against dollar devaluation. So how heavily should a middle class guy be buying precious metals (assuming) I have an extra $1000 per month? How many ounces of gold and silver is a good number? Should I buy 500 ounces? One-thousand ounces? As many as I can? Assuming I have all of my other preps covered, what else is there to do with my extra cash assuming I see a hyper-inflationary event coming? So many what-ifs."
There is no single right answer to how much gold and silver we should own, if only because there are so many variables that are dependent on personal circumstances.
Generally, most experts suggest holding between 10% to 20% of your net worth (excluding home equity) in precious metals. The biggest problem with that rule of thumb is that it's virtually meaningless for folks who have a small or negative net worth. I also think it's a bit too conservative considering the ever-growing risk of a currency failure.
Here's how I determined what the "right" number was for me. Take a look at the following bell curve: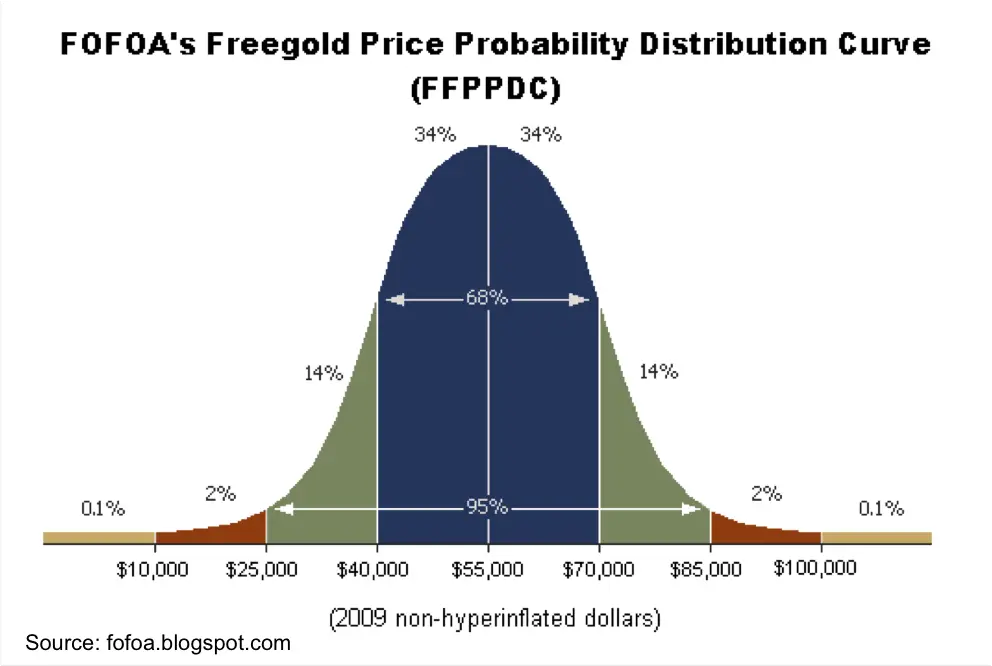 The curve shows the probable price distribution for gold after the financial reset occurs, and it was developed by a well-informed economics expert and widely-respected blogger who goes by the moniker "FOFOA."
I don't agree with everything FOFOA says. For example, he believes that silver's ultimate value may not necessarily rise in proportion with gold after the current system implodes; but other than that, I think FOFOA is on-target regarding gold's resurgence as the cornerstone of the next system after the big reset.
Anyway, as you can see from his curve, FOFOA determined that the most-likely post-reset price of gold will have an equivalent purchasing power of $55,000 in 2009 US dollars (or $61,500 in 2016 dollars). The curve also indicates a 95% probability that the post-reset price of gold will fall between $25,000 and $85,000.
Are those numbers a pipe dream? Perhaps, but I think they are close.
That being said, like FOFOA, I am confident that both silver and gold are extremely undervalued at today's prices — especially when you consider the number of dollars currently in circulation.
You can make any assumptions you wish, but for my planning purposes, I took what I believe to be a very conservative approach and assumed a post-reset purchasing power equivalent of $10,000 per ounce of gold. (Although I believe it will ultimately be more than that.)
I also conservatively assumed that the gold-silver ratio will drop from roughly 70:1 (as of 2016) to 30:1 after the reset. (Since 1687, the average ratio has been slightly more than 27:1.) If I'm right, and gold climbs to $10,000 per ounce, then the post-reset purchasing power of silver will be equivalent to $333 per ounce.
I then used those assumptions to figure out how much physical gold and silver I needed to get me to the other side of a currency reset.
For example, if you want enough insurance to provide the equivalent purchasing power of, say, $100,000 after an economic collapse, then you'll need to accumulate 10 ounces of gold (10 x $10,000). On the other hand, five ounces of gold and approximately 150 ounces of silver (5 x $10,000 + 150 x $333) should get you $100,000 worth of insurance too.
See how that works?
And if the actual post-reset value of gold ends up being on the order of $20,000 or $55,000 instead of $10,000 … well, you'll be even better off financially.
A few points:
Make sure that you have adequate food and other emergency stores in place before you begin accumulating gold and silver.
I believe it's important to diversify your precious metal holdings. Unlike FOFOA, I believe silver has more upside than gold, but its biggest drawback is it takes many more ounces to store an equivalent amount of wealth.
Although the US dollar is going to fail sooner rather than later, nobody can say exactly when — so unless you think the "big reset" is imminent, don't go overboard and start throwing every last extra dollar you get into precious metals. Enjoy life! Keep saving for the annual family vacation and other things that make life worth living; or home improvements and other tangible assets that provide value over a long period of time.
Finally, a word of caution: Always remember that precious metals are insurance. If you're thinking about buying gold and silver as an investment or way to make a quick buck, then you're buying them for the wrong reason.
Photo Credit: sprottmoney