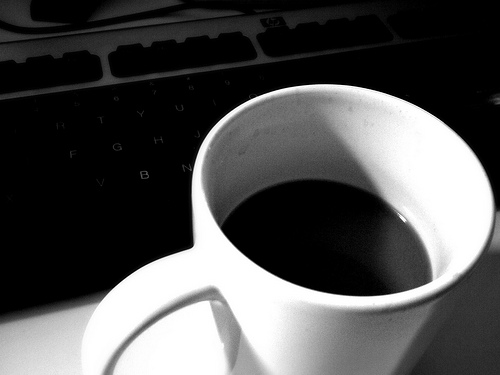 It's time to sit back, relax and enjoy a little joe …
Welcome to another rousing edition of Black Coffee, your off-beat weekly round-up of what's been going on in the world of money and personal finance.
Okay, off we go …
Credits and Debits
Debit: Believe it or not, a recent survey found that almost one-third of all people who set aside savings for retirement have less than $1000 in their golden-years account. Although, with so little being put aside, I'd say golden week is more accurate.
Debit: I suppose it's not a coincidence that a report released on Thursday found that 56% of all Americans today have subprime credit scores. Wow. Think about that for a moment — and what it says about fiscal discipline and the state of the economy.
Credit: Oh, well. Despite Main Street's pain, Wall Street is booming. This Friday the Nasdaq finally surpassed the all-time high it reached in 2000 — just prior to the dot-com crash — while the S&P 500 set an intraday high before falling back a bit.
Debit: So for the bull market, it's onward and upward — but in some cases, it's hard to see why. Consider McDonald's: The restaurant has been losing customers for years now which helps explain Mickey D's announcement this week that their global profit fell 33% over the past year.
Debit: In a normal market, Golden Arches' stockholders would be punished on such bad news but, as Franklin Sanders points out, on the day it was announced, McDonald's stock price actually soared 3%. I know.
Debit: That example from the Bizarro world is just one reason why money managers like Michael Pento are warning that global stock markets are now completely divorced from any sense of economic reality.
Debit: Despite the seemingly never-ending stream of upbeat news from the mainstream media, there is a sense out there that something ominous is on the horizon.
Debit: For example, the IMF is warning regulators to brace for a "global liquidity shock" that will usher in the next financial crisis. Uh oh.
Debit: For its part, the Fed says, "What? Me worry?" They just finished a study that concluded their own insolvency "would not create serious problems." Uh huh. The Fed has a point — but it's a weak one.
Credit: After all, if you can print legal tender at will then, technically, insolvency is impossible. However, the Fed seems to forget that's only true as long as confidence doesn't wane. But it will. And that'll be the day the dollar dies.
Debit: Speaking of liquidity shocks, Greece is in a cash crisis of their own right now — things are so bad that their coffers could run dry in mere weeks. Do you think the Greeks are reconsidering their decision to drop the drachma for the euro yet? I do.
Credit: Meanwhile, new electric- and hybrid-car sales are at their lowest level in four years. Adding insult to injury, 22% of so-called "environmentally-conscious" car buyers who traded them in this year bought an SUV. Heh.
Credit: Let's face it: Electric cars make zero economic or environmental sense at the moment; without government subsidies they're too expensive — and the electricity to run them still depends on oil. Then there's the battery disposal problem. But, hey, if buying one makes you feel good …
Credit:The truth is, in a truly free market unencumbered by the Fed's ridiculous malinvestment-inducing zero-interest rate policy, government subsidies for consumers, and tax breaks for manufacturers, electric cars wouldn't see the light of day today. Are you listening, Elon Musk?
Debit: Finally … If Obamacare is so great, why did only 65% of California's 2014 Obamacare participants reenroll this year? That's beyond disappointing, considering the government invested wasted $1.06 billion on the California healthcare exchange.
Credit: By the way, Covered California was hoping for 500,000 new sign-ups in 2015. Instead, they said just 7.098 "selected a plan." Imagine that. I'll bet even fewer actually committed.
By the Numbers
Amaze your family at the dinner table tonight with these facts about the Golden Arches:
12.5 Percentage of American workers who have been employed by McDonald's.
3 New restaurants that McDonald's opens every work week.
68,000,000 People that McDonald's restaurants feed every day.
$75,000,000 Amount of cash McDonald's makes every day.
80,000 People who have graduated from McDonald's Hamburger University with a degree in Hamburgerology.
115 Maximum distance, in miles, that you can be from a McDonald's restaurant within the continental US.
7 Hours of walking required to burn off a Big Mac with super-sized fries and a Coke.
Source: Factslides
The Question of the Week
Loading ...
Last Week's Poll Results
Have you ever been given a counterfeit bill during a cash transaction?
More than 400 people responded to last week's question, and almost one out of five people said they have received some kind of funny money at least once in their lives. That's higher than I expected.
As I told Jayson from Monster Piggy Bank last weekend, back when I was a teenage grocery store clerk, some guy tried to pass me a $100 bill. The quality of the bill was very very poor — not just the artwork, but the quality of the paper too. In fact, it was such a bad counterfeit that I couldn't believe he actually tried to spend it! So I asked the guy if it was a joke and he just looked at me and played dumb. Anyway, we stalled the guy until the cops arrived. It turns out he had a whole wad of counterfeit cash in his possession that he and an accomplice were trying to launder!
Other Useless News
Here are the top 5 articles viewed by my 6392 RSS feed and weekly email subscribers over the past 30 days (excluding Black Coffee posts):
Hey, while you're here, please don't forget to:
1. Click on that Like button in the sidebar to your right and become a fan of Len Penzo dot Com on Facebook!
2. Make sure you follow me on Twitter!
3. Subscribe via email too!
And last, but not least …
4. Consider becoming a Len Penzo dot Com Insider! Thank you.
Letters, I Get Letters
Every week I feature the most interesting question or comment — assuming I get one, that is. And folks who are lucky enough to have the only question in the mailbag get their letter highlighted here whether it's interesting or not! You can reach out to me at: Len@LenPenzo.com
Tim had this to say after reading my rant on drivers who insist on obstructing the flow of traffic by cruising in the left lane:
In Colorado, the reason people (always) drive in the left lane is quite obvious: ignorance.
Before anybody in the Mile High State gets too offended, remember … Colorado pot shots are legal now.
I'm Len Penzo and I approved this message.
Photo Credit: brendan-