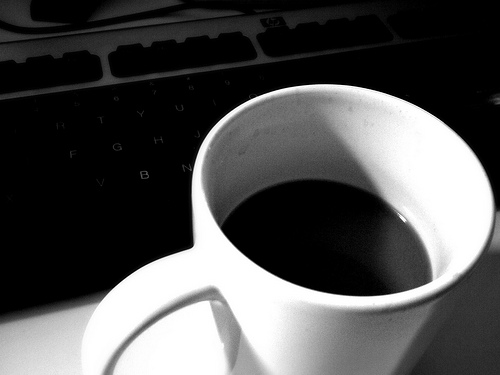 It's time to sit back, relax and enjoy a little joe …
Welcome to another rousing edition of Black Coffee, your off-beat weekly round-up of what's been going on in the world of money and personal finance.
Let's get right to it this week …
Credits and Debits
Credit: According to official statistics, the United States is in the middle of an economic boom. Some say that data is buttressed by the improving crane market, which typically signals an expanding economy.
Credit: The growing number of cranes being ordered to support new construction isn't the only indicator. The US Department of Labor claims that America's unemployment rate is the lowest it's been in seven years. Hooray!
Credit: Then there is consumer spending, which we were told ran at a blistering 4.3% pace in the fourth quarter of 2014 — that's the fastest in more than eight years. Wow.
Debit: Here's the thing: As David Stockman explains, the unemployment stats have to be taken with a heaping grain of salt because they don't even follow proper statistical protocols.
Debit: Clearly, something ain't right. It's hard to believe only 5.5% of the population is unemployed when more than 93 million Americans age 16 or older aren't in the labor force, while the labor participation rate is at its lowest level since 1978 — a time when far fewer women were working.
Debit: I know what you're thinking: No, the lower labor participation rate is not because of all the retiring Baby Boomers. Since the last recession, the only demographic group to show an increase in employment have been people 55 and older.
Debit: As for that glowing consumer spending figure I mentioned earlier, it's at odds with data that shows retail sales collapsing during the same period. Hmmm.
Credit: Needless to say, the conflicting data has an ever-increasing number of people questioning the credibility of the official US government statistics. In fact, some are going a step further and calling them "utter garbage" — if not outright absurd.
Credit: Speaking of absurd, a Houston man had his personalized "370H55V" license plate revoked by the Texas DMV because of a hidden "offensive" message. Are you as stumped as I was? Well … officials say the plate is offensive if it's read upside down. Who drives upside down?
Debit: The absurdity isn't limited to the Lone Star State. Switzerland became the first country to offer 10-year bonds at negative interest rates. That would be really funny if the implications weren't so serious.
Debit: If that ain't bad enough, Mexico issued a 100-year bond denominated in euros. Unbelievable. I guess nobody in Mexico believes normal interest rates will ever return again — or at least not until 2115. What a Bizarro financial world.
Debit: Meanwhile, a statement from the US Treasury last week showed that the National Debt had been frozen at $18,112,975,000,000 for 21 straight days — that's just $25 million below the current legal debt limit. Yeah, right. Just more accounting hocus pocus designed to obfuscate the financial truth.
Credit: Ironically, the only financial honesty last week came from Janet Yellen, who actually admitted that cash is "not a convenient store of value." Yes, that Janet Yellen. By the way, the devil called — there are snowballs in hell now. Really big ones.
Debit: If I didn't know any better, I'd say Ms. Yellen sees the writing on the wall: that is, a currency crisis is all but inevitable now. And if the US dollar's days are numbered — so is Americans' standard of living.
Credit: Of course, it didn't have to be this way, but the US's inability to live within its means caused our creditors to lose faith in the dollar — as evidenced by China's aggressive gold buying since 2011. In case you can't tell, I've lost faith too.
Credit: As Bill Holter points out, with the recent establishment of the Asian Infrastructure Investment Bank, the new BRICS bank, the Shanghai Gold Exchange, and an alternative clearing system designed to compete with America's SWIFT model, a large part of the world is now prepared to weather the financial storm that will hit everyone when the dollar dies. Are you?
The Question of the Week
Loading ...
Last Week's Poll Result
What should be the maximum legal interest rate for credit cards?
There shouldn't be a limit. (37%)
10% (31%)
15% (16%)
20% (7%)
5% or less (7%)
25% or more (2%)
More than 500 people chimed in to answer last week's question and a strong plurality believe the credit card companies should be free to set their own rates. I agree; let the free market decide. Yes, doing so ensures there will always be predatory lenders out there — but that's not a problem for those who understand the best protection from excessive interest rate charges is always personal responsibility and accountability.
By the Numbers
We all have different definitions of happiness. Here is how scientists see it:
40 Approximate percentage of happiness controlled by your thoughts, actions and behaviors.
10 Average percentage of happiness determined by personal circumstances.
50 Percentage of happiness that's genetically determined.
85 Percentage of parents who believe their children bring them the most happiness of any relationship.
1 Rwanda's rank among the unhappiest nations in 2013. (Burundi was runner-up.)
17 America's rank among the happiest nations in 2013. (Denmark was number one.)
Source: Time
Other Useless News
Here are the top — and bottom — five states in terms of the average number of pages viewed per visit here at Len Penzo dot Com over the past 30 days:
1. North Dakota (2.18 pages/visit)
2. Idaho (2.04)
3. Utah (2.04)
4. Kansas (1.96)
5. Arkansas (1.95)
46. Mississippi (1.43)
47. California (1.42)
48. Alaska (1.40)
49. Louisiana (1.34)
50. Vermont (1.04)
Whether you happen to enjoy what you're reading (like all of my friends in North Dakota) — or not (ahem, Ben & Jerry … for the second month in a row!) — please don't forget to:
1. Click on that Like button in the sidebar to your right and become a fan of Len Penzo dot Com on Facebook!
2. Make sure you follow me on Twitter!
3. Subscribe via email too!
And last, but not least …
4. Consider becoming a Len Penzo dot Com Insider! Thank you.
Letters, I Get Letters
Every week I feature the most interesting question or comment — assuming I get one, that is. And folks who are lucky enough to have the only question in the mailbag get their letter highlighted here whether it's interesting or not! You can reach out to me at: Len@LenPenzo.com
After reading an article on my blog that described one key situation where an English degree may be a sound investment (no, really), Diane Roberts Powell had this to say:
Well, I do have an English Degree, but I'm a poet, not an engineer. I'd say the major of your undergraduate degree isn't all that important.
Maybe not for poets, Diane, but trust me: it is if you want to be an engineer.
I'm Len Penzo and I approved this message.