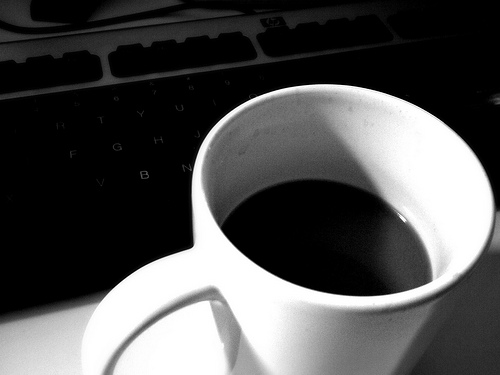 It's time to sit back, relax and enjoy a little joe …
Welcome to another rousing edition of Black Coffee, your off-beat weekly round-up of what's been going on in the world of money and personal finance.
It's a Valentine's Day weekend, and all of the doulas I offended last week have finally quieted down, so let's get right to it …
Credits and Debits
Debit: Anyone searching for evidence that the international monetary system is in severe distress should focus on Europe, where there are plenty of signs indicating the world has followed Alice into a financial rabbit hole.
Debit: You know the system is in dire straits when the benchmark lending rate goes negative, as it just did in Sweden. Apparently, the krona is worth so little now that the Swedes are paying people to take it.
Credit: In case you're wondering, those who are lucky enough to find a negative interest rate loan will end up paying less than they borrowed. I know this because the Mad Hatter told me. At a tea party.
Credit: Do you think the Swedes will let me borrow $100,000 at negative 2% and retire the loan 50 years from now without paying a dime? I didn't think so either — at least not yet.
Debit: Meanwhile, Denmark is offering negative rate mortgages which, as ZeroHedge observes, means that: "Savers who pay the bank to hold their cash (via) negative deposit rates are directly funding the negative interest rates paid to (debtors)." Yes, the financial world is officially mad as the March Hare.
Credit: For his part, Alan Greenspan, who is slowly rediscovering his libertarian principles as evidence of an impending worldwide fiat failure becomes too big to ignore, now says the euro is on borrowed time. I bet the Queen of Hearts agrees with him.
Debit: Mr. Greenspan is no dummy; he sees the financial train wreck that's fast approaching — which is why I suspect he's now saying that America's massive debt problem is steering us toward a major political crisis. Perhaps.
Credit: Then again, neither Mr. Greenspan's words or superstition had any effect on the stock markets this week; they merrily ended Friday the 13th on a high note, with the S&P 500 closing at (yet) another all-time high and the Dow topping 18,000.
Credit: You can be forgiven for thinking that this surreal party is never going to end. Especially when you consider that the market hasn't seen a 10% correction since 2011. Of course, I'm sure that's perfectly normal. Yep.
Debit: I also can't blame you for believing that, eventually, the Fed has got to stop spiking the party punch bowl with free cash like it has for more than six years now. Then again … maybe they won't.
Debit: With US stock prices thoroughly juiced on bottomless glasses of central bank fiat, there's plenty of irrational exuberance on display. For example, if you believe the market, a burger joint called Shake Shack (SHAK) is currently worth $1.6 billion — even though it only has 63 stores.
Debit: On a per store basis, that makes Shake Shack ten times more valuable than McDonalds. Yes, McDonalds has fallen on tough times and its shareholders are up in arms but, sheesh, are the Golden Arches really that bad?
Debit: More proof: Consider shares of The Grilled Cheese Truck, Inc. (GRLD). The company, which sells "gourmet" grilled cheese from just four food trucks, reached a valuation of $108 million earlier this month — yes, $27 million per truck. I know. Those sandwiches must be amazing.
By the Numbers
Here is a look at some data on Valentine's Day spending habits. How does it compare to yours?
$17,000,000,000 Money spent on Valentine's Day in 2014.
$142 Expected average Valentine's Day spending per person in 2015.
$97 Average amount women said they planned on spending for V-Day this year.
$191 Average amount men said they planned on spending in 2015.
53 Percentage of people who said they were going to buy candy for Valentine's Day this year.
38 Percentage of people who planned on buying flowers.
21 Percentage of people who were going to buy jewelry.
19 Percentage of people who planned on buying a Valentine's Day gift for their pets.
Source: Forbes
The Question of the Week
Loading ...
Last Week's Poll Result
Have you ever traveled on a cruise liner?
More than 400 people answered last week's question and it turns out that a fairly strong majority have never spent a holiday on an ocean cruise liner. I haven't either. Now, I have more than a few friends who tell me I don't know what I'm missing but, trust me, it doesn't take much to make this landlubber sea sick — so the thought of being trapped on a ship in the middle of the sea for ten days with chronic nausea makes me very leery. I'll stick to dry land, thank you very much.
Other Useless News
Here are the top — and bottom — five states in terms of the average number of pages viewed per visit here at Len Penzo dot Com over the past 30 days:
1. Rhode Island (5.37 pages/visit) (Wow!)
2. Hawaii (2.17)
3. Arkansas (2.15)
4. Kansas (2.08)
5. North Dakota (1.98)
46. South Carolina (1.47)
47. South Dakota (1.44)
48. Alaska (1.43)
49. Colorado (1.33)
50. Montana (1.30)
Whether you happen to enjoy what you're reading (like all of my friends in the tiny state of Rhode Island) — or not (ahem, Montana … for the second month in a row) — please don't forget to:
1. Click on that Like button in the sidebar to your right and become a fan of Len Penzo dot Com on Facebook!
2. Make sure you follow me on Twitter!
3. Subscribe via email too!
And last, but not least …
4. Consider becoming a Len Penzo dot Com Insider! Thank you.
Letters, I Get Letters
Every week I feature the most interesting question or comment — assuming I get one, that is. And folks who are lucky enough to have the only question in the mailbag get their letter highlighted here whether it's interesting or not! You can reach out to me at: Len@LenPenzo.com
Yes, the doula/midwife brouhaha finally died down — but not before a doula named Grace sent me this parting dig:
Doulas … reduce expensive C-sections. As a man, of course, you can't appreciate that.
Believe me, Grace — a penny-pincher like myself most certainly does appreciate how expensive a C-section can be.
I'm Len Penzo and I approved this message.