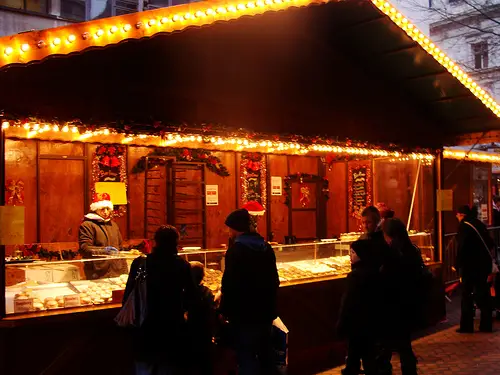 December typically begins a three- or four-month period where household and personal bills can skyrocket, largely due to heating and winter prepping. As a result, it's important to get smarter with the resources you have in order to ensure you're not stuck wishing for a Powerball jackpot to stay solvent. Here are three handy tips used by savvy winter savers:
Cut down on those heating bills
Unless you're lucky enough to be living in a place like California or Florida, many apartments can be pretty drafty in the winter. It's estimated that lowering the thermostat at your place by just a single degree can reduce your heating bill by as much as 2%. The US Dept of Energy recommends a continuous comfortable winter setting of 68 F, which suggests that those who are willing to bundle up and tolerate an extremely strict setting at 55 F can save almost 25%.
As a more reasonable alternative, try running a continuous low-temperature (55-60 F) while you sleep — or turn off the heat altogether. This is especially doable if you invest in a good quality electric blanket or heated mattress pad. The typical fleece and micro-plush electric blankets consume roughly 50 watts of power at the mid-range setting; in terms of electricity costs, that translates to just 5 cents per night — and heating pads are even more efficient.
Remember that not all sales are created equal

October is traditionally the beginning of the fall and winter fashion shopping season. Men fare better here, since quality suits and formal wear do come with steep price reductions during the holidays; men may also stand to gain even better deals online with various discount coupon codes and voucher deals. As always, it helps to survey the marketplace ahead of time by using a price comparison site or browsing several well-known websites.
For the women, cosmetics and body care bargains can typically be found during the entire Christmas shopping season. As for ladies who are less picky about in-trend fashion, the best deals can be found during those ubiquitous end-of-season sales — and for those who can't wait, lower prices can usually be found at outlet malls and discount stores like T J Maxx.
Gadget-lovers of either sex can look forward to great deals on most lower-end brands throughout the holiday shopping season — especially when it comes to television sets, cameras and tablets. But be careful: higher-end electronics brands typically save their biggest discounts at the end of March.
Take your shopping online
Saving time and money on your daily commute is always nice, but it's even better when the winter weather is at its worst! Most online grocery stores like FreshDirect have free delivery with certain coupon codes or regularly run deals with amazing discounts and almost-free trial delivery-passes.
For on-demand entertainment, consider an inexpensive monthly subscription to video streaming services like Netflix, which can be as low as $10. A Roku device on your TV can provide you with a family home-theater experience, minus the expenses. In fact, a video streaming service is perfect for those who aren't fans of ad-supported cable television — at least for those who don't feel compelled to watch the latest episode the day it's broadcast.
For conscientious spenders, shopping online is a smart alternative because it offers one-stop shopping and service delivery. As an added bonus, it usually offers a bigger inventory than traditional brick-and-mortar stores — not to mention the convenience of being able to shop anytime. Depending on which state you live in, you can sometimes even avoid sales tax. Online retailers also often offer products not available locally like, say, ordering cheap overcoats from a Chinese manufacturer directly — or playing your weekly game of Powerball lotto while on the road without a store in sight. Then again, the latter wouldn't be necessary if you were maximizing your winter savings, would it?
The bottom line is, there's more than one way to save without feeling deprived, and no better time than the present to get started. So happy saving, folks!
Photo Credit: Ben Sutherland