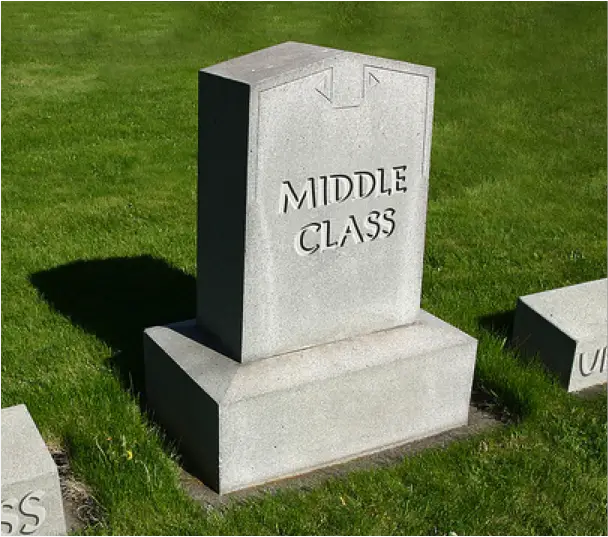 I was fortunate enough to grow up in a solidly middle-class family. We weren't rich by any means; there were many times when we were forced to really pinch pennies — but for the most part I never wanted for anything.
According to the US Census Bureau, in 2005 income for the middle third of all households fell between $30,000 and $62,500. I suspect those levels haven't increased much since then. In fact, today the US median income still sits at approximately $54,000.
Last month, USA Today highlighted seven items that the middle class is finding increasingly difficult to afford: new cars, vacations, debt payments, medical care, dental work, emergency savings and retirement savings.
After reading the piece, I only had one question: "That's it?"
Off the top of my head, I can think of at least ten other things financially responsible middle class families could afford in the 20th century — but struggle paying for today. I'm sure you can think of even more. Here's my list:
A house. In 1962 my dad bought the 1700 sq. ft. Southern California house I grew up in for the inflation-adjusted equivalent price of $128,000. According to Zillow, my childhood home supposedly costs more than twice that much today.
Cigarettes. I worked at a grocery store as a teenager. I still remember packs of cigarettes selling there in 1983 for 81 cents; that's equivalent to $1.87 in 2014 dollars. Good luck finding a pack for anything close to that today — which is why I say cigarettes are one of the four horsemen of personal finance.
Disneyland. Growing up, my folks took my sister and me to Disneyland at least once a year — sometimes twice. And why not? In 1983, you could buy a one-day all-inclusive ticket for $12. Today, the same pass costs $96 (plus tax) — three and a half times more expensive on an inflation-adjusted basis. As a result, the typical family of four can now expect to spend more than $450 per day when visiting the "Happiest Place on Earth." Incredible.
Concerts and sporting events. According to Forbes: "Peter Frampton at the height of his 'Frampton Comes Alive' fame headlined with Fleetwood Mac, Gary Wright, and U.F.O. for $10.50, or $43.98 in today's dollars when accounting for inflation. Today, terrace seats for Frampton at the Hollywood Bowl are $105-$225." (I'm sure most of you under 40 are scratching your head at this. Go ask Dad.)
Television. When I was a kid, we had less than ten channels, they were all free, and nobody ever complained about a lack of stations. Today, I pay $1715.88 per year (plus tax) for more than 250 channels, and sometimes there's nothing worth watching on any of them. I know.
College. When it comes to a college degree, the expected return on investment rarely makes financial sense anymore. According to USA Today, after adjusting for inflation, students now pay more than triple what they did three decades ago to attend a public, four-year university. I'll say. It took me five years to earn my electrical engineering degree from Cal Poly San Luis Obispo in 1988. The total cost: $15,000 — and that included tuition, fees, books, room, board, and general living expenses.
Divorce. Okay, you got me; I have no idea what a divorce cost fifty years ago — but it certainly had to be cheaper on an inflation-adjusted basis than what it costs now. According to Divorce360, the average cost to litigate a contested divorce in California today is $45,000. Per side. Ouch.
Childcare. The average cost of center-based child daycare in the US is currently $11,666 per year. Wow. Before the 1970s, families like mine didn't spend much on childcare because they had:
A stay-at-home mom. According to the Pew Research Center, 49% of American women with kids under 18 were stay-at-home moms in 1970; today, it's just one in five. Sadly, despite more mom's joining the workforce, real household purchasing power has barely budged.
Kids. In 1960, middle class parents in the US spent an average of $25,230 raising a child to adulthood — that's roughly $198,000 in 2014 dollars. It takes $245,000 today. Yep, a $47,000 cost increase — and I'm blaming it all on Disneyland.
Photo Credit: DonkeyHotey